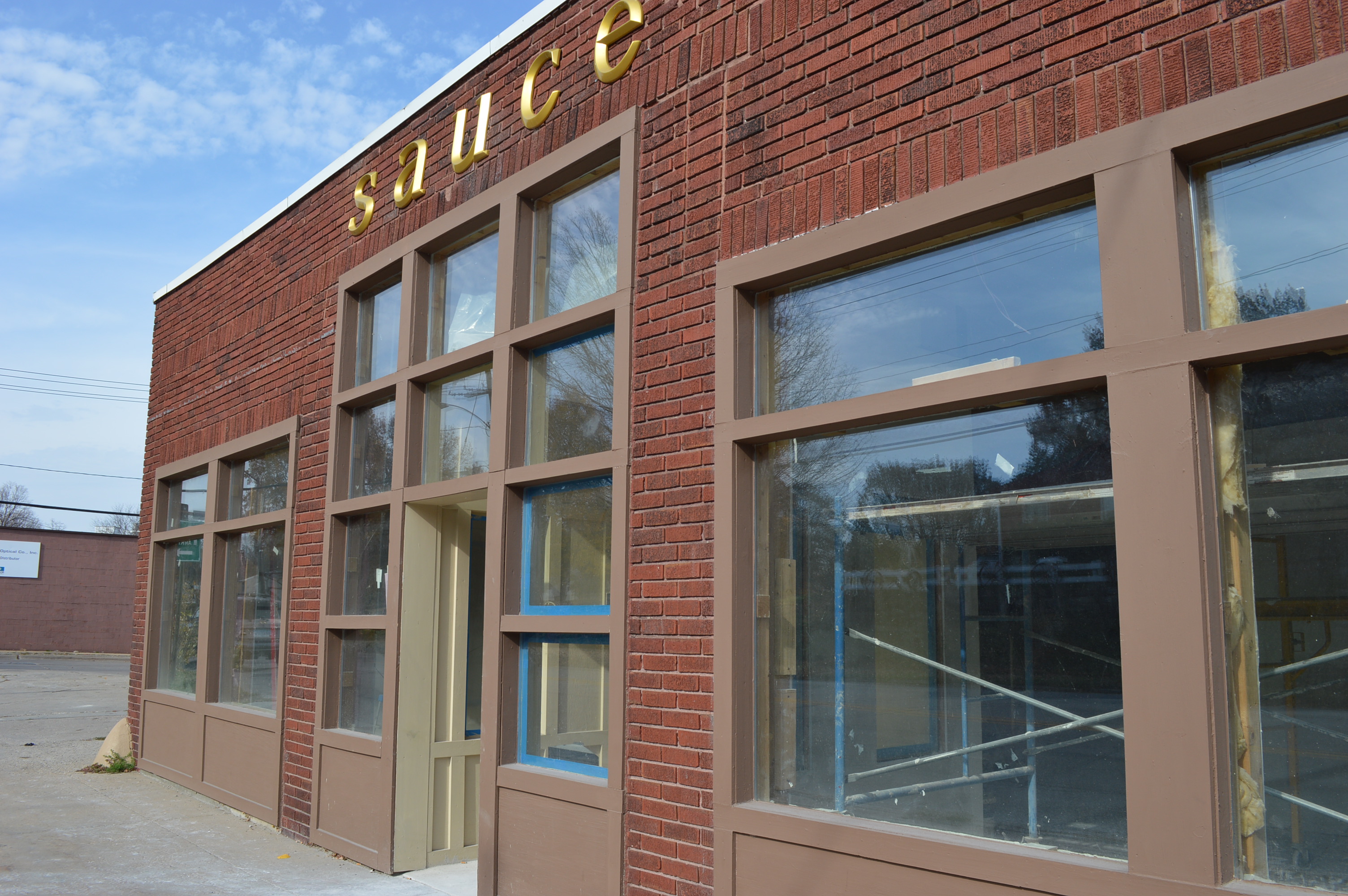 By Cindy Hadish
Patience has been the cornerstone for the owners of a forthcoming restaurant in Czech Village.
After more than a year of work, Lenny Sims and Chris Robinson are eager for the long-awaited opening of their new establishment, Sauce Bar & Bistro.
The goal is to open later this month at 1507 C St. SW, a 1925-era building that formerly served as a garage, an appliance store, a Harley-Davidson business and a meat market. They plan to start with lunches only for the first few weeks, and hope to have their liquor license by the new year.
"It's getting to be crunch time now," said Mr. Sims, 39, who will handle the financial side of the business.
Delays were partly attributed to weather that interrupted some of the repair of the building, which was damaged in the 2008 flood. Mr. Sims and Mr. Robinson, 43, ended up tackling much of the renovation work on their own.
"This is not our area of expertise, but we've gotten better at it," said Mr. Robinson, who gave up his job as a chef at Daly Creek in Anamosa to work on drywall and other building repair.
In the meantime, they watched as other restaurants and bars opened for business in the Czech Village/New Bohemia Main Street District.
The most recent, 'Migos Fajitas & Margaritas, opened its doors in November, around the corner from Sauce at the site of the former Blue Toad restaurant, 86 16th Ave. SW.
As its name suggests, 'Migos specializes in fajitas and other Mexican-style food, which might strike some people as an oddity for Czech Village.
"I do get asked that a lot," said owner Kory Nanke. "Our thought process was that diversity is a good thing."
That diversity will extend its reach when Mr. Nanke opens NewBo Sushi, across the Cedar River on the other side of the district.
NewBo Sushi will be located alongside NewBo Alehouse, which opened in March in the historic Village Bank & Trust building, 1201 Third St. SE.
Mr. Nanke said his goal is to open NewBo Sushi in January. He also is considering another potential restaurant in the forthcoming New Bohemia Station, at the site of the former Brosh Chapel, 1028 Third St. SE, next to NewBo City Market.
NewBo City Market is extending its dining options as well, with interior space that will be expanded for additional year-round anchor merchants by early next year (see story on page XX).
Mr. Robinson and Mr. Sims don't view the other new and forthcoming restaurants as competition. In fact, they hope to work together with 'Migos, the Red Frog, Smuggler's Wharf and other nearby restaurants and bars to keep building the momentum of the district, which is rebounding from the flood.
They see Sauce as a unique draw, filling a void that currently exists in Cedar Rapids.
Their concept, which they jokingly refer to as "fine-dining dive," will feature seasonal food in a casual atmosphere.
"We want to remove the pretense from it," Mr. Robinson said, noting that plans call for "good, honest food; locally sourced and responsibly raised."
The dinner menu will change with the seasons, he said, while the lunch will remain more static, offering slow roasted meat sandwiches and other selections, many with unusual twists.
A kimchi Reuben, for example, will add a house kimchi to the typical corned beef sandwich, while salads feature high-end touches such as salmon mousse, shaved Parmesan and Champagne vinaigrette.
The bistro will be able to seat about 80 people total, including at the bar.
"It's the perfect size – not too big," Mr. Sims said. "It's more intimate."
Both men are certainly familiar with the area and the restaurant industry. Mr. Sims graduated from Jefferson High School and then the University of Northern Iowa, with a degree in finance.
A graduate of Washington High School, Mr. Robinson earned an English degree from the University of Iowa.
The two met while working at the former Beckett's in Cedar Rapids, and though they have worked in Chicago and elsewhere, both have roots in the community.
Mr. Sims recalled going to Houby Days and other celebrations in Czech Village in his youth. While a few storefronts remain vacant near their bistro, the two have faith that the district will continue its upward trajectory.
"I'm really not worried about that," Mr. Robinson said of the vacancies. "I think this is still a good place to be."