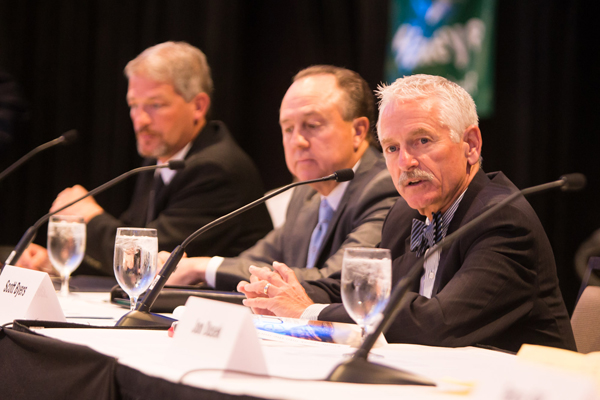 By Gigi Wood
CEDAR RAPIDS – Shopping malls, property taxes and economic growth were hot topics at last week's Commercial Real Estate Luncheon.
The annual event, hosted by the Corridor Business Journal, took place Sept. 24 at the new DoubleTree convention complex, in downtown Cedar Rapids.
Mayor Ron Corbett made a presentation on new commercial projects taking place in Cedar Rapids, followed by a discussion of modern commercial design trends by Mark Seabold, an architect at Shive-Hattery. Next, several prominent Corridor commercial developers participated in a panel discussion about development in the area. Panelists included Joe Ahmann of Compass Commercial Services & Fusion Architects, Gerry Ambrose of Ambrose & Associates Realtors, Scott Byers of GibbsLambDrown, Jon Dusek of Armstrong Development and Terry Sill of SouthGate Companies.
Mr. Corbett outlined more than 20 commercial projects in Cedar Rapids that have recently been completed or are ongoing. There are another 15-20 additional projects in the discussion stage in Cedar Rapids that he was not able to reveal because of confidentiality reasons.
"In the city of Cedar Rapids, we've come a long way in last few years. We've come from having a moratorium on growth to being open for business," Mr. Corbett said. "You might say, 'moratorium on growth? I don't remember a moratorium on growth.' Actually, the council at the time had passed a moratorium on growth at Westdale Mall. So we did have a moratorium and it sent a message, not just from the Westdale Mall standpoint but to all of the community."
Since then, the city council has actively promoted growth and city policies have changed to help facilitate new business development, he said. New projects taking place in the city are a mix of business headquarters, retail and residential. The council hopes to help create 300-500 new residential units downtown during the next three to five years, Mr. Corbett said.
"Development begets development," he said. "Energy, enthusiasm, people want to be in your community and we're seeing that."
Corridor development
Many of those developments were discussed by the developers on the panel. Mr. Byers, for example, talked about changes at Westdale Mall.
Mr. Corbett mentioned in his presentation the $90 million investment Mr. Byers and others are making in the 34-year-old mall.
"Talk about putting your stake in the ground for your community," Mr. Corbett said. "This has been a real challenge for Cedar Rapids over the years. When the mall opened down in Coralville, that really put the trajectory on Westdale Mall on a downward slope."
On May 8, Frew Development Group unveiled its master plan and drawings for the 72-acre Westdale Mall property, 2600 Edgewood Road SW. There has been much renewed interest in the area, but the development recently hit a snag when J.C. Penney declined to approve plans for a portion of the mall's outlying area, to make room for a new ring road.
"All of us thought that Penney's would welcome the Westdale redevelopment with open arms and say, 'what can we do to help,'" said Mr. Byers, of GibbsLambDrown, which is doing some of the brokering work for the project. "And they are, they're genuinely excited about it. On the other hand, they have a lease document that dates back to 1979 that gives them certain rights to request or forestall different elements of the redevelopment."
The interested parties have been working on negotiations for six months, he said.
"As of today, we've set a deadline, it's not drawn in the sand, but I think everybody thinks and agrees we can have the final terms of the deal established, which is a renew of the lease, Penney's will add more term to their lease, so they will extend their lease and we should have that agreed to, without the final documents being signed, but agreed to, within the next 10 days. And, after that, we will proceed to go forward and hope that the final document takes shape."
He estimated that the deal would be complete by the end of the year.
The panel pointed to several areas of growth in the Corridor. Mr. Ambrose said there has been an interest in constructing additional high-rise buildings in downtown Iowa City. He is also seeing a lot of interest in the Westdale Mall area and the southwest side of Cedar Rapids.
"I think there's a lot of energy over there and I'm just amazed at the amount of phone calls I receive in a week's time," he said. "I think Cedar Rapids will see a lot of growth over there."
While others said the long-awaited Oakdale Boulevard extension connecting Iowa City and Coralville north of Interstate 80 is a prime area. Mr. Dusek said he expects to see growth on the north side of downtown Cedar Rapids, past I-380.
"If you look at where housing permits are being drawn, you look at growth of school districts, or schools like Kennedy or Linn-Mar (high schools), I would look at those areas of Cedar Rapids," he said.
The developers said it is important to be patient during the development process. What in the past took three to six months to develop now requires five to 10 years of negotiation.
"But you can get them done because a lot of people don't have the patience, the financing or a community that will support you," Mr. Byers said.
When developers are holding on to vacant land with future plans to develop it, cities need to be flexible and reduce property tax costs to agricultural levels.
Incentives are also important for commercial development and redevelopment, they said. And at least two of the developers said it was wrong for Coralville to own land in the Iowa River Landing District.
"There needs to be a line drawn when a city buys land and retains it, and is competing against local developers," Mr. Ambrose said.
Shive-Hattery's Mr. Seabold discussed new trends in commercial redevelopment and said shopping malls are now using sustainability, mixed uses and social philosophy to create a community experience for shoppers. He pointed to changes at Iowa City's Sycamore Mall as an example.
Cedar Rapids commercial projects
Mayor Ron Corbett outlined commercial projects recently completed or ongoing in the Cedar Rapids area.
Czech Village/New Bohemia District
Ellis Boulevard
Intermec
Raining Rose
Geonetric
CRST
Thomas L. Cardella & Associates
Nash Finch building
Kohl's
BioLife Plasma
Kingston Commons
Furniture Mart building
Coventry Lofts
Ahmann development at 2739 First Ave. SE
The Fountains
New Bo station
Two new city parking ramps
Westdale Mall
Lindale Mall
Blondes & Brunettes Salon in New Bo
Edgewood Station
Pizza Ranch
Kmart East redevelopment
Kmart West redevelopment
Cedar Crossing Casino