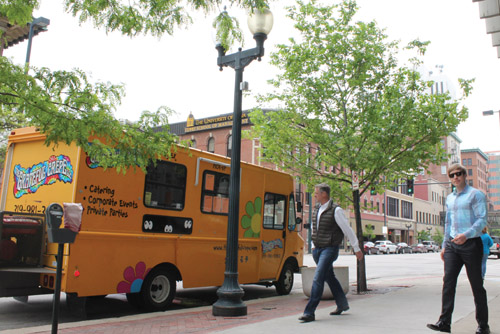 The Grateful Crepe parked in downtown Cedar Rapids on a recent afternoon. Some restaurant operators want to require food trucks and mobile vendors to operate further away from their businesses.
By Dave DeWitte
dave@corridorbusiness.com
A new set of regulations is around the corner for food cart and truck vendors in Cedar Rapids, leaving entrepreneur Otmane Benjilany, whose distinctive image greets visitors on the side of his bright red food trailer, with one wish.
"Now it's my full-time job," said the Moroccan-born owner of O's Grill Famous Gyros. "It's my only income, so I hope they don't shut me down."
Mr. Benjilany is one of a handful of operators arriving in Cedar Rapids' burgeoning mobile food scene. He began serving an assortment of gyros like the Moroccan Meat Lover last October, settling on a spot next to Guaranty Bank at 222 Third St. SE on weekdays, and a spot in front of the Hazzard County Saloon at 329 Second Ave. SE on Friday and Saturday nights.
The proposed ordinance is expected to prevent mobile food vendors from operating within 100 feet of the entrances to existing restaurants, 35 feet of stop signs and three blocks of festival events, unless they are part of the festival. They are also expected to restrict operators from vending from 2:30 a.m.-6:30 a.m., selling liquor and parking near city park concession stands, among other things.
All of that sounds fine to Mr. Benjilany, but it doesn't match the expectations of Deb Allick, who operates Deb's Deli at 215 Third St. SE, just across the street from O's daytime business spot.
"I think they all need to be over in Greene Square. Period," Ms. Allick said. "All the big cities that have been most successful with this have them concentrated in one area."
Ms. Allick says she pays extra property taxes to be part of the Cedar Rapids Downtown District, which supports things like street beautification and plantings, while "he gets to bag a meter for $35 a day and take all our profits."
She said the parking taken up by food trucks also impedes business. The trucks themselves take two parking spaces, and when employees park nearby, they can take up another space or two.
The draft ordinance requires that employees of mobile food vendors use off-street parking garages or lots for their vehicles, but Ms. Allick doesn't know how the city will enforce that requirement.
The city's draft ordinance was crafted to provide a balance between the needs of various businesses, and was done with considerable public input, according to Jennifer Pratt, the city's community development director.
"With any amount of input, there's certainly not a way we can satisfy fully all interests, but we feel we've come up with a good way to meet as many of these interests as possible," Ms. Pratt said.
During the public engagement process, she said her department couldn't get over how much residents and employees who work in town want more mobile food vendors.
Iowa City passed a slightly stricter food truck ordinance in April 2015, which requires trucks to be 150 feet from the nearest restaurant and steer clear of downtown's Pedestrian Mall. It's also more expensive in terms of fees, requiring a $1,000 permit versus the $300 permit proposed in Cedar Rapids.
Brian Bredman, who opened Pub 217 several months ago at 217 Third St. SE, thinks a 150-foot separation requirement would be better for Cedar Rapids. He's invested close to $200,000 in building out his space, and wonders how much competition it will face from food trucks.
"My big concern is lining the street with them," Mr. Bredman said. "Then I would just have the winter [food business]."
The idea of clustering food trucks in a specific area appealed to city council member Ann Poe during a recent meeting of the council's Development Committee, where the draft ordinance was discussed. She also liked the idea of helping food trucks connect with local festival and event organizers so that the festivals will have a variety of well-prepared, local food offerings.
City staffers said food truck vendors prefer having their designated locations, however, because it allows their customers to find them on a regular basis.
Kelli Evans and her husband Heith Kessler brought their Grateful Crepe food truck to a spot in front of the U.S. Bank at Second Avenue SE last September. Ms. Evans has no problems with the draft ordinance.
"We're a honest group of entrepreneurs who just want to make a living," said Ms. Evans, who gets along well with the other food truck operators in town. She said it mainly allows her to keep on doing what she already does.
Ms. Evans is close to signing a lease at the NewBo City Market, which will enable Grateful Crepe to do business year-around, helping maintain cash flow from indoor market sales during cold winter months when the truck business is dormant.
Eventually, Ms. Evans would like a more permanent location on Greene Square in the heart of downtown Cedar Rapids. The location would provide a way to serve patrons at the public library and the Museum of Art, as well as downtown employees. Redevelopment of the square and work on surrounding streets isn't going to make that possible this year, she said, but maybe in a year or two. She isn't sure it will become the site of the food truck cluster Ms. Allick envisions.
"Some of the other trucks are interested in going to Greene Square maybe once a month or once a week," she said, suggesting that Greene Square might, for instance, have a "food truck Fridays" theme.
The draft ordinance to be considered in Cedar Rapids will go beyond food trucks to cover ice cream trucks, hot dog stands and parking lot barbecue sales at grocery stores.
Mr. Benjilany says operating O's Grill Famous Gyros downtown is hard work, but it's been a positive experience. He hopes the new ordinance will provide regulations under which the business can thrive.
"This is what makes America great – small business," he said. "Small guys like me, we keep the money local."