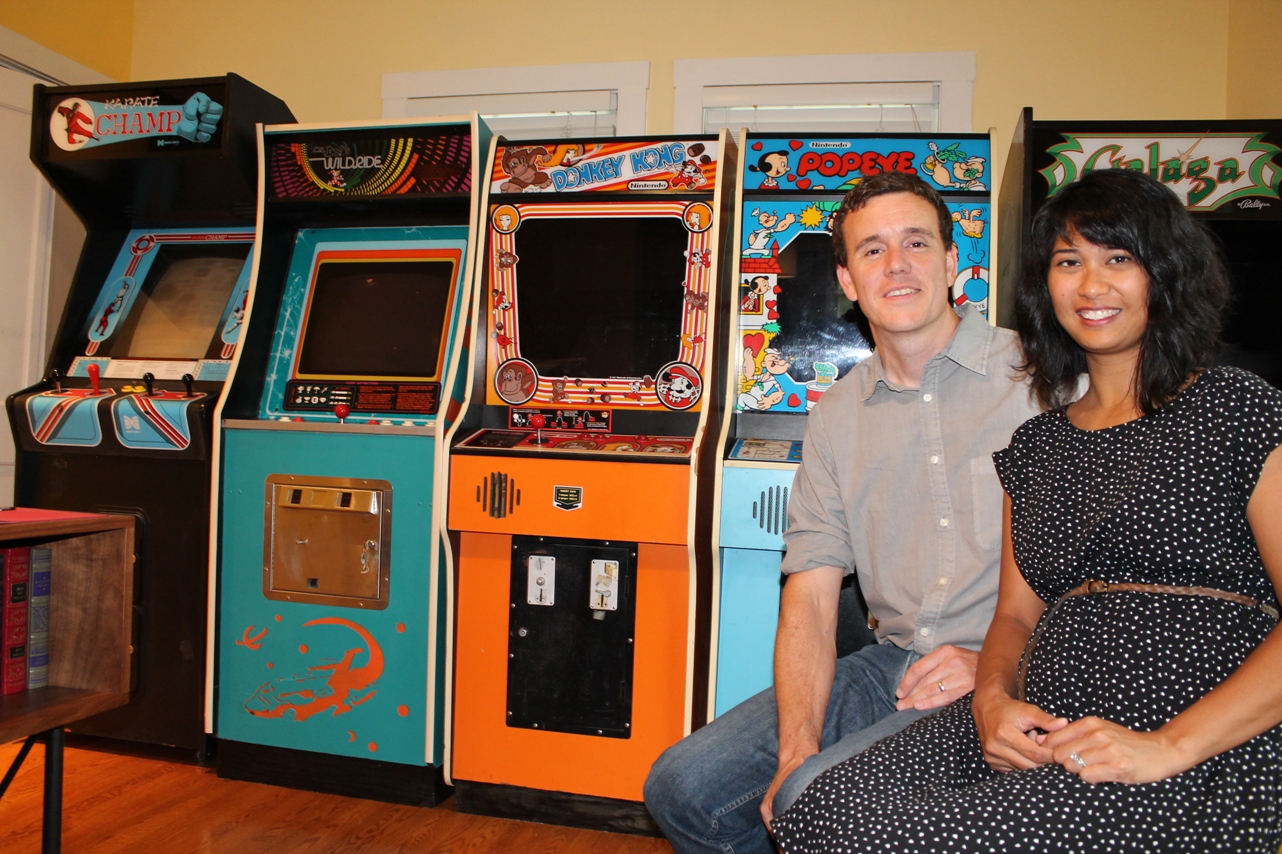 By Dave DeWitte
CEDAR RAPIDS—A new downtown microbrewery will bring a touch of nostalgia for beer lovers who grew up during the golden years of video arcades.
Quarter Barrel, a vintage arcade-themed microbrewery, is aiming for a spring 2015 opening. Customers will have to decide whether a game of Donkey Kong goes down best with ale, porter, stout or other handcrafted brews.
Entertainment will revolve more than 30 video arcade games from the 1970s to the late 1980s, such as Mr. Do's Wild Ride, Donkey Kong and Galaga. The period was the "golden age" of video arcades, according to co-owner Chris Ellis, and a generation of Gen-Xers and baby boomers still remember them fondly.
The concept was hatched by Mr. Ellis and wife Lorelle Lindo of Cedar Rapids, who discovered a shared liking for vintage video games a decade ago while living in Chicago. They would often warm up for an evening on the town with friends out by playing vintage video games at a neighborhood pub.
Mr. Ellis and Ms. Lindo had begun talking about the concept of a vintage game-themed pub when a family member living in New York invited them out to Barcade, a Brooklyn pub specializing in regional microbrews and vintage video games.
Mr. Ellis, who was working in distributor relations at Goose Island Brewing in Chicago, fell in love with the concept, seeing a successful and popular business like the one he and his wife had envisioned. Barcade has since expanded to several other locations.
After the couple moved to Cedar Rapids to raise their children in 2011, Mr. Ellis became a brewer and quality control manager at Millstream Brewing Company in Amana and Ms. Lindo continued her work as an attorney specializing in banking law. They continued to explore the arcade pub concept, deciding that adding microbrews made on premises would enhance it. A Chicago friend who grew up in Eastern Iowa, Dan Cook, soon got onboard with the venture.
The trio set its sights on downtown Cedar Rapids, and purchased 616 Second Ave. SE earlier this year. It is a century-old storefront building that had been built to house an electric automobile charging station and battery store in the days when most automobiles in Cedar Rapids were electric.
With the fortunes of downtown Cedar Rapids seemingly on the rise, Mr. Ellis was not deterred by the fact that a string of nightclubs that had most recently used the building had met with little success. The building will receive a thorough restoration, taking it back to its early appearance, Mr. Ellis said. Brick walls will be exposed and storefront-style windows installed.
The 600 block of Second Avenue is in an area city leaders had proposed for designation as the Auto Row National Historic District because of its location along the first transcontinental paved route, the Lincoln Highway, and its claim as the hub of the city's first auto dealerships and auto parts stores.
Plans for the historic district were shelved last year after encountering resistance from hospitals and other property owners in the overlapping MedQuarter district, who were not interested in historic designations that might interfere with their plans. Interest in a more condensed form of the district has revived, according to historian Mark Stoffer Hunter of the Carl and Mary Koehler History Center.
The 616 Second Ave. building is one of the most significant structures remaining on the 600 block, Mr. Hunter said, although its historic appearance is now disguised by a layer of synthetic stucco applied during the last decade.
Quarter Barrel's owners are interested in working with others to move the historic designation forward, Mr. Ellis said. In addition to helping establish an identity for the commercial district on the eastern side of the downtown area, they hope to gain a designation that would allow them to use historic tax credits to cover the considerable expense they are putting into building renovations.
Quarter Barrel takes its name from the need for quarters to play arcade games and the fact that a quarter barrel of beer denominates a pony keg of beer, Mr. Ellis said.
Mr. Ellis said Quarter Barrel plans to be a small, 7 to 10-barrel brewing operation that initially, at least, would brew beer for on-premises consumption. But Mr. Ellis hopes to break free of what he considers a limiting formula for beer menus in most brewpubs that leans heavily on popular standards. A hops-heavy pilsner, for example, could be offered as a substitute for an IPA. A Baltic porter might be featured instead of a stout beer. They are also planning a crowdfunding campaign that will involve some specialty beers for subscribers.
With demolition work on the building's interior mostly done, Quarter Barrel is shooting for an opening before St. Patrick's Day of 2015.