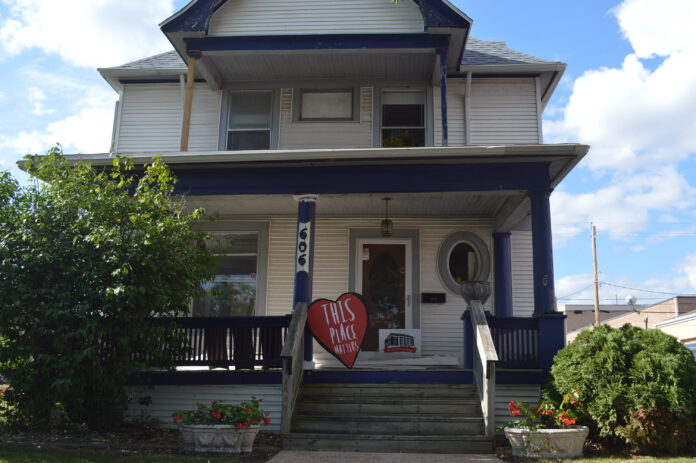 Save CR Heritage will dedicate its first-ever headquarters this week, thanks to a unique agreement with Mercy Medical Center, which owned the early-1900s home being saved from demolition at 606 Fifth Ave. SE, next to Kathy's Pies. In an ironic twist, just one block away, demolitions are imminent for several buildings of a similar era in the Banjo Block, giving added significance to Save CR Heritage's building "save."
The J.E. Halvorson House, 606 Fifth Ave. SE, will honor the memory of beloved board member John Erik Halvorson, who was killed when his car was struck last year. He was 32. A dedication ceremony will take place outside of the house at 4 p.m. Friday, Oct. 15. The public is invited to attend.
 Then-owner Mercy Medical Center and Save CR Heritage entered into an agreement last winter to save the early-1900s house, which had been slated for demolition. The building was on the city's historic assets inventory and would have been the first on that list to be demolished. Mercy sold the house to the group for $1, provided the building be relocated in the future. Board members, volunteers and contractors have spent the past months repairing the building, which needed a new roof, plumbing, HVAC, plaster repair, porch stabilization and electrical work. Save CR Heritage will use the house for meetings, workshops on window restoration and other skills, and to connect homeowners with high-quality, low-cost doors, windows and other items salvaged from buildings slated to be demolished.
 As part of the dedication activities, Cedar Rapids Historian Mark Stoffer Hunter will lead walking tours Oct. 15-16, which includes the neighboring Banjo Block. Developers are set this month to start demolition of all five buildings on the site, dating back to 1910, to prepare for an apartment complex. The pending demolitions add an ironic twist to the group's event, as the nonprofit's mission is to raise awareness about the value of the city's historic properties, and add significance to this one "save."
Schedule: Oct. 15, 4 p.m. J.E. Halvorson House building dedication, 606 Fifth Ave. SE, Cedar Rapids
4:30 p.m. ticket sales begin for walking tour ($10 each)
5-6 p.m. walking tour
6-7 p.m. house tours
Oct. 16, 10 a.m. house tours & ticket sales for walking tour
11 a.m. to noon walking tour
Noon to 1 p.m. house tours
Tours of the early-1900s home are free, with donations accepted to the building relocation fund. Annual memberships of $25 will be available. Members receive a free walking tour and salvage discounts. Face masks are required indoors.  
Grants from the Linn County Historic Preservation Commission for plaster work; the President's Fund of the Greater Cedar Rapids Community Foundation for a furnace and the Iowa Department of Natural Resources Solid Waste Alternatives Program for window and door display racks helped fund the project, along with the group's fundraising efforts. Other major donors include Paulson Electric Co., IBEW Local 405 and Local Labor Management Cooperation Committee for electrical work; Precision Drywall for additional wall and ceiling repair; and Scott Shoemaker & Associates for legal services.