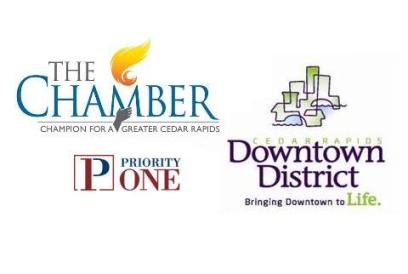 By Pat Shaver
CEDAR RAPIDS – The Cedar Rapids Downtown District will join with the Cedar Rapids Chamber of Commerce and Priority One, becoming a single organization, officials announced this morning.
The organization, which has yet to be named, will lead to better integration of resources for economic development, increased public policy coordination and will form a unified voice for local and regional efforts, according to leaders.
The organizations signed a letter of intent in July. A nine-member "unification council" has begun formalizing a mission, bylaws and name for the organization. The council includes three members from the board of each organization. Officials expect the boards to approve a definitive merger agreement next month.
"The guiding principal for this is that we can be stronger together, as one unified organization," said Dee Baird, Cedar Rapids Chamber President/CEO and president of Priority One. Ms. Baird will serve as the CEO of the new combined organization.
Ms. Baird, along with Doug Neumann, Downtown District president and CEO, met with about 250 stakeholders and partners to discuss the proposal since April, and integrated that feedback into the plan.
The Downtown District has a board of 21, Priority One has 43 directors and the chamber has 41 board members. Once the new organization goes into effect on Jan. 1, there will be one board with nine to 12 members, Ms. Baird said.
The new organization will be unveiled at a joint annual meeting in November.