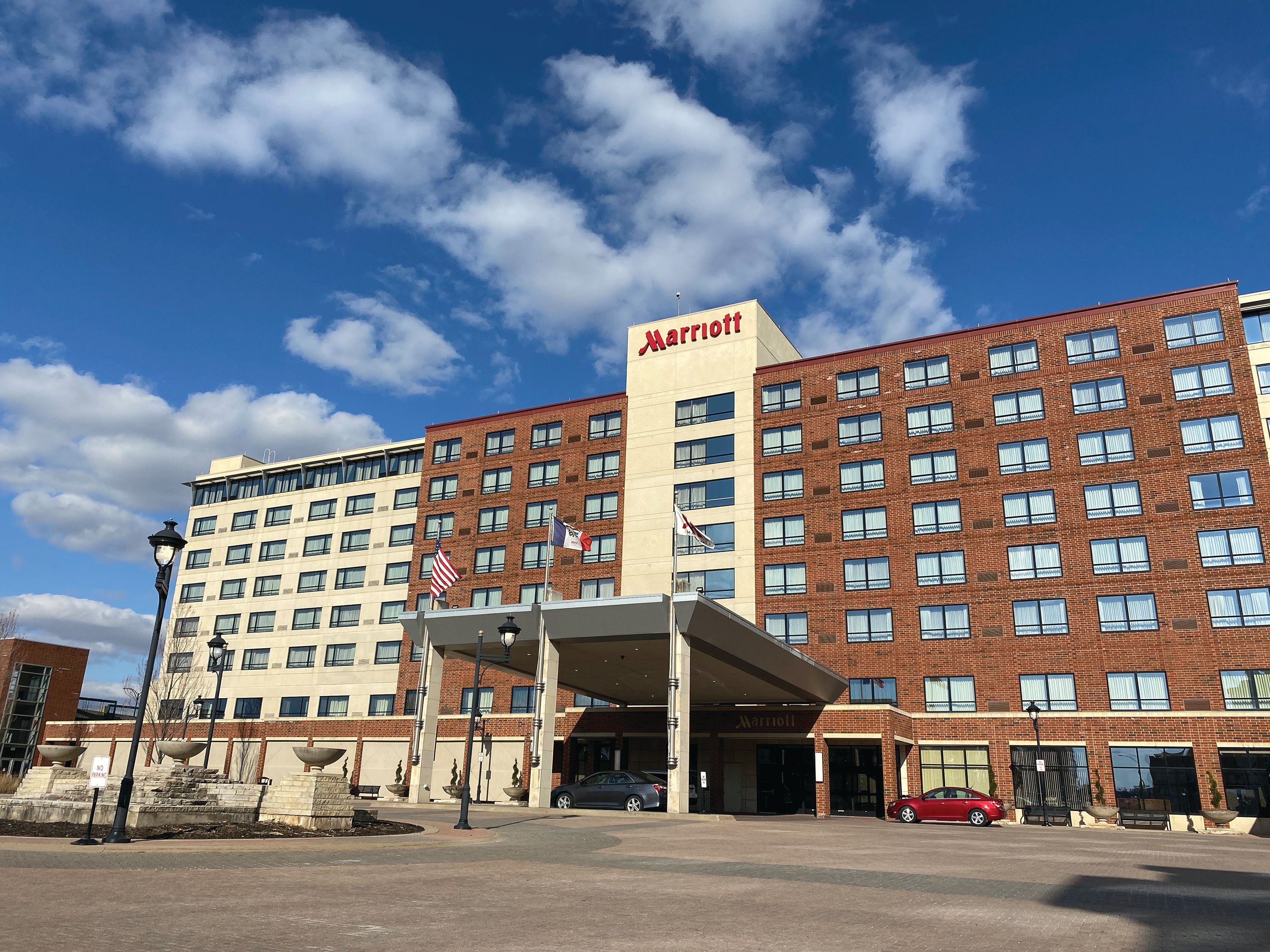 The Coralville Marriott was quiet on March 31 aside from a few employee cars. Hotel properties remaining open are reporting occupancy rates of 10-15%. PHOTO ADAM MOORE
By Dave DeWitte
dave@corridorbusiness.com

Cancellations poured in at Corridor hotels as the coronavirus spread last month, and despite efforts to forge ahead with reduced staff and services, a growing number are closing their doors.
Room demand in the Corridor this month is the worst local hotel managers have seen, with many properties experiencing occupancy rates of 10-15%.
That's not enough guests for hotels to operate in the black, leading some prominent venues like the DoubleTree by Hilton and The Hotel at Kirkwood Center in Cedar Rapids, as well as Iowa City's Graduate and hotelVetro to announce temporary closures. All cited health and safety concerns about the outbreak, but there was little, if any, money to be made by staying open.
"It's dramatic right now," said Josh Schamberger, president of Think Iowa City, the area's tourism and convention organization. "The best hotels in this market are running 10% occupancy, which is just unheard of."
Mr. Schamberger said the majority of hotel employees in the Iowa City-Coralville market were laid off the week of March 15. The challenges are greatest at the southern end of the Corridor where new hotel openings have greatly expanded the number of rooms over the last few years.
The largest locally-based hotel chains, Kinseth Hospitality and Hawkeye Hotels, did not respond to inquiries about the status of their properties. Some of the largest hotel operators, including Hilton and Marriott, have furloughed tens of thousands of employees.
For those continuing to work, it's a challenge.
"General managers are working front desk shifts," Mr. Schamberger said. "General managers are working housekeeping. That's what's happening right now. It's a very dire situation for the hospitality industry."
At the Heartland Inn, 87 Second St., Coralville, "We're treading water, like everybody," said Debbie Bullion, who has managed the property since 1999.
The 169-room property laid off about half of its 40-person staff, as guests called to cancel bookings because of the coronavirus.
Occupancy is "not near normal," at about 30%, Ms. Bullion said. Virtually everybody now staying at the Heartland Inn is a family member or patient at the nearby University of Iowa Hospitals & Clinics or VA Medical Center, Ms. Bullion said, and that's the main reason the hotel is staying open.
"There are people there [at University of Iowa Hospitals & Clinics] – people with premature babies still being born, and people in the middle of radiation plans for cancer and chemotherapy. They're stuck," she said.
While there's a feeling of unease about traveling during the pandemic, Heartland Inn tries to create a sense of normalcy. Hotels always sanitize and disinfect for guests, she said, but the daily cleaning regime has been expanded, including wall washings, and "you can just about smell the disinfectant when you walk in the door."
Ms. Bullion managed the hotel through the Iowa flood of 2008, which left it with 3.5 feet of water on the main floor. During restoration, the staff was redeployed to other Heartland hotels that were busy housing flood victims. This time, she had to ask the staff for layoff volunteers.
Finding volunteers was not difficult, said Ms. Bullion, because many were mothers with children who lacked daycare during ongoing school closures, and others had health conditions that concerned them about being in the workplace during the outbreak.
The biggest difference between the two events was that "during the flood, you could see an end to it, whereas now we have no idea."
Even the Iowa City market's newest full-service hotel, the Hilton Garden Inn at 328 S. Clinton St., with its Vue rooftop restaurant, is struggling.
"Business is off probably 50% or so; it depends on the day," said General Manager Neal Roth. The hotel's pool, fitness centers and two restaurants are closed, however to-go dinner service was continuing as of March 26, with room service delivery and curbside pickup available from the Vue's regular menu.
Mr. Roth said the property is remaining open to serve the needs of the university community and to give the hotel's team members as many hours as possible. He doesn't see a quick turnaround to the situation, however.
Hotels that have stayed open might ordinarily expect go get a bump in bookings from those that have closed, however that bump has been minimal for the Cedar Rapids Marriott following the closing of the DoubleTree, General Manager Steve Smyka said in an email.
"Business levels at the area hotels are drastically diminished, less than a tenth of our usual levels," Mr. Smyka wrote. "As properties continue to close or consolidate, those of us remaining open are seeing some compression, but it's negligible at best as there is just not a lot of demand in the market resulting from all the closures and cancellations."
Long road ahead
Mr. Schamberger said he's staying in touch with hotel managers in the Iowa City area daily, and feeding them business that he finds out about, mainly from government agencies needing to house staff in the area.
Because of the crush of new hotel properties added to the market in the last few years, Mr. Schamberger fears that some of the weaker-performing hotels in the market could close permanently before it's over. And, he adds, the hotel market is unlikely to bounce back quickly.
"After 9/11, after 2008, it took a good amount of time for the business to come back," he said. "Hotel rates will be low, hotel occupancies will be low. People will be just naturally conservative about expenditures and their particular companies' financial health, and so those business travel opportunities will be slow to come back because of the hit we all just went through."
Iowa has about 64,000 hotel and motel employees at risk of losing their jobs, according to the American Hotel & Lodging Association, along with another 29,000 workers who support the industry in various ways. The industry is losing about $1.4 billion in revenue every week due to reduced bookings, the association said in a news release.
While the passage of the CARES Act, a $2-trillion federal stimulus package, should help the industry, it will be of limited benefit to many hotels, according to the association. One of its main provisions is the Payroll Protection Plan, which provides loans for payroll and operating expenses up to $10 million for businesses that keep employees on the payroll. However, the association says that will only be enough to sustain hotel operations for four to eight weeks because individual loans are capped at 250% of monthly payroll. It has asked for a higher cap of 400%.
The hotel closings could wind up costing taxpayers. The DoubleTree in Cedar Rapids and the Coralville Marriott (which remained open as of the CBJ's deadline) are owned by their respective cities, and The Hotel Kirkwood is owned by Kirkwood Community College. Publicly owned hotels typically operate at a deficit in normal times but are subsidized because they generate tourism traffic.
The decline in room-nights will also be costly for local tourism promotion efforts, because hotel-motel taxes are used to support Think Iowa City and the Cedar Rapids Tourism Office. Some communities also use the revenues for other purposes, such as grants for nonprofit organizations in Cedar Rapids.
Think Iowa City gets about half of its revenue from hotel-motel taxes, which concerns Mr. Schamberger. But for now, he can't dwell on it.
"Yes, it's concerning for our organization but it's concerning for everybody," Mr. Schamberger said. "We're in the same boat as everybody else." CBJ