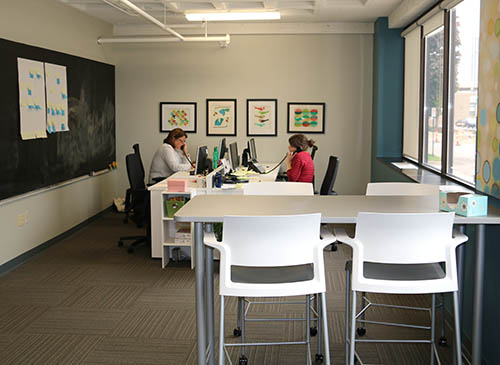 By Dave DeWitte
Colocation has become the trend for Corridor nonprofits, allowing them to share costs, increase efficiency and improve client access through the simple act of sharing.
Over the course of three separate projects, at least 22 Corridor nonprofits are now sharing space in two repurposed buildings and one new facility.
The Sister Mary Lawrence Community Center in Cedar Rapids offers a good example of the benefits.
Mercy Medical Center opened the center at 420 Sixth St. SE in September 2011, after the hospital and community partners invested $2.4 million on a wholesale renovation of the onetime Penney Saver building from a hospital storage facility into contemporary office, client contact and retail space.
Local nonprofits were asked to contribute a modest amount to help cover build-out costs, but Mercy also offered a huge financial upside to participating organizations. Each would be asked to pay only $1 per year for their space, plus the cost of monthly utilities.
"It allowed us to put the money where we want to – into the kids and the programs," said John Tursi, executive director of the Boys & Girls Club. Since the flood of 2008 damaged the club's facility on Ellis Boulevard NE, Mr. Tursi and his staff had moved several times to different temporary quarters, even working out of their cars for extended periods.
Tenants say the refurbished building makes it a pleasure to come to work, and that the renovation takes full advantage of the building's original features, such as its large windows.
"It was much more than we could have dreamed of," said Laura Ebinger, a staff attorney at Young Parents Network, which provides a variety of services for parents of children aged 0-5 and 13-27, ranging from prenatal education to mediation for parents in conflict.
Agencies in the building often refer clients to one another for their various needs, and the cluster of youth service agencies in the building makes for a nice fit. Ms. Ebinger has referred clients to Catholic Charities and the Boys & Girls Club. Bethany Gugliano, marketing and administrative coordinator for Young Adults Network, said she has probably sent someone to every office in the building.
The building's other tenants include Kids First, Metro Catholic Outreach and Gems of Hope.
Having other nonprofit professionals to consult is another advantage of co-location.
"For me, personally, one of the things I've enjoyed is the camaraderie among the agencies, the sharing of knowledge," said Becci Reedus, who spearheaded the development and fundraising for the 1105 Project in Iowa City, which converted a former Johnson County building into a collaborative space shared by four agencies at a cost of about $1.25 million.
The space at 1105 S. Gilbert St. opened on Jan. 2, 2014 under ownership of the Crisis Center, which operates from a building next door, but also uses it for things like committee meetings, support groups and volunteer training.
The Crisis Center of Johnson County raised about $1.25 million in community support to renovate the building.
Ms. Reedus, executive director of the Crisis Center, said that without sharing space like the lunchroom, used by the Free Lunch program only part of the day, the total space needed by the agencies would be about twice as large. Sharing space for things like training and conferences allow the nonprofits to save the cost of leasing and operating that extra space.
"We work together; we promote each other," Ms. Reedus said of the Crisis Center and the 1105 Project's other nonprofits, which in addition to the Free Lunch program include the National Alliance for Mental Illness of Johnson County and the Domestic Violence Intervention Program.
The colocation of Linn County nonprofits was spurred by the flood of 2008, which dislocated about 30 organizations in the county. That disaster also contributed to the biggest colocation effort in the Corridor, the United Way of Eastern Iowa Human Services Campus.
The $15 million, LEED-certified building at 317 Seventh Ave. SE opened in January 2011, housing about a dozen agencies, including the Girl Scouts of Eastern Iowa and Western Illinois, Abbe Inc., Four Oaks, Aging Services, Neighborhood Transit Services and Iowa Legal Aid, in addition to United Way.
The power of space
In some ways, the Corridor has been catching up to a trend that has already become well established in the nonprofit world because of its benefits.
A study based on research conducted for the Nonprofit Center Network between August 2010 and May 2011 included a survey of 150 shared nonprofit centers and interviews with the leaders of 15 of them.
Of the nonprofits surveyed, 86 percent said colocation had increased their effectiveness and efficiency, 68 percent said it enhanced their ability to achieve their mission and 65 percent reported increased staff morale. Another 49 percent said they had increased revenue since moving into shared nonprofit centers and 80 percent said their clients had an easier time getting access to services.
For Mercy Medical Center, the reasons for developing the Sister Mary Lawrence Community Center went a little deeper than financial considerations.
The building had been acquired for future expansion needs and was used for storage, but a board member with Young Parents Network asked if the hospital could carve out some space for the agency's We Store, which sells things like diapers, baby bottles and gently used clothing to clients using a points system.
After We Store opened in the building, the hospital learned about the dire needs of the Boys & Girls Club, and other organizations that weren't a lot better off. Some were in leftover space provided by other nonprofits that hadn't been updated in many years, and one was located in an old house.
Creating the center was "an extension of our [Mercy Medical Center's] mission further into the community," said Melissa Cullum, manager of community benefit and mission outreach ministries.
Ms. Cullum said the project furthered the hospital's mission by strengthening vulnerable nonprofit organizations.
Each organization contributed financially to the project in amounts varying by their square footage, and some turned to philanthropic organizations for help. Among the larger community contributions to the project were a $200,000 from the hospital's auxiliary and a $600,000 grant from the Hall-Perrine Foundation.
The community foundations were strong supporters of the project because it allowed nonprofits to become more impactful, said Sister Susan O'Connor, vice president of mission integration at Mercy Medical Center.
The project was named in honor of the last member of the Sisters of Mercy, the order that founded the hospital, to serve as its administrator. Sister Mary Lawrence was the last in a string of sisters who led the hospital dating back to its founding in 1900, Ms. O'Connor said, and was remembered for her leadership in many projects that advanced the hospital.
The attention to detail in the project reflected Mercy's desire to create a professional setting not unlike its own clinics, Sister O'Connor said.
"It wasn't just leftovers, or 'this is good enough for you,'" Ms. O'Connor said. "We wanted to make it respectful of everybody there."
The building's tenants are exploring more opportunities to benefit from the synergies of being in the same facility. One recent effort was a coordinated volunteer fair, which invited community members to tour the building and learn about volunteering opportunities at each of its nonprofits.
Ms. Reedus has worked in community service campuses like the United Way of East Central Iowa Campus before. She said the trend of putting nonprofit community agencies in one location to serve the public more conveniently has been around a long time, and one that she expects to continue.
"We're constantly trying to figure out how we can do something more efficiently with less wasted cost," Ms. Reedus said.