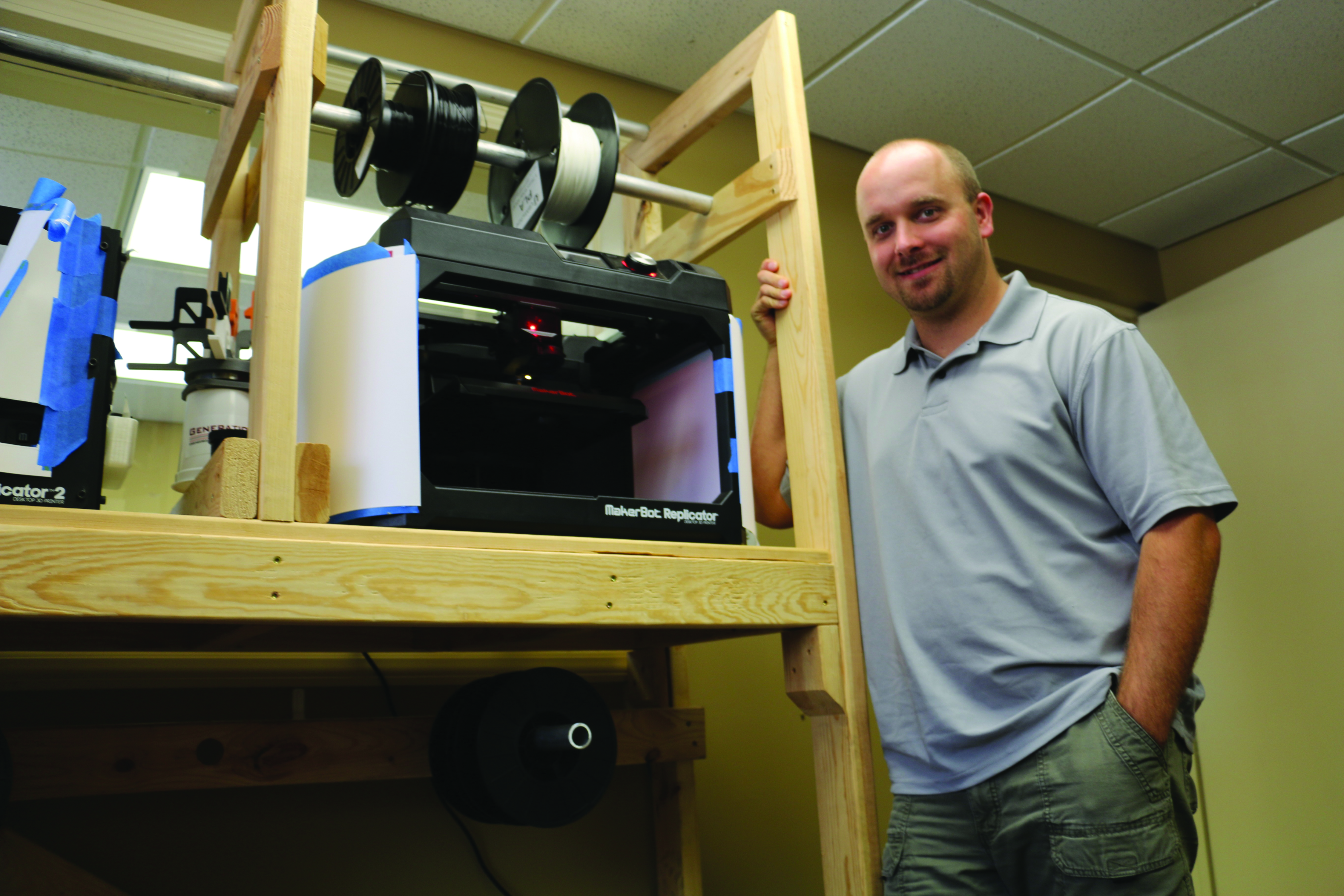 Agility, quality helping Corridor companies onshore production work, jobs
By Dave DeWitte
dave@corridorbusiness.com
Gerald Beranek looks through his truck cab for his lip balm on his drive to work at BeraTek Industries, his fast-growing contract manufacturing, design and prototyping company in Cedar Rapids.
It's missing for the umpteenth time, and so Mr. Beranek, an inventor at heart, thinks up a design for a lip balm holder that he can clip to his car's heating vent so it won't get lost. He drafts a design on his computer and has a prototype made on one of BeraTek's 3-D printers that afternoon.
BeraTek Industries has worked with local lip balm manufacturers, among other clients, and developed eight products sold mainly through Amazon.com since opening last year. Mr. Beranek has created a half-dozen jobs over that time, and is attracting business both from companies that want to bring their manufacturing back to the United States, and inventors who want to get their products to market quickly.
"Most of the time it's a patented product they don't even want to send over there [to Asia], because they know it will be ripped off," Mr. Beranek said. "They don't have to be the product manufacturer anymore."
His chief pride is BeraTek's ability to optimize product design for efficiency of manufacturing on its injection molding machines. It has brought a product concept to production in two weeks, and had it selling well on Amazon.com in three.
That kind of agility is one strategy providing hope to proponents of "onshoring," or bringing production jobs back to America.
The kind of rapid prototyping technology Mr. Beranek uses is also available at Iowa State University and the University of Northern Iowa, and will soon be at the new MERGE innovation space in downtown Iowa City.
"Shortening that time from idea to product – if we can help as a state to do that, it will just make our manufacturers more effective, as opposed to e-mailing files back and forth to China, and language barriers and time barriers," said Mark Nolte, president of the Iowa City Area Development Group, which is a partner in the MERGE facility with the University of Iowa' Office of Research and Economic Development.
Agile manufacturing is also helping bring jobs back at U.S. Cargo Control, a business of Clickstop Inc. in Urbana. The company began assembling ratchet straps and fittings it formerly outsourced to producers outside the United States more than a year ago.
Being able to assemble the straps onsite gives U.S. Cargo Control the ability to handle large and special orders it could not accommodate if it were continuing to have the products made and shipped in large batches from overseas.
"What we're currently doing is light assembly," said Ben Rechkemmer, vice president of purchasing. "The time to get people up to speed here and plug them in is faster than we could do it overseas."
Mr. Rechkemmer said U.S. Cargo Control expects to announce more products made in-house in the next six months.
"One of our mottos is, 'We'll get you what you want, when you need it,'" he said. "We want to make sure we're agile enough to take care of an opportunity when we see it."
Agility isn't the only reason to 'onshore' manufacturing. In some cases, it's simply more economical to produce in the United States.
That was the main factor in IAC Group's decision to bring the production of some of its injection-molded plastic automotive components, including instrument panels and floor consoles, back to the United States from Mexico. The return has helped boost activity and employment at its plant in Iowa City.
"Most of the things we make are large and bulky, so we want to reduce shipping," said David Ladd, executive director of marketing and communications for the company. He said it can also make sense from a manufacturing standpoint to produce the components that will go into a larger assembly alongside that assembly in the same factory.
"We have to look at proximity first if we have the space," he said, indicating the company is continually looking for ways to shorten its supply chain and delivery times.
Iowa Economic Development Authority spokeswoman Tina Hoffman said the agency doesn't actively track manufacturing jobs that are onshored to Iowa, but does hear anecdotes that indicate it's happening. She said Legacy Manufacturing in Marion has indicated plans to bring back production that is now performed outside the United States to its new $10-million factory in the Marion Enterprise Center. The company, which makes hoses, grease guns and other products used in automotive shops, did not respond to a CBJ inquiry about its plans.
Two huge nitrogen fertilizer plant projects developed with state financial support, at Port Neal in northwest Iowa and Wever in southeast Iowa, also exemplify the onshoring trend, Ms. Hoffman said, in the sense that they replace fertilizer that was formerly imported.
"It was all imported because it was less expensive," Ms. Hoffman said. "Now, with lower natural gas prices, they can make it here and they don't have to pay to ship it."
While the focus in offshoring is often on achieving lower labor costs, Ms. Hoffman said onshoring takes advantages of Iowa's benefits in areas such as productivity, workforce skills, and overall competitive cost environment.
The limited size of Iowa's workforce may be one of its largest barriers to onshoring manufacturing, according to Ms. Hoffman and Mr. Nolte, although Ms. Hoffman noted it's not a challenge unique to Iowa.
"If you need thousands and thousands of bodies, Iowa would probably not be your number one choice," Mr. Nolte said. "But if you're looking at advanced manufacturing and a highly skilled workforce, Iowa is very competitive. Overall, we still have one of the lowest costs of doing business. We have a productive and capable workforce."
Uneven trend
Bringing manufacturing jobs back to the United States has been a consistent theme in the 2016 presidential campaign. But few organized studies point to a major onshoring trend in recent years.
A U.S. International Trade Commission study of onshoring in the computer and electronic equipment manufacturing industry from 2009-2013, for instance, found little evidence of onshoring. Likewise, global management consultant A.T. Kearney's U.S. Reshoring Index showed its fourth consecutive year of decline in 2015, the largest year-over-year decline in 10 years.
In automotive manufacturing, Mr. Ladd said closely-watched studies forecast that most of the new manufacturing activity over the next five years will be in China and Mexico, as those countries add manufacturing and engineering skills and infrastructure.
Rising labor costs in China have clearly renewed interest among domestic companies, however. Walmart, long criticized for its contribution to a reliance on inexpensive imports, says it will spend $250 million on American-made products by 2023.
The buzz over bringing jobs back is also translating into business for some local firms.
Mr. Beranek said demand for his company's services has been so high that he hasn't had time to develop and produce its own new products in months. He's even talked to one customer who's weighing the cost of bringing production of an existing product to the Corridor from China because he wants better quality.
"Obviously, they know it will be more expensive, but they need to know what it's going to be and whether it's worth the cost to avoid the quality problems," Mr. Beranek said.
U.S. Cargo Control actively seeks out domestic suppliers and business partners, and says promoting its domestic sourcing philosophy has played well with the transportation companies that buy its products.
"Some of our largest customers are excited that we're bringing some jobs back here," Mr. Rechkemmer said. "We're getting some of our largest customers because we can manufacture here."