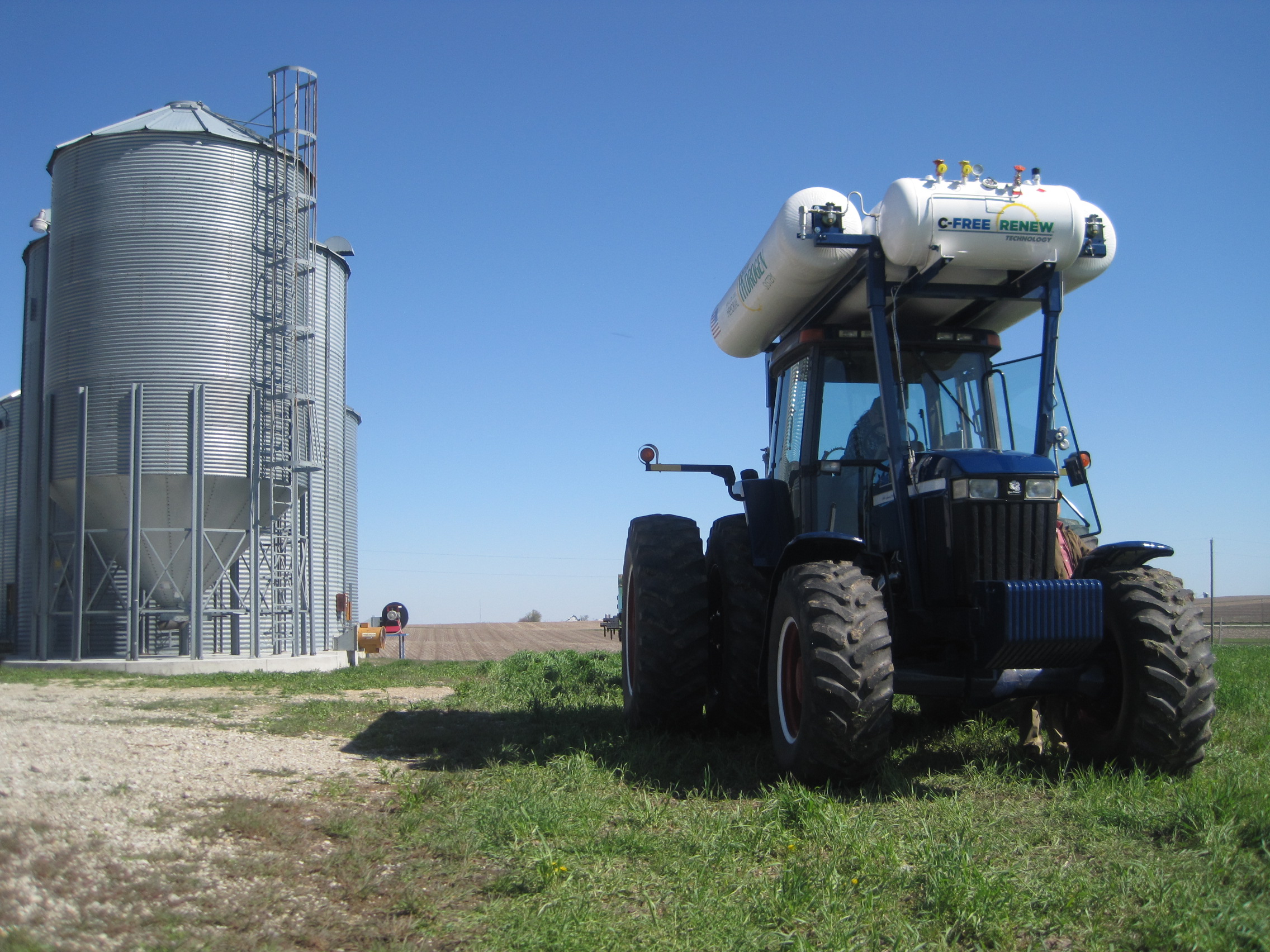 By Chase Castle
chase@corridorbusiness.com
BLAIRSTOWN—Jay Schmuecker is sowing more than crops at Pinehurst Farm, with the aim of revolutionizing how farmers fuel their operations.
Carrying on a legacy set forth by his father – a staunch advocate of using hydrogen to replace fossil fuels – Mr. Schmuecker is responsible for a six-year project to create a self-sustaining tractor.
Far from a typical farmer, Mr. Schmuecker, 79, spent more than 50 years working at Caltech's NASA Jet Propulsion Laboratory, where he was responsible for the assembly of Mariner II, the first spacecraft to fly to another planet when it successfully reached Venus in 1962. Almost 50 years later, he set out to create a "self-contained" farm operation.
The effort culminated in the construction of a John Deere 7810 tractor that can run on hydrogen gas, or ammonia combined with a small amount of hydrogen. Fuel is fed into the tractor's 150-horsepower engine from tanks mounted above its cabin.
Neither cheap nor simple, the project grew from roots far deeper than Mr. Schmuecker's background in science and technology.
"Now you may be wondering, why would I spend in the order of $1 million of my Caltech retirement fund and my children's inheritance on this project?" Mr. Schmuecker asked at a press conference to unveil the tractor. "One is a memorial to my father. Secondly, fossil fuels are not available indefinitely. We are consuming them, and at some point in time in the future, fossil fuels are going to be very, very expensive for use as farm fuels and a basis for farm fertilizers, and we have to develop other means of generating farm fuels and the fertilizers that we use."
The operation begins with three solar panels, which convert the sun's rays into an alternating current. An electrolyzer then takes that current and generates hydrogen – approximately two-tenths a pound of hydrogen an hour – which is then routed into a 1,000-gallon storage tank before being pumped into smaller, composite tanks used to fuel the tractor.
About a year ago, Mr. Schmuecker discovered that he could use the hydrogen to produce ammonia, which is commonly used as a corn fertilizer. Although he originally planned to use ammonia only as a backup fuel for the tractor, he revised those plans when it was discovered that ammonia could boost the tractor's power. As a result, the tractor is started on hydrogen gas, then switched to ammonia that's combined with small amount of hydrogen that generates more power than using hydrogen alone.
Ultimately, the hydrogen and ammonia fuels are collected and stored on-site through nine subsystems dubbed the Raphael Schmuecker Memorial Solar Hydrogen System, named after his father.
Mr. Schmuecker said that because of limitations on how much ammonia can be generated on-site, he considers his operation to be a "scaled demonstration system."
The creator of the engine, Ted Hollinger, the founder and CEO of Hydrogen Engine Center in Algona, said the tractor's modified 460 cu. in. Ford V-8 engine is the largest hydrogen engine in the world, and the first to run on both hydrogen and ammonia gases. But Mr. Schmuecker reiterated that his operation's technology isn't new.
"It's just taking all of these things and putting them together into one cradle-to-grave system," he said. "There are basically no new inventions. It's just application and putting all of this together in a form that can be demonstrated."
Most of the hardware involved in the operation is already mass-produced, such as the hydrogen fuel tanks, which are the same ones used by buses that run on compressed natural gas. With increasing availability of the hardware necessary for building an operation like the one at Pinehurst Farm, Mr. Schmuecker said an inverse relationship is likely to continue between conventional energy costs and the expense of operations fueled by hydrogen, solar and wind power.
"The cost of these things is coming down," he said. "Eventually, the cost of fossil fuels is going to go up, and the economics, I think, are going to drive us into these kinds of energy sources in future years."
The entire Pinehurst system is emissions-free, which has helped Mr. Schmuecker gain support from fellow renewable energy supporters. Chris Cassidy, a renewable energy adviser for the USDA, said farmers, rural businesses or cooperatives that want to replicate Mr. Schmuecker's renewable hydrogen system can apply for financial assistance through the USDA's Rural Energy for America Program.
Plans outlining Mr. Schmeucker's operation for potential adopters can be viewed free online, but patent filings are in progress for the engine's processing of hydrogen and ammonia.
"It always takes capital," Mr. Schaub said. "The more interest in capital and citizen support, the better."
To view more details on the Raphael Schmuecker Memorial Solar Hydrogen System or find out information about upcoming tours of the system this summer, visit www.solarhydrogensystem.com.