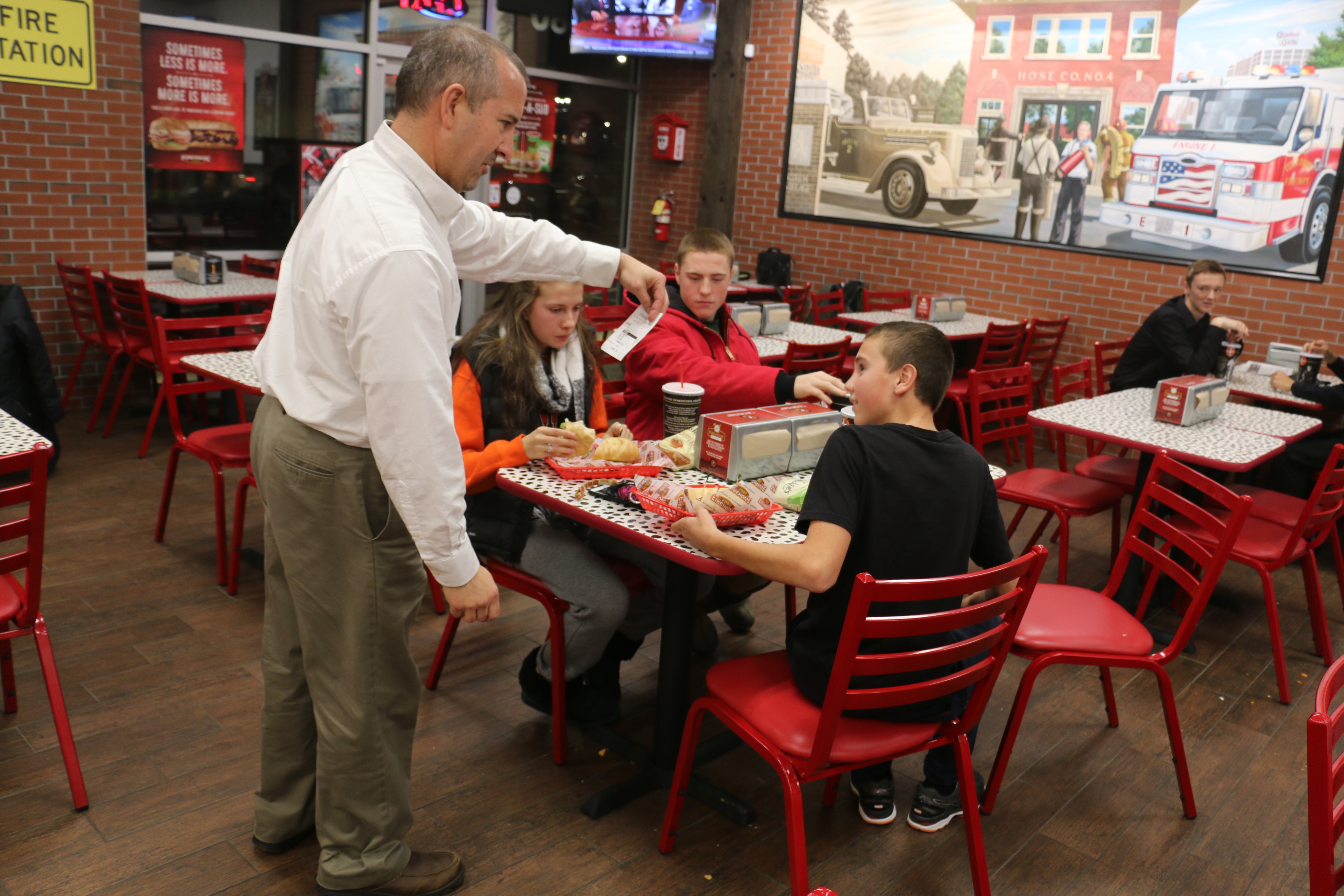 By Dave DeWitte
When John Chadima of Marion decided in 2013 to go into business after a career in university athletics administration, he faced a vast array of options.
They ranged from starting his own business to buying into a franchise, or even taking on a role in a locksmith business his brother and his wife had owned before his death. He was open to many of them, and took a kind of personal sabbatical in Colorado to consider the decision.
"As things evolved here, the franchise route was the way I wanted to go – I think mainly because of my lack of experience running a business," Mr. Chadima said. "You have that safety net of corporate oversight."
He signed up with a franchise matching service, which spent a few hours interviewing him on the phone before delivering its recommendation that he consider franchises in home health care, fitness, frozen yogurt or printing. He ultimately took the advice of a trusted friend, former NFL tackle Don Davey, one of Firehouse Subs' largest franchisees, and traveled to the chain's home office in Jacksonville, Florida for a day of meetings.
The day ended with a 20-minute meeting with the two brothers who started Firehouse Subs, Chris and Robin Sorensen.
"They were just genuine people," Mr. Chadima said. "They're hardworking and have great personalities, and they have a unique product in the market."
Today Mr. Chadima is all-in with the chain. He owns and operates two Firehouse Subs restaurants in Cedar Rapids under a franchise agreement with the company. His first restaurant, which opened in November 2015 near Lindale Mall, has consistently been among the top regional sales performers for the company, while his second, which opened last month at Westdale, is off to a good start.
Getting there has not been simple. Mr. Chadima worked for months with Paul Heath of the University of Iowa Small Business Development Center to come up with a viable business plan. He spent almost two months in unpaid training at a Firehouse Subs in Denver, learning how to open, close, schedule, order product, maintain and prepare for mid-day rush. He also made a lot of sandwiches and rang up a lot of orders.
"I didn't mind it at all," he said. "I was a student manager at [the University of Iowa athletics department] and that gives you a perspective on what it takes to be successful in business."
Later, after a site had been selected for his first store, he returned to headquarters for a week-long certification process to demonstrate his knowledge.
Mr. Chadima can now talk the talk of a Firehouse Subs franchisee. He's become a persuasive brand advocate, discussing the many hot sauces the restaurant offers and explaining why steaming the meats and cheeses before putting them on the sandwich are well worth the two-minute, 45-second wait.
"I like to be in here talking to customers," he said. "I'm not behind the line very often – I'm out here [in the dining area]. Both restaurant managers will tell you they don't like having me back there."
Talking about the team is also par for the course, which is unsurprising, considering Mr. Chadima's background working for UI coaching legend Hayden Fry and University of Wisconsin icon Barry Alvarez. He employs about 20 people, and says he got off to a fortunate start with the hire of east-side manager Mari Heckroth.
"I dumbed into her, and thank God," Mr. Chadima said. The former bakery manager stepped up to the challenge as the two put in long hours staffing and opening the first Firehouse Subs together. He later hired Tim Keck to head up the Westdale location.
Beyond picking his team and franchise, Mr. Chadima said site selection has been the factor most critical to success. Traffic is so strong at Collins Crossing, the east-side location across from Lindale Mall, that the store has consistently ranked in the top 10 percent for sales in its region, even after the closing of the adjacent Fresh Market store cut into sales by about 5 percent.
Ironically, Mr. Chadima's first pick for a store site was rejected by corporate. He's grateful for that now, because it led to a better site pick, but it also illustrates the pros and cons of being in a franchise.
"Just being on one side of a parking lot instead of the other can determine your success or failure," he said.
Mr. Chadima has "driven the home office crazy" with new ideas for Firehouse Subs, most of which haven't been embraced. He'd like to see more soups, because they're popular in Iowa's cold winters, for example, or a store design option to include a vestibule to keep the cold wind out, but he realizes that franchise requirements have to be based on the overall needs of the 1,000-plus restaurant system.
Among the personal choices given to franchisees are the murals in each store, which localize the fire safety theme of the chain.
Mr. Chadima chose to illustrate his family's ties to the Czech community, incorporating images of the historic Sykora Bakery and a historic firehouse from the New Bohemia district, along with his father wearing the logo of the Hawkeye Fire & Safety supply business he started, and which his brother Bill Chadima now runs.
With two restaurants open in two years, Mr. Chadima said he's studying sites for the third Cedar Rapids store while waiting to see if the Westdale location is as fruitful as the Collins Crossing store. If that works out, an expansion into the Iowa City market could be in the future.
"I don't know what we're going to do here [in sales]," he said. "It's like going to Vegas.