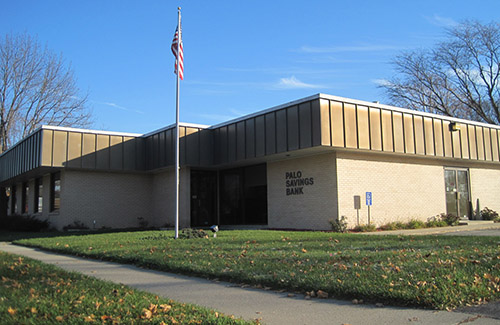 By Dave DeWitte
dave@corridorbusiness.com
Small community banks are hanging on in the Corridor, despite pressures ranging from regulatory overburden to intense price competition on loans from credit unions.
There haven't been any community bank failures in the Corridor in the years since the financial meltdown of 2008, nor have community banks closed in any significant numbers. Instead, smaller institutions are merging to former larger community banks, or choosing to go it alone at a slower but more manageable pace of growth.
Palo Savings Bank is the only bank in the northern Linn County town of about 1,000. With six employees, it manages about $32 million in assets and $27.5 million in deposits for customers concentrated in Palo and nearby Shellsburg.
By contrast, Hills Bank and Trust Co., the largest community bank headquartered in the Corridor, has assets of more than $2.3 billion.
Palo Savings has been growing, but only at 1-2 percent a year, President Terry Meyer said, adding that faster growth would create more challenges than benefits.
"We're really not focused on growth," he said.
So what's the goal? In addition to making a profit for the western Iowa family that owns it, Palo Savings simply wants to be the best bank for its small corner of the world.
Employees have been around the community for a long time and know just about everybody, said Mr. Meyer, himself a 30-year employee. The bank also donates every year to Palo's community center and fire department, the Palo Lions Club, the Shellsburg Fire Department and numerous other community efforts.
Still, these are not the best of times for small banks.
The Dodd-Frank Wall Street Reform and Consumer Protection Act that Republican presidential candidates have been railing against isn't an abstract concept to Mr. Meyer. Signed into law by President Obama in 2010 in order to protect the economy from systemic risks that led to the 2008 financial crisis, the act has also increased the regulatory burden on even small banks like Palo Savings.
"It takes us about twice as long to process a mortgage as it did four years ago," Mr. Meyer said.
Being close to a large market like Cedar Rapids creates some business opportunities for Palo Savings, but the bank also has to cope with intense competition from large credit unions in Cedar Rapids that are not required to pay income tax, according to Mr. Meyer.
Although the number of hometown banks like Palo Savings is declining in Iowa, it's more of a continuation of an established trend than an sudden development, according to Shauna Shields, acting superintendent of banking and bank bureau chief in the Iowa Division of Banking.
Ms. Shields acknowledged that there has been a lot of talk about bank consolidation due to the regulatory burden, technology costs and other financial stresses on smaller banks.
"You have more chatter, but I haven't seen that result in actual applications that have been a huge uptick," Ms. Shields said. "It's one or two more per year."
Most of the sales involve larger community bank holding companies buying smaller community banks or bank holding companies, Ms. Shields said. The most common element among the sales tends to be family bank owners who are ready to retire, without a logical family member to succeed them.
One factor that Ms. Shields believes might add fuel to the consolidation trend is the increasing price multiples being offered for banks that have been sold. Prices offered for banks took a downturn during the recession and have recently been in recovery mode, Ms. Shields said, giving owners further incentive to sell.
Donald Hole, CEO of the Community Bankers of Iowa, says there are certainly occasions when price drives a sale, but the regulatory burden imposed by Dodd-Frank is a big influence.
"Regulatory burden is the number one thing I hear from bankers," Mr. Hole said. "To correct the misdeeds of the very largest banks… the smallest banks that had nothing to do with the financial crisis have to spend millions of dollars to comply."
"They [community banks] fill out voluminous reports with nothing in them because they're asking for information on activities they don't do," he added.
The association has lobbied for easing the regulatory burden on smaller banks, he said, and has gotten some limited relief such as changes in the examination schedule from a 12-month to an 18-month cycle, but he believes much more relief is needed.
Competition from large credit unions that are not required to pay income tax is another stress mentioned by most small community banks, Mr. Hole said.
"What community banks live on is the net interest margin," he noted, referring to the margin between the interest banks must pay on deposits and other funds, and the amount they can charge borrowers.
Because of the type of business small community banks do, Mr. Hole said they are more directly affected than large regional or national banks.
The debate over taxing credit unions, which have enjoyed the exemption for nearly 100 years, has accelerated as credit unions have grown. Credit unions defend the exemption, saying they are nonprofit, have member-elected boards of directors and are restricted by law in the products and services they can offer.
Transaction trends
One community bank acquisition taking place in the Corridor is Community Financial Corp.'s deal to buy Linn County State Bank, as reported in last week's CBJ.
Community Financial Corp., based in Edgewood, plans to merge Linn County State Bank into its Community State Bank brand in mid-2016, according to President Steve Brady. Community Financial will, however, keep Linn County State Bank's locations in Coggon and Marion, along with their staffs.
It's a deal typical of the consolidation affecting Iowa's small community banks. Linn County State Bank was one of the smallest in the Corridor, and was owned by a Fairfield-based bank holding company considerably smaller than Community Financial.
Community Financial Corp. has made five such acquisitions since the holding company was formed, and now has $412 million in assets. Mr. Brady said the larger scale enables his company to have a full-time regulatory compliance officer and invest more heavily in technology for things like online banking, while still providing support and leadership in the communities where it operates.
Mr. Brady expects the pace of small bank acquisitions to increase, partly due to financial realities. Most growing bank holding companies like deals that enable them to grow without having to raise additional capital, he said, and the number of banks in that size range – considered those with assets of $150 million or less – is limited, he said.
Mr. Hole sees opportunity rather than financial pressure being the major factor driving most sales of small community banks.
"Most community banks in Iowa are doing quite well," he said.
But without the scale, technology and regulatory staffs of large regional and national banks, how do they do it?
Understanding the customer base and tailoring services is one of the hottest trends in banking right now. Community banks have always been good at it, according to Mr. Hole. If a small business needs to have its bank statement to arrive on a specific day of the month, for example, he said a community bank would be more likely to customize its service to meet that need compared to a larger institution.
"Clearly, the community banks have a vested interest in being involved in their communities and having great relationships with the customers in the community," Mr. Hole said. "They have been shown in some surveys to have lower fees than the larger banks."
And to Mr. Hole, there's always the extra confidence of banking with someone you've known, often for years.
"If something goes wrong you have a smiling face right there in town to talk to rather than a call center far away," he said.