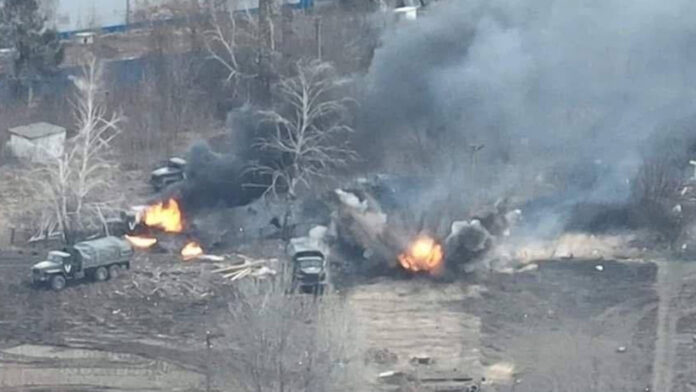 Several businesses and industries with operations in the Corridor have issued official statements and responses to Russia's invasion of Ukraine in late February – the largest conventional military attack in Europe since World War II.
These responses were gathered by researching company websites of large-scale Corridor employers. Any company that has issued a response to the conflict that's not listed here can submit information via email to news@corridorbusiness.com.
Responses are listed verbatim and alphabetically.
ADM
We join with the world in our horror over the unfolding conflict in Ukraine. We are focused first on the safety of our almost 650 Ukrainian colleagues, who are being subjected to increasingly indiscriminate attacks on civilian areas. At the same time, we're rapidly growing our efforts to support the Ukrainian people, committing more than $5 million in financial and other support, including wheat for the Ukrainian flour milling industry; working with Ukrainian farmers to purchase their crops, putting more cash in the hands of those who need it; and using our logistical expertise to import and distribute emergency food rations.As the images and effects of this conflict continue to reverberate around the world, we are taking further steps. Our footprint in Russia is very limited, and we have made the decision today to scale down operations in Russia that are not related to the production and transport of essential food commodities and ingredients. And, we will of course, continue to comply with all sanctions, laws and regulations.ADM is a pillar of the entire global food system. We believe it is important to stand for what is right, which includes preventing further suffering by continuing to play our critical role in ensuring all people have access to the fundamental nutrition they need.
AEGON
Aegon has announced that it will not make future investments in Russia or Belarus-based companies and has updated its Responsible Investment Policy accordingly. This policy applies to all general account investments where Aegon has full management control. Investment decisions for third-party investments and investments for account of policyholders, are not within Aegon's control. However, Aegon encourages its business units to discuss Aegon's policy positions with their respective clients.
The Responsible Investment Policy already excluded investments in any form of Russian and Belarus government‑issued debt, such as government bonds.
Additionally, given current exceptional circumstances, Aegon will look at options to reduce its existing investment exposure in a thoughtful way, while taking into account the interests of all stakeholders. Aegon has EUR 27 million of general account investments in Russia, based on the book value as per March 3, 2022. Aegon does not have any investments in Belarus.
These decisions are in line with the response of the international business community and the international sanctions imposed on Russia following the invasion of Ukraine.
CARGILL
The people of Ukraine are living an unthinkable and horrifying reality. Since their country was invaded, many have lost their lives, their families, their homes – everything. Through our 157 years, two things are constant: We always put people first, prioritizing our employees' safety, and we do everything we can to nourish the world. This is how we feed families and sustain life around the globe.
Our purpose and principles have been with us since our beginning and guide us every day. We have a long history in Russia, but now is a time like no other. As such, we are scaling back our business activities there and have stopped investment.
We will continue to operate our essential food and feed facilities in Russia. Food is a basic human right and should never be used as a weapon. This region plays a significant role in our global food system and is a critical source for key ingredients in basic staples like bread, infant formula and cereal.
We are also increasing support of our Ukrainian colleagues and humanitarian efforts in the region through the World Food Programme, World Central Kitchen, Red Cross, Save the Children, European Food Banks Federation and CARE. Profits from our operations will be directed to these humanitarian efforts.
GENERAL MILLS
We are deeply concerned and saddened by the tragic conflict unfolding in Ukraine. Please know, General Mills does not have any wholly owned operations in Russia. There are no General Mills plants, employees or distributors in Russia today. In fact, as a company we are focused on the growing refugee crisis. We are actively working on ways to help those impacted by this war through donations of food and water, including donations to food banks and local charities to help those in need in Ukraine and the neighboring countries.
We do have a joint venture with Nestle called Cereal Partners Worldwide for sales of cereal outside of North America. CPW sales in Russia represent less than 1% of total General Mills sales. In partnership with Nestle, we have stopped advertising and suspended all capital investment in our CPW business in Russia.
JOHN DEERE
John Deere is deeply saddened by the significant escalation of events in Ukraine. The safety, welfare, and well-being of our employees in the region remains our top priority, and we continue to support and maintain close communication with our affected teams, providing necessary resources when possible. Our thoughts are with our employees, their families as well as our dealers, customers and all those impacted by this crisis. Two weeks ago, we suspended shipments of machines to Russia and then subsequently, Belarus. We continue to monitor the situation closely while we fully abide by U.S. and international sanctions. The John Deere Foundation has additionally been working directly with a number of organizations, including multiple UN agencies, to mobilize resources to support Ukrainians impacted by the crisis. Our mission is, and always has been, to help our customers feed the world.
KRAFT HEINZ
While we continue to closely assess the humanitarian crisis in Ukraine, Kraft Heinz has suspended all new investments in Russia, and has also suspended all exports of Kraft Heinz products to Russia as well as imports of products from Russia. Additionally, we have donated $1 million to the Red Cross to address the humanitarian crisis, and we've implemented a $2 to $1 company match for employees who wish to personally donate to the Red Cross. We have also made several in-kind donations, including our Pudliszki brand in Poland donating food products to the local Red Cross, helping feed refugees arriving from Ukraine.
PEARSON
All of us at Pearson are heartbroken and deeply concerned about the violence being inflicted on Ukraine by Russia. We stand with the Ukrainian people as they endure this injustice.
Our priority continues to be supporting our Ukrainian employees and their families. In addition, Pearson is suspending the sale and delivery of our products and services in both Russia and Belarus. And, we are committing to a £1m (approximately $1.3 million) donation to charities that support humanitarian relief.
In the coming days and weeks, we will evaluate additional ways we can help Ukrainians who need to continue their education during this crisis.
PEPSICO
This letter was originally sent via email from CEO Ramon Laguarta to PepsiCo associates.
As the tragic war continues in Ukraine, I wanted to update everyone on PepsiCo's activities in the region.
As many of you know, we have been operating in Russia for more than 60 years, and we have a place in many Russian homes. Pepsi-Cola entered the market at the height of the Cold War and helped create common ground between the United States and the Soviet Union.  However, given the horrific events occurring in Ukraine we are announcing the suspension of the sale of Pepsi-Cola, and our global beverage brands in Russia, including 7Up and Mirinda. We will also be suspending capital investments and all advertising and promotional activities in Russia.
As a food and beverage company, now more than ever we must stay true to the humanitarian aspect of our business. That means we have a responsibility to continue to offer our other products in Russia, including daily essentials such as milk and other dairy offerings, baby formula and baby food. By continuing to operate, we will also continue to support the livelihoods of our 20,000 Russian associates and the 40,000 Russian agricultural workers in our supply chain as they face significant challenges and uncertainty ahead.
Our first priority continues to be the safety and security of our fellow Ukrainian associates. We suspended operations in Ukraine to enable our associates to seek safety for themselves and their families, and our dedicated crisis teams in the sector and region continue to closely monitor developments in real time.
We are also continuing to provide aid on the ground to assist Ukrainian refugees in neighboring countries. Our business has donated food, milk and refrigerators to relief organizations, and we're ramping up production of foods and beverages in neighboring countries to meet the increased need. We are also donating a total of $4 million to the Red Cross in Poland, World Vision in Romania, the United Nations World Food Programme, World Central Kitchen and Save the Children. And we continue to match up to $1 million raised from PepsiCo employees through our Gift Matching Campaign. The number of associates expressing concern for our colleagues and a genuine desire to help has been truly inspiring, with some of you even volunteering to take refugees into your homes. Your kindness and generosity speak volumes about our company, and we will continue working to support your efforts.
My heart goes out to all those who are caught in the middle of this deadly conflict. As it so often does, war is falling hardest on the innocent. War is never an answer, and we join all those calling for a speedy, peaceful resolution.
PROCTER & GAMBLE
A  letter to P&G employees from Jon Moeller, P&G's president and CEO.
P&G Colleagues,
Our hearts go out to all people who endure the unspeakable human toll of war, and we condemn aggression in any circumstance. We join the world in praying for peace.
As I shared last week, since the beginning of the war in Ukraine, our top priority has been to care for P&G people there and across the region who are directly impacted. We proactively suspended operations in Ukraine to help protect our people locally. Our continued efforts range from evacuation assistance, to financial and logistical support, to the provision of food, shelter and essential products for P&G families. P&Gers in Central Europe and around the world have stepped up to lend their individual support, many opening their homes to welcome their Ukrainian colleagues. This is a testament to P&G people and the values we share.
The impact of these humanitarian efforts is now materializing. A multi-million-dollar relief package of cash contributions and P&G products, including diapers, feminine care and other essentials are flowing to refugee families through the International Federation of Red Cross and Crescent Societies and relief organizations across Central and Eastern Europe. We are further expanding these efforts, including the employee matching gift program. Thank you for your contributions. We will stay closely connected with our relief partners to understand how we can uniquely help and expand our support as needed.
P&G products play a role in the daily lives of consumers all around the world. The necessities our products provide are important even in times of crisis – enabling families to address their most basic health and hygiene needs amidst incredibly challenging circumstances. Within Ukraine, we are working with our distributors and aid organizations where they can operate safely to replenish supply and deliver essential products people need. Across Europe, our manufacturing and distribution teams are working around the clock to address the extraordinary logistical challenges to continue to serve consumers.
I also want to address questions I've received about our Russian operations. Our many Russian colleagues, and the people of Russia, face challenges and uncertainty for their futures that are also significant. P&G will continue to support them, but the situation necessitates important changes immediately and over time. We have discontinued all new capital investments in Russia and are suspending all media, advertising, and promotional activity. We are significantly reducing our product portfolio to focus on basic health, hygiene and personal care items needed by the many Russian families who depend on them in their daily lives. As we proceed with the reduced scale of our Russian operations, we will continue to adjust as necessary.
I want to express my gratitude to all of you who are stepping up in ways big and small. As we always do, P&G people come together in times of crisis to be our best – protecting each other, serving our consumers and supporting our communities.
U.S. BANK
With financial support, U.S. Bank looks to help impacted families and communities.
The humanitarian crisis in Ukraine has affected so many people. Today, U.S. Bank announced it will provide a $100,000 U.S. Bank Foundation donation to the Red Cross, and activate ATMs across our network for Red Cross donations supporting Ukraine humanitarian relief. U.S. Bank will also provide 2:1 matching gifts for U.S.-based employee contributions to organizations supporting Ukraine humanitarian relief efforts.
"The invasion of Ukraine is devastating and frightening," said Reba Dominski, chief social responsibility officer for U.S. Bank. "Through our U.S. Bank Foundation and Matching Gifts program, we're stepping up to help impacted families and communities."
WELLS FARGO
Wells Fargo announced $1 million in donations across three nonprofits to enable humanitarian aid for Ukraine and Ukrainian refugees, as well as support services for U.S. service members and their families across the globe.
"In times like this, it's important we come together to support those most impacted," said Wells Fargo CEO Charlie Scharf. "We appreciate the nonprofits on the ground and hope our grants will enable them to accelerate getting humanitarian aid to those who require it most. At the same time, we want to support our nation's military, which is often called upon in times of need, and we will continue to provide essential services for service members and their families."
The funding is as follows:
American Red Cross, in coordination with the global Red Cross network including the International Federation of Red Cross and Red Crescent Societies (IFRC), International Committee of the Red Cross (ICRC) – A global first responder, the Red Cross is distributing food, water, first aid supplies, medical supplies, clothing and other urgent support as well as providing temporary shelter to people affected by the crisis.
World Central Kitchen – World Central Kitchen provides meals in times of crisis. Their team is currently serving tens of thousands of meals to Ukrainian families fleeing their homes as well as those who remain in the country.
USO – The USO is rapidly responding with support for American service members in Eastern Europe with call centers, hygiene and meal kits, care packages, and other essentials. It also offers resources that provide care and comfort to U.S. service member families during this stressful time.
In addition, the company is making it easier for its employees to support these organizations through its internal employee giving system. Wells Fargo is also amplifying employee generosity to these organizations through its Community Care Grants program, allowing donations of up to $1,000 to qualify for additional grant dollars to further extend impact.