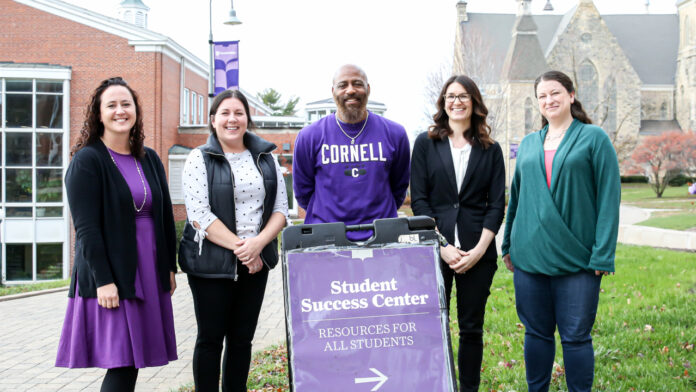 Cornell College has opened a new office staffed with six full-time staff members dedicated to current students and their success.
The Student Success Center is located on the third floor of Law Hall, and those who work there will spend their time connecting students to any support or resources they need on campus or off.
"This is a bold step for us," associate vice president for student affairs and dean of students Gwen Schimek-Tischler said in a news release. "We've seen other schools adding student success officers. We are not just adding one position to focus on supporting our students, we are adding six."
The center will consist of the director of student success, associate director of student success, coordinator of academic support, coordinator of student-athlete success, coordinator of first-year experience and parent communication, and coordinator of disability services. Three of the six positions are new to the college, while there were existing positions elsewhere on campus that will join the Student Success team.
This will be the go-to office for all students, but it'll especially help students in their first and second years of college who are learning campus and who are working to find their path. The new director of the center, Brooke Paulsen, says it's hard to move to a new place and adapt to a new academic calendar, and this office will help with any questions.
"The Student Success Center will be a connecting space for students – whether they are struggling in a class, aren't sure how to find their social place here, or are doing OK but really want to do more to thrive during their college experience," Ms. Paulsen said. "We'll help them tap into the services and resources that can help them meet those goals."
"Following a year of COVID and knowing our students are GenZ, they have different needs than students did five to 10 years ago," Ms. Schimek-Tischler said. "We are investing in the future of our students who are getting an amazing education on the block plan. This will be a place for students who need advice, guidance, or just someone to talk to about their future."
This Student Success Center is important for helping with the larger goal of making certain students' experiences at Cornell are positive and keeping the institution's retention strong.
"We are thrilled to welcome a large new class of Cornellians this year, and we acknowledge that it was a tough year last year for our returning sophomores," said Craig Teague, associate dean of the college. "This will provide support for everyone and is a place where staff members will meet each student where they are at in their educational journey. We want students to know just how much we are doing to support them, and this center will really put forth all of those resources."
The Student Success Center is open from 8 a.m. to 5 p.m. Monday through Friday.