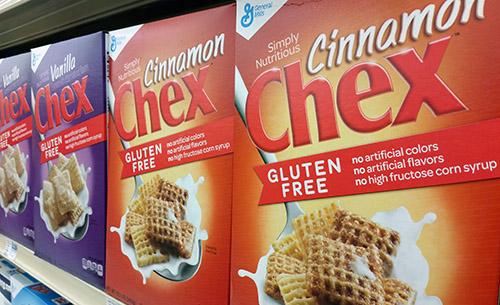 By Dave DeWitte
dave@corridorbusiness.com
The sweetener marketing wars fueled by health claims against high fructose corn syrup may finally be dying down, leaving a major product of the Corridor's bioeconomy weakened, but intact.
Producers of high fructose corn syrup (HFCS) are telling food and beverage producers that while there's a growing "mindfulness" in dietary choices that doesn't favor HFCS, it hasn't moved the needle very far against the consumption of HFCS-sweetened foods and beverages.
"What we're seeing is a shift toward a conversation on total sugars," said Andy Resnick, spokesman for the Corn Refiners Association, the Washington, D.C.-based trade association that represents manufacturers of corn-based sweeteners, including three with Cedar Rapids operations: ADM, Cargill and Ingredion.
"At the end of the day, consumers are concerned about total sugar and not the kind of sugar – that's what our research shows us," Mr. Resnick said.
HFCS is a sweetener made by adding enzymes to corn syrup. The enzymes change some of the glucose in the syrup to fructose, making it sweeter than regular corn syrup. It comes in 55 and 42 percent fructose formulations, which are pound-for-pound about as sweet as sucrose, made from sugar beets and sugarcane.
HFCS captured market share in the baking and food industry that formerly belonged to sucrose throughout much of the 1980s and 1990s. It was not only an economical substitute, but also enhanced the flavor and freshness of foods, and blended more easily with other ingredients.
Then, around 2007, HFCS came under attack, linked in studies to America's obesity epidemic, and metabolic syndrome contributing to health issues ranging from diabetes to stroke. The corn refining industry responded by citing studies that indicated the human body processed HFCS much the same as sucrose, and launched a marketing campaign to make the point.
The corn refining industry's use of the term "corn sugar" to market HFCS and its marketing campaign, "Sugar is Sugar," became the object of a 2011 lawsuit filed by the sucrose industry in federal court. Sucrose producers were a main beneficiary of consumers' shift away from HFCS, and had marketed their products as a natural alternative.
The corn sweetener industry countersued, alleging that sucrose producers were damaging its business with deceptive claims that HFCS causes cancer and obesity.
The case had barely gone to trial in Los Angeles last month when it was dismissed in a confidential out-of-court settlement. The settlement potentially saved both industries from a damaging public tribunal over the negative health effects of both kinds of sweeteners.
While terms were not disclosed, the rival sweetener industries said in a joint statement that they would "continue their commitments to practices that encourage safe and healthful use of their products, including moderation in the consumption of table sugar, high fructose corn syrup and other sweeteners."
Producer impacts
With the lawsuit over, the HFCS industry still has some selling to do to win back food producers, beverage makers and consumers it lost.
According to the USDA, per-capita consumption of HFCS in the U.S. declined 30 percent from 64.5 pounds in 1995 to 45.6 pounds in 2014 amid the public debate over its health effects. A long list of consumer food products not only removed HFCS from their formulas, but proclaimed it in bold letters on their packaging. Those included some products made in the Corridor, notably several cereals from General Mills.
The USDA reports U.S. production of HFCS declined from 9.4 million tons in federal fiscal year 2006 to 8.5 million tons in fiscal 2014, or about 10 percent.
The local impact on HFCS production is hard to assess, because manufacturers don't publicly disclose their production figures by product or location.
ADM manufactures HFCS, along with ethanol and many other products, at its massive corn milling operations in Cedar Rapids.
"ADM continues to see a global demand for sweeteners," spokeswoman Jackie Anderson said in an email. "Corn-based sweetener sales have increased over last year."
Ms. Anderson said the overall grind, or amount of products processed at its corn processing facilities, also continues to grow.
Cargill Incorporated does not make HFCS at its corn milling operations in Cedar Rapids, but did close down a HFCS plant in Memphis, Tennessee, last year. The closing affected 440 workers, who were told that the plant's distance from major sources of corn affected its profitability.
Ingredion makes industrial and food starches, biomaterials and ethanol at the Cedar Rapids plant it acquired with its acquisition of Penford Corp. The company's product portfolio changes as consumer preferences change, with HFCS now accounting for a small minority of its product portfolio, Rob Ritchie, vice president of food and beverage, U.S./Canada, said in an email.
"Trends such as health and wellness provide us with an opportunity to change our product mix, and we have refocused our efforts on expanding our portfolio of specialty ingredients to meet this growing demand," Mr. Ritchie wrote. He said Ingredion's specialty ingredients have grown from about 5 percent of total sales in 2009 to about 25 percent. The company's goal is to boost the specialty ingredient share of its sales to 27-30 percent.
Declining HFCS production is a source of concern for farmers who supply grain to producers.
"It is an important market," said Rodney Williamson, director of research and development for the Iowa Corn Growers Association. "It is significant, especially when the price of corn is well below the cost of production, as it is now. We need to utilize every available corn market we can."
HFCS is not a make-or-break market for sustaining corn prices, however.
Don Roose, president of Des Moines-based U.S. Commodities, has watched the HFCS debate with interest. He said HFCS is an important market for corn, but "it is not the market driver. I'd pay more attention to livestock feed, ethanol and exports."
Mr. Roose said HFCS producers can usually "tweak" their plants to produce more of other products when the economics of producing HFCS aren't so good, and appear to be devoting more resources to developing new products in order to get more value of a bushel of corn.