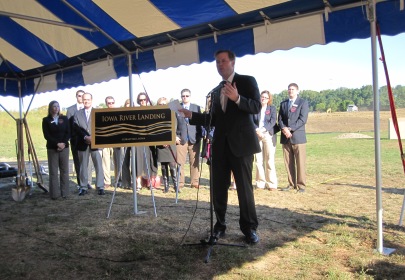 By Gigi Wood
It's no longer a rumor. Von Maur will be an anchor tenant at the Iowa River Landing District in Coralville.
Company and area officials made the announcement at a ceremony this morning on an undeveloped parcel of land near the Coralville Marriott. The ceremony served as a groundbreaking former University of Iowa wrestler Lincoln McIlravy's extended-stay hotel, which will be a few doors west of the Marriott. The hotel is expected to be complete in the fall of 2012.
Von Maur's new store in the IRL district will be 80,000 square feet, compared to the existing 52,970 square feet at its Sycamore Mall location in Iowa City.
"We're going to offer the same selection we do now, it's just going to be a little broader," said Jim von Maur, Von Maur's president.
Von Maur is a Davenport-based department store known for its women's apparel. Mr. von Maur said today that the company is undecided whether the Sycamore Mall store will remain open past its lease expiration, although a press release issued by the company today said the Sycamore Mall store will close. The Sycamore Mall lease expires in 2014. The IRL Von Maur store will open in late 2013.
With so much more space than the Sycamore Mall store, the Coralville Von Maur will have departments that are at least twice the size of the Sycamore Mall departments. The shoe department, for example, will be at least double that of Sycamore Mall's, with more inventory, said Bob Larsen, Von Maur's chief financial officer.
Mr. Von Maur said the University of Iowa Hospitals and Clinics' new $73 million outpatient clinic at the IRL played a major part in attracting to the store to the development. The district's proximity to Interstate 80, as well as the University of Iowa and other activity, sold Von Maur on the location, he said.