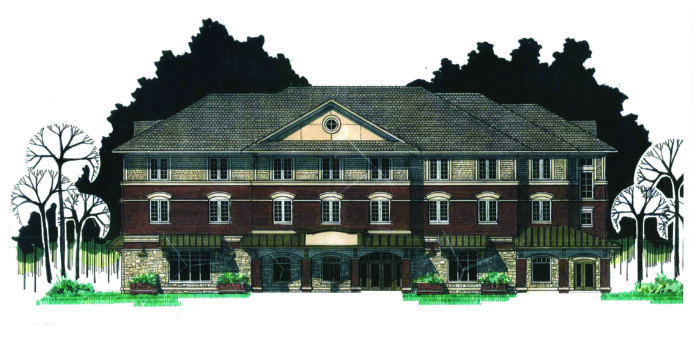 By Pat Shaver
CORALVILLE – A vacant lot in Coralville will be developed into a mixed-use building that will feature an Asian market.
The Coralville City Council at its meeting Jan. 22 approved a request to change the zoning of a lot so Bai Jai Asian Market, 906 Second St. in Coralville, can relocate.
John Danneman, a local Happy Joe's restaurant franchisee, requested approval of a preliminary plat, rezoning and a site plan for 508 First Ave. The location is just north of the Coralville Burger King.
The proposal is for a three-story building with a footprint of 7,290 square feet. The Asian market will be on the first level, with two stories of apartments above, for a total of 12 apartments with eight two-bedroom units and four three-bedroom units. The building will be constructed close to First Avenue, with a 72-spot parking lot behind the building.
Since the Happy Joe's Pizza & Ice Cream Restaurant Iowa City location, 225 S. Gilbert St., was destroyed by a tornado in 2006, it has been awaiting a new, permanent home with a dining room. After the tornado, the restaurant moved to 102 Second Ave. in Coralville, where it has a few tables, carry-out and delivery service, but no room for the traditional birthday parties for which the franchise is known.
The Coralville Happy Joe's also flooded in 2008. The building was repaired, remodeled. It continues to operate at that location.
Mr. Danneman is continuing negotiations with Happy Joe's corporate office on opening the restaurant in a larger location.
"I'd love to have a dine-in, sit-down restaurant in Coralville," Mr. Danneman said.
The new building design falls into the concepts they would like to continue for that Corridor, said Jim Kessler, building and zoning official for the city. The three-story building will be constructed from red brick, limestone with smooth stone banding and cement board siding.
Life center
The city also approved a request by MVL Properties for a land-use amendment from residential to general commercial for 2.6 acres of land located at the southwest corner of 12th Avenue and Forevergreen Road.
At a previous council work session, the applicant's representative showed a concept plan that included a life center, event center and a commercial building.
"These are dreams, they're just concepts," said Michael Lensing, whose family also owns Lensing Funeral & Cremation Service in Iowa City and Lensing's Oak Hill in Coralville. "It might be that there are some other businesses that could link with that, that would be nice, too."
The company's preliminary plans do not include a crematory.
Residents have voiced concerns about a funeral home on the lot, which is across the street from North Central Junior High, 180 E. Forevergreen Road, North Liberty. People said they are worried the life center would cause traffic problems.
"We have discussed this in the past, some of the concerns that have come up. I'm raising two kids at North Central and I do know it to be busy a couple times a day, but I don't know it to be a significantly busy roundabout," said Councilor Bill Hoeft.
Farewell to Kaeding
Coralville hosted a reception last week for Terry Kaeding, the city's finance director, who is retiring after about three decades with the city.
"I look forward to another 30 years or so, so that I can see everything happen from the other side and watch it continue to grow as a resident of Coralville rather than an employee," Ms. Kaeding said.
Her last day is Jan. 31, after being employed by the city for 29 years.
"The department heads, it's really hard to say goodbye to them. They all work very hard and I work with the budget so I give them all a hard time," Ms. Kaeding said. "It's really great to see them put in hard work and the love they have for the city of Coralville."
"I wish I could stick a flash drive in her brain and download all of what's in there," said Councilor Jill Dodds.
"She's a great example of a public employee. When I first got elected, I'm not sure how many hours I spent in her office, she got me up to speed," said Councilor Mitch Gross.
Tony Roetlin was hired by the city in December to transition into the finance director position. Mr. Roetlin has about 20 years of experience in finance. He most recently worked for Transamerica/AEGON in Cedar Rapids.