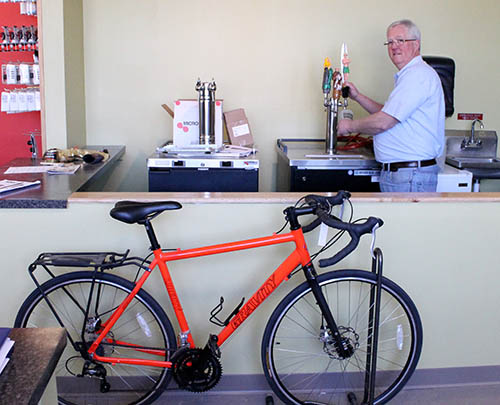 By Dave DeWitte
Jessica Skeie and her father Bob Wolff opened Trail's End, a new multisport shop at 498 First Ave., Coralville, to be a destination for endurance sports lovers, especially women.
Bicycle road racing, mountain biking and triathlon – with its swimming and running elements – are all included, with a special emphasis on the needs of female athletes.
"Women can be intimidated going into bike shops, because typically it's a male-dominated field," Mr. Wolff said. In addition to having knowledgeable women on staff, he said Trail's End is committed to stocking sports gear designed specifically for women.
Then, there are the beer taps and wine cooler back by the repair bench, which are gender-neutral.
"To survive in today's retail environment, you've got to make it a destination," Mr. Wolff said. "A lot of the new shops are hooking up with coffee shops, pastry shops, or beer and wine establishments. I prefer beer to coffee, and so we're focusing on Iowa-made craft microbrews."
Trail's End is the first bicycle-selling shop in Iowa offering beer and wine, according to Robert Bailey, spokesman for the Iowa Alcoholic Beverages Division, although successful new microbreweries and restaurants that serve alcohol are springing up along bike trails in the Des Moines area.
Trail's End, located right off Coralville's trail system, also aims to pull in customers with sponsored rides, educational activities for triathletes and youth safety classes with the Coralville Parks and Recreation Department.
Ms. Skeie brings the triathlon and marathon running insight to the business. The medical research scientist at the University of Iowa has completed more than a dozen endurance events. She is also certified in dynamic bicycle fitting. Unlike static fitting, where the bicycle is adjusted to a cyclist in a stationary position, dynamic fitting adds a higher level of physical assessment that includes range of motion and flexibility by measuring the cyclist's relationship to the bicycle while riding on a trainer for 45 minutes.
Mr. Wolff is a trained bike mechanic, but that's not all. The former Rockwell Collins project manager is also an experienced cyclist, catamaran sailor and beekeeper. He brings an engineering discipline to the venture, having developed an intake questionnaire for bicycle repairs and preparing a database to track service records on customer bikes.
The shop brought in Tim Balvanz, a veteran bike mechanic with 25 years of experience –
including 19 trips as a RAGBRAI route mechanic – to help him in the shop. He will likely prove an asset when RAGBRAI comes through Coralville for the fifth time this summer, although Mr. Balvanz is somewhat glad his RAGBRAI days are behind him.
"This is my RAGBRAI now," Mr. Balvanz said. His bike repair bench is not only well-equipped, but adjacent to a serving bar with two kegerators filled with craft beer.
The bikes stocked at Trail's End tend to fill niches in endurance sport, such as super-light and aerodynamic tri-bikes, which are also well-suited for bicycle time trials, and cyclocross bikes for off-road racing. The store even stocks mountain bikes, as mountain biking has become a popular off-road endurance sport in its own right.
In addition to apparel and helmets, the shop carries GPS watches, triathlon wetsuits and even personal care products for endurance athletes to protect their skin and hair from the harsh elements of wind, sun and chlorinated swimming pool water.
The store has a comfortable lounge area with sofas and Wi-Fi to encourage customers to hang out and enjoy a beverage. Some leading bike equipment manufacturers chipped in with pint glasses to get their advertising into the shop, Mr. Wolff said.
Trail's End plans to hold its grand opening on the weekend of April 26 to coincide with one of the area's biggest cycling events, the 37th Annual Old Capitol Criterium in Iowa City and Chris Lillig Memorial Cup.
Hours of operation are from 10 a.m.-6 p.m. on Tuesdays through Saturdays and from noon-4 p.m. on Sundays.
"Mondays, we'll be out riding," Mr. Wolff said.