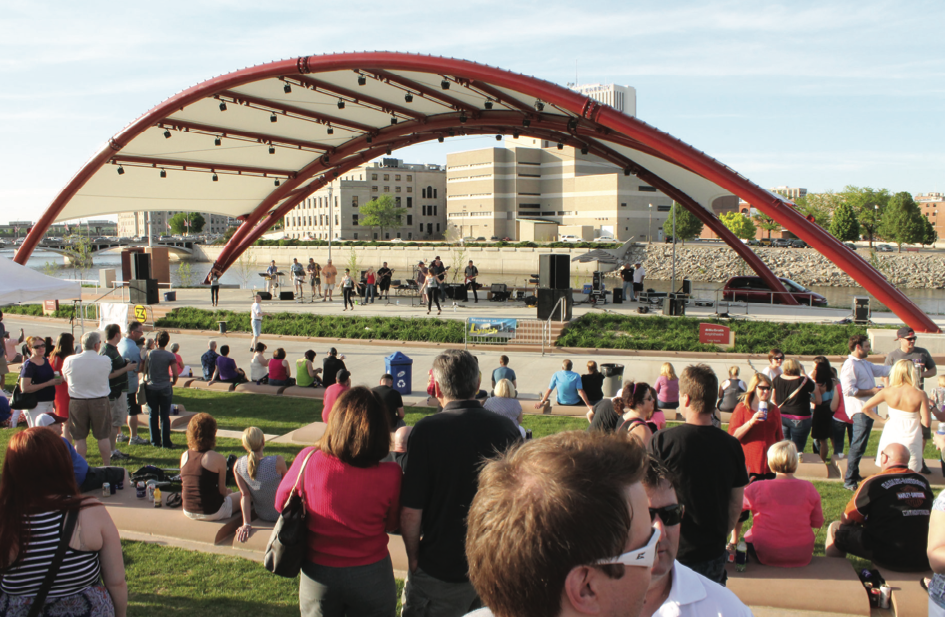 The McGrath Amphitheatre shown shortly after its opening in 2014. The amphitheatre is one of several Cedar Rapids venues managed by VenuWorks. PHOTO LIVEGIGSHOTS.COM.
By Dave DeWitte
dave@corridorbusiness.com
The abrupt closure of GO Cedar Rapids, swamped with debt from the money-losing newbo evolve festival, has created a game of catch-up for VenuWorks, the local company hired to fill the visitor promotion gap.
GO Cedar Rapids, the nonprofit visitors and convention bureau, closed on Oct. 15, and the city council voted on Oct. 23 to allocate $540,000 in hotel-motel tax money for a contract with VenuWorks to fill the breach for one year. City officials were afraid that leaving the role unserved would mean fewer conferences and meetings at the city-owned DoubleTree by Hilton Cedar Rapids Convention Complex, leading to a wider loss to fill.
VenuWorks is the management company that oversees the U.S. Cellular Center, the Paramount Theater, McGrath Amphitheatre and the Cedar Rapids Ice Arena. It has since hired five former GO Cedar Rapids staffers for what is being called simply "the Cedar Rapids Tourism Office."
Recruiting conferences, meetings and sporting events is a courtship that can take several years, and once booked, the events may still be a year or two off. The abrupt closing of GO Cedar Rapids has the potential to unsettle some event organizers, a fact realized by VenuWorks Executive Director Michael Silva.
"The first thing we did on the first day was to reach out to all the contracts in place, and say, 'We want you to come to Cedar Rapids next year, and we want to know what we can do to resolve any problems you have,'" Mr. Silva said.
VenuWorks' role with the city is "all about continuity and reassurance, and also about new business," he added. The decision for the city to bring VenuWorks in to fill the gap was a natural one, he said, as the company has been marketing Cedar Rapids events for more than 30 years.
The transition was hardly seamless, however. As of Nov. 6, the old GO Cedar Rapids website had not been removed, a phone number listed on the website was not answered and there was no new phone number to replace it. Visitors had no drop-in office where they could go to ask for directions or recommendations, or pick up promotional materials.
Mr. Silva said it takes time to do things like create a new website and get a customer service telephone line set up. He said discussions are ongoing about a drop-in office for visitors.
City Finance Director Casey Drew was the architect of the quickly assembled plan to bring in VenuWorks, and said many details were being worked out on the fly. He said the contract won't negatively impact the city's budget because the city council had withheld half of the $1 million in hotel-motel tax it had planned to allocate to GO Cedar Rapids after advancing the organization two payments of $250,000 to help finance newbo evolve. That three-day festival in August lost $2.3 million, more than the annual budget of GO Cedar Rapids.
VenuWorks held a meeting with hotel general managers and the leadership of area venues the first week of November to explain the changes and the path forward.
Some hotel and venue managers said before the meeting that they weren't too worried about the transition from GO Cedar Rapids to VenuWorks.
The first nine baseball fields in the new Prospect Meadows complex northeast of Marion is expected to open in May 2019, and President Jack Roeder is confident it won't be lacking for teams to play ball. The facility already has more than 1,000 teams booked under contracts with Game Day USA and Perfect Game USA, he said.
"I talked with Mary Lee Malmberg [former director of sports tourism for GO Cedar Rapids] and she's been hired," Mr. Roeder said of VenuWorks. "We still will continue to work with her. She's been very helpful to us in terms of looking for potential business for Prospect Meadows and will continue to do that."
Jackie Oliver is general manager of the Ramada by Wyndham in Cedar Rapids, a full-service hotel and conference center recently reopened with new ownership and a new brand. She said the Ramada hadn't been receiving much marketing support from GO Cedar Rapids because the organization focused mainly on booking events at the DoubleTree by Hilton.
"Because the DoubleTree is city-owned, I think there was a bias there," Ms. Oliver said. Nevertheless, she is glad to see some signs of continuity, having worked with Ms. Malmberg on a sporting events advisor y committee of GO Cedar Rapids.
City council
 members discuss
ing the VenuWorks
 contract at a Oct. 23 
meeting defended
 the decision to dis
continue support
 for GO Cedar Rap
ids without discussing it publicly. They 
said one reason
 they could not see
 viable alternatives
 for continuing GO
 Cedar Rapids was
 that some hotels
 planned to discon
tinue certain volun
tary payments they 
were making to the 
organization if they were only going to pay off debt instead of bring in new events. They also indicated an expectation that a new tourism and event promotion organization will take the place of GO Cedar Rapids after the VenuWorks contract expires.
One council member who'd been involved when Cedar Rapids first launched its convention and visitors bureau is Scott Olson. Mr. Olson said GO Cedar Rapids had broken with the tradition of previous versions of the local tourism organization by deciding to organize and promote events, a decision that got it into deep financial trouble. He made it clear he'd rather see the replacement organization stay in the role of promoting the city and avoid organizing events of its own.
Mr. Silva said he doesn't know what will happen when the one-year contract is over, but for now, VenuWorks is qualified to handle the role.
"If this function had gone dormant for just a year, the ripple effective could have been felt for years to come," Mr. Silva said.