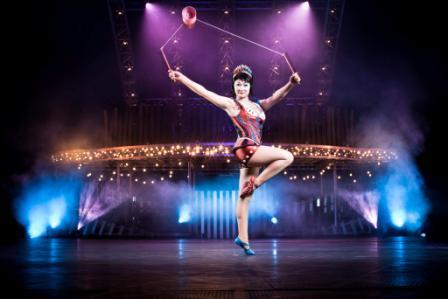 REVIEW
CEDAR RAPIDS — There is no question a Cirque du Soleil performance is going to be a feast for the eyes – colors, lights, acrobatics – I knew that without ever having seen Cirque du Soleil perform. I knew I would be amazed. I almost didn't attend Cirque du Soleil's Quidam at Cedar Rapids' U.S. Cellular Center (June 6-9) because of that prediction; I thought it would be a bunch of people performing amazing stunts I would never be able to do myself. I mean, I could just rent the DVD and have the same experience, right?
What a narrow-minded view to have.
Quidam is an Alice-in-Wonderlandesque tale of a young girl who escapes her boredom by imagining a world of various characters, including circus performers. While I've heard a few people complain Cirque du Soleil can be "creepy," I didn't have that experience. The story is at times serious and poignant, it more often magical, with many guffaw-out-loud funny moments, especially during the audience participation segment.
The show started with some simple, yet impressive acts: a gymnast inside a German wheel, using his body to propel the wheel around the stage, while spinning, twisting and turning it followed by a performer juggling plastic spools in fascinating ways that made the audience repeatedly wonder, "how did he do that?"
What first rapt my attention was Tonya Burka's "Aerial Contortion in Silk." The aerialist wore one of those flesh-toned body socks that makes a performer appear nude, the kind of thing you pretty much only see at the circus. Just as the audience was asking themselves why she wasn't wearing a colorful costume like the rest of the performers, she begins winding herself up in two red curtains of fabric hanging from the ceiling. Before long, she was suspended 20, 30, 40 feet above the stage, it was difficult to judge how high she was, supported by only those two curtains.
My mind kept wanting to tell her, "get down from there!" Perhaps that was an overreaction on my part, but as I looked around the audience, I realized nearly everyone was holding their breath as she wrapped one curtain around her ankle, climbing the curtain and then tumbling down, performing a number of acrobatic moves.
It was then that Cirque du Soleil brought to mind the opening ceremonies of the Olympic Games, those grand pageants of color and inspiring athleticism that allows viewers to believe that with skill, mastery and talent, anything is possible.
And I was reminded how important it is to have grand-scale art on a local level. To be inspired to do great things and be prompted by art to think outside the box is incredibly important as we strive to do great things as a region. That grand-scale art has been visibly absent in the Corridor since Hancher Auditorium was flooded five years ago.
Quidam was the first major performance at the U.S. Cellular Center in Cedar Rapids. It's nice to have a facility once again with the capacity to host shows and performances that are more grandiose in nature. And I don't know if I would have made the drive to sit in the outdated orange seats in the former facility.
Tickets to Quidam in Cedar Rapids started at $40 and go up to $75 and $130 for some shows across the country. After experiencing Cirque du Soleil for the first time, I would gladly pay that price in the future to experience the wonder of Cirque again.
-Gigi Wood