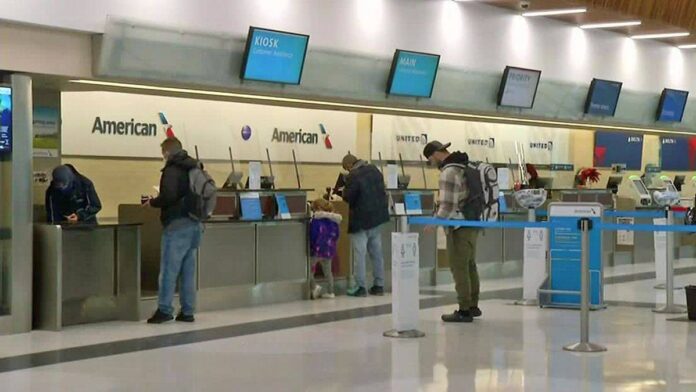 Travel Well, a health-screening program implemented in January for all outbound passengers at The Eastern Iowa Airport (CID), will be suspended as of July 1.
The program, a partnership with Mercy Medical Center and MercyCare Business Health Solutions, launched Jan. 25 as  another tool to help slow the spread of COVID-19. CID was the first – and only airport in the nation – to implement this type of screening program conducted by Mercy staff.
Airport Director Marty Lenss said the airport consulted with Mercy doctors and officials to make the recommendation, which follows a recent Centers for Disease Control announcement that made mask wearing optional for vaccinated Americans in most situations.
"We believe we have reached a point in which it makes sense to suspend the screenings," he said in a release. "If conditions change, we will be able to restart the program."
Mercy's Dr. Tim Sagers said conditions have changed enough to warrant the suspension of the program.
"We're seeing that the vaccine is working and cases are remaining low." Dr. Sagers said. "As vaccination rates increase and the number of COVID cases decrease in the region, we are confident that it's safe to cease general population screening at the Eastern Iowa Airport."
Cedar Rapids Airport Commissioners unanimously approved suspension of the program when they met Monday at their monthly meeting. The commission had approved a resolution in July 2020 to implement the screening requirement for all departing passengers and employees who work in the sterile or gate area.
Primary screening consists of a few standard health-related questions, in accordance with CDC guidance, and a temperature check prior to reaching security. Those who do not have a temperature, recent positive COVID-19 exposure or outward signs of health concerns move onto the TSA screening checkpoint. Those who present health concerns such as a temperature above 100.4 degrees Fahrenheit and/or a recent COVID-19 exposure are directed to secondary screening in a private room. From there, a Mercy's health care professional helps determine the health concern, such as an unrelated infection.
Through the end of April, Mercy staff had screened 102,000 passengers and employees. Sixty one were referred to secondary health screening for an evaluation. No passengers were referred back to their airline to be re-booked, and all were cleared to fly.
Mr. Lenss said the program was not about denying anyone travel.
"When we created this program with Mercy, we did not create a metric of success by establishing a number of people we were going to turn back to the airline to rebook," he said.
Travel Well was created as a pilot program, in part, to learn more about how medical health screening prior to the security checkpoint would work and whether it helped build traveler confidence. In addition, the information learned from the past six months can help CID, and other airports, respond quickly in the event of another pandemic.
Mr. Lenss said there have been instances where passengers arrived at the airport, admitted they had a fever or weren't feeling well and then voluntarily rebooked with their airline.
Both organizations note that should conditions change, they will adjust, and are now even better prepared to respond quickly.
An online survey of passengers who have gone through the screening show an overwhelming majority – 97% – say the screening makes them feel more comfortable or neutral about health screening.
"When we first talked about launching health screening, we heard from several people there would be significant pushback from passengers," Mr. Lenss said. "We have heard from a few customers who did not agree with the program, but the vast majority of customers really liked the program and would recommend flying CID to others."