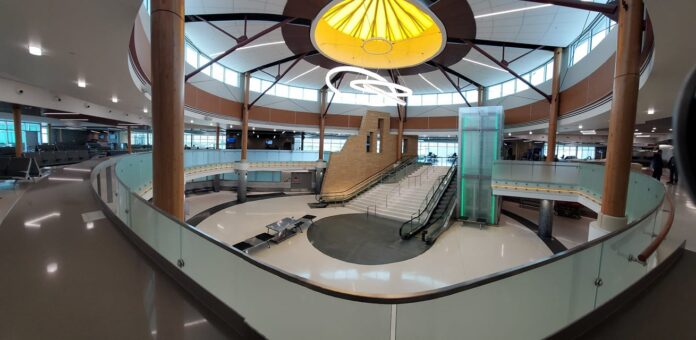 The renovated Eastern Iowa Airport terminal in Cedar Rapids. CREDIT FACEBOOK

By CBJ News Staff
newsroom@corridorbusiness.com
The Eastern Iowa Airport (CID) unveiled plans Thursday for a year-long health screening program that would be required for passengers on all outbound flights to reduce the risk of COVID-19 transmission, and help restore traveler confidence.
Mercy Medical Center is working with CID officials on plans for a program called Travel Well. It would include a roughly 10-second initial screening procedure that would include taking the passenger's temperature and questions about their health and COVID-19 exposure.
Those with body temperature above 100.4 degrees or recent exposure to COVID-19 would be referred to a secondary screening in a private room with medical professionals to help determine the reason for their high temperature. If the passenger's health is determined to pose a risk, the final determination as to whether they should be permitted to board their flight would be made by the airline on which they are ticketed.
The plan was outlined for the Cedar Rapids Airport Commission Thursday by Airport Director Marty Lenss and Dr. Timothy Sagers, COVID-19 clinical director at Mercy Medical Center. Mr. Lenss pointed to national travel surveys and CID survey information that overwhelmingly indicates passengers would like to see health screening at airports.
"The Travel Well program will provide an efficient approach to screening passengers and employees," Mr. Lenss said in a release. "Mercy established these protocols at their hospital and clinics as part of its COVID-19 response to ensure the safety of its staff and patients."
The use of medical professionals to conduct the screening will differentiate it from other travel screening programs that rely on temperature checks, Mr. Lenss said. The screeners will be Mercy employees trained for the role, in addition to medical staff such as RNs, CMAs and LPNs to provide secondary screening for those with a high temperature.
Dr. Sagers said Mercy's goal in the program is to address COVID-19-related health concerns that have discouraged many people from traveling.
The leaders described Travel Well as a proof-of-concept program that could provide valuable insights for the development of a national airport health screening program. Airlines for America, a leading airline advocacy organization, has publicly advocated for the Transportation Security Administration to take a role in health screening of passengers, however the TSA has made no decision.
CID plans to use some of the $22 million in federal CARES Act funding it received to support the program. It did not release a cost estimate.
Airport officials emphasized that no final determination on the program or how it would work has been made. A public hearing on the plan will be from 6-7:30 p.m. July 16 in the ballroom of the Hotel at Kirkwood Center, 7725 Kirkwood Blvd. SW, Cedar Rapids. Due to COVID-19 restrictions, the meeting room capacity has been set at 40 people. Remote participation will be available via Zoom.
To register in advance for the Zoom meeting, click here. CBJ