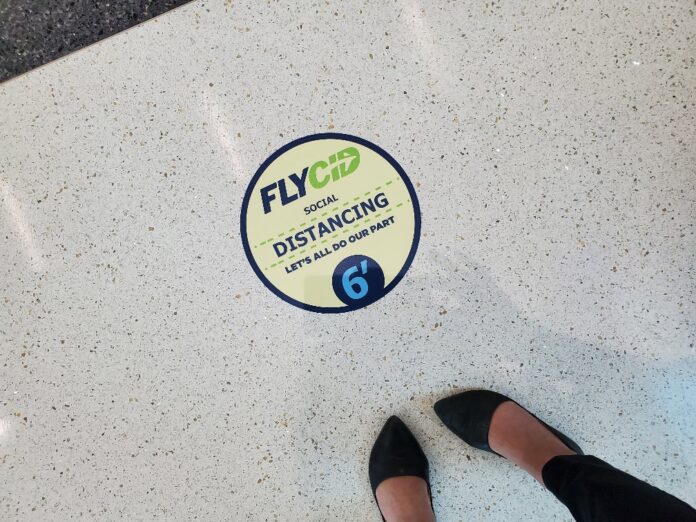 A vinyl floor sticker at the Eastern Iowa Airport reminding travelers to maintain social distancing. CREDIT CID
By CBJ News Staff
news@corridorbusiness.com
The Eastern Iowa Airport yesterday announced that it is implementing additional enhancements to ensure travelers have a safe and healthy experience in the airport.
The new safety measures include:
• Requiring all CID team members to wear face masks while in the public areas of the terminal. We are encouraging all stakeholder employees and passengers to also wear masks. To assist that effort, CID has disposable masks available at the Information or Guest Services desks.
• Requiring all CID team members to perform daily self-screening procedures before reporting to work.
• The purchase of electrostatic disinfecting sprayers to provide additional disinfecting throughout the terminal, including airline and rental car ticket counters.
• Increased deep cleaning and disinfecting of high touch points, such as handrails, elevator buttons, door handles, tables, public desks, and chairs.
• Equipping the CID team with Environmental Protection Agency (EPA)- registered disinfectant.
• Installation of protective shields at the Information desk and Guest Services desk.
• Frequent public service announcements, static signage, and digital displays reminding everyone to practice social distancing and other prevention measures to stop the spread of the coronavirus.
• Ongoing installation of vinyl floor stickers to designate six-foot marks for queues and signage in jet bridges.
• Placing hand sanitizer on counters throughout the terminal.
Airport Director Marty Lenss said in a release that CID is monitoring information from the Centers for Disease Control and Prevention (CDC), and state and local public health officials to ensure the airport is following proper safety standards, and working to go beyond minimum recommendations.
Mr. Lenss says the airport received the electrostatic disinfectant sprayers this week and the team has been using the throughout the terminal.
"We ordered these when the pandemic started, so it took a little longer than we hoped to receive them, but our team is using them on a regular basis," he says.
Information on these protocols can be found on the airport's website. CBJ