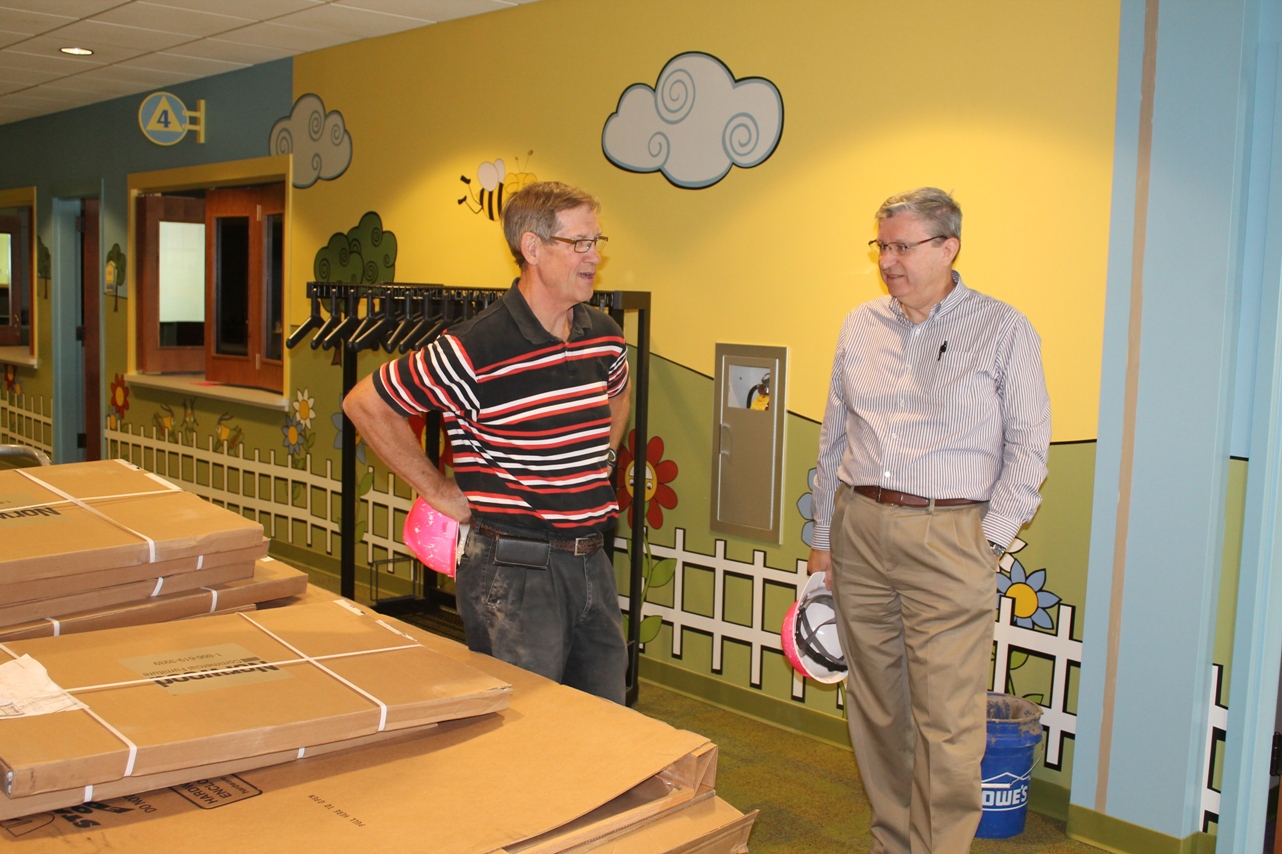 By Angela Holmes and Adam Moore
With increasingly busy schedules – especially on weekends – many people may find it difficult to attend a church service on Sunday mornings.
That's why local church leaders are constantly coming up with new ways to offer ministry in alternative forms, such as youth and adult programs, music ministry, social media, and local and global outreach.
"It's a nationwide phenomenon – the church is taking a back seat to many things in society," said Craig Brown, 39, associate pastor at First Lutheran Church at 1000 Third Ave. SE, Cedar Rapids. "We've had to reinvent for our members, but especially for our millennials."
Kim Pagel, 63, executive pastor at New Covenant Bible Church, 3090 N. Center Point Road, Cedar Rapids, agrees that people's time is stretched thin among activities and family obligations.
"People in my generation have elderly parents and kids and grandkids," he said. "People are involved more with their families and traveling on Sundays. People's schedules have changed."
However, these people are still "deeply committed to their faith," he said.
Average attendance at New Covenant on a typical Sunday morning between three services and children's programs is 1,700-1,800. First Lutheran has 1,800 members and averages 700 at worship on the weekends.
To reach the maximum number of people and to engage active members, both churches offer a variety of programs outside of weekend worship services.
First Lutheran offers adult education topics like "spirtual parenting" where participants can talk about successfully parenting in the new millennium. The church also offers a marriage course and a study on the movie "The Hunger Games." To engage members outside of the church building, it offers a two-week social media class.
"Wherever people are, Christ is already there," Mr. Brown said. "So, we're going to go out and spread the word however we can – face to face, over the phone, Sunday morning or over Facebook. We do ministry wherever the people are. If they're on social media, our church is going to be on Facebook."
First Lutheran's social media presence is also prevalent on YouTube, Twitter and Instagram.
"What we try to do is mix up our content," Mr. Brown said.  "We don't always try to be invitational, such as 'why don't you come and join us here.' We try to juxtapose that with messages of scripture, of comfort and hope, and even funny videos. It's a vehicle to create a more social community."
New Covenant offers a full slate of ministries for every age group, ranging from infants and toddlers to middle- and high-schoolers and adults and senior citizens.
"There is something going on here everyday," Mr. Pagel said.
A joyful noise
Contemporary music and modern visuals have also become an integral part of both churches' programming.
"We've never been afraid of technology; we were an early adopter in that sense, one of the first churches to put up screens," Mr. Brown noted. "We can project on the sidewalls, and we try to use it to enhance the worship, so we don't always project everything. We may use art; we may use it to project words during communion."
As well as a contemporary service at 9:30 every Sunday morning, New Covenant hosts a variety of concerts and programs, not only for its congregants, but for the general public.
While social media interaction and the availability of sermons and worship services online are important components of each church's ministry, both pastors agree that technology is not a substitute for fellowship with other people.
"We're a two-hour church – one hour to worship and one to connect with the community," Mr. Pagel said.  "Our goal is to help people understand that there is more than one hour a week. We want to mobilize people and connect with others."
New Covenant offers a variety of adult Bible fellowships between the worship services on Sunday mornings.
"People are so different; we need a variety of groups," Mr. Pagel noted. "We can never accommodate everybody."
First Lutheran also embraces the two-hour church concept, Mr. Brown said. The church recently changed the entire format of its Sunday morning, moving from services at 8, 9:30 and 11 a.m. to services at 9 and 11 a.m. to provide an hour of education for children and adults.
"We changed the whole format of our Sunday morning," he said. "There's traditional worship, Sunday school with no worship and then contemporary worship. So it forces families to make the two-hour commitment – you're going to take your family to worship. We're offering things to adults of all ages so they don't just drop the kids off and go home."
Expanding the flock
Although Mr. Pagel stresses that people – not the building itself – make up the core of the church, New Covenant's $22-million facility built in 2011 takes the form of a small community, with a "Main Street," library, café and a separate wing for children's programming.
The church's youth population has exploded so much since 2011, an expansion is already underway and almost complete. The 21,000-square-foot, $5.2-million project includes seven new classrooms, a multipurpose room, six rooms for early childhood ministry, and additional parking and restrooms. The expansion should be complete by mid-November.
The entire facility, including the building which opened in 2011 and its expansion, is on schedule to be paid off by 2019.
The expansion was prompted by a mini baby boom among the church members. In 2011, 70 babies were born into the congregation. The next year, more than 70 babies were born and another 78 were born in 2013.
"That's where the growth is happening," Mr. Pagel said.