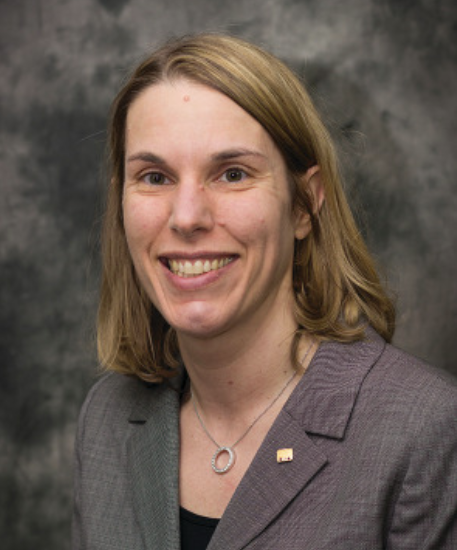 Shari DeMaris
Senior Vice President & CFO
Hills Bank & Trust Co.
Chief Financial Officer of the Year
Nominated by Dwight Seegmiller, President & CEO, Hills Bank & Trust
"I'm trying to work on some things that may be boring to people," Shari DeMaris says. "Like improving our budget process and making sure our budget is more directly tied to our strategic plan so we're making spending decisions based on the big-picture goals of the bank."
Boredom aside, it's that detail-oriented focus applied to broader goals that earned Ms. DeMaris, senior vice president and CFO for Hills Bank & Trust Co., this year's award for Chief Financial Officer of the Year.
"She has the vision and aptitude as CFO to keep the organization growing and moving forward in a healthy financial manner," President and CEO Dwight Seegmiller wrote in his nomination. "As CFO, she approaches discussion and actions regarding risks and opportunities for the bank with vigor, exhibiting professional and collaborative communication."
A Mason City native, Ms. DeMaris, 49, worked for accounting firm Arthur Andersen in Chicago after earning a degree in Spanish and political science from the University of Iowa. While in Chicago, she also earned her master's at DePaul University.
Ms. DeMaris returned to Iowa in 1999 to join McGladrey & Pullen, now RSM US LLP. It was there she first encountered Hills Bank & Trust – "always my favorite client."
"I was always impressed with the quality of the information they provided and how they really put a priority on what we were doing as the outside auditor," she said. "They always treated you like you were there to help, versus being there just to audit them. So I really thought it would be a good fit if a job came open."
The first opportunity came in 2005. Ms. DeMaris joined Hills Bank as an internal auditor, with the understanding she would succeed James Pratt as CFO. The next came in 2012, when Mr. Pratt retired and Ms. DeMaris was handed the reins.
"I didn't want to do a big upheaval," Ms. DeMaris recalled of the transition. "It was more, 'What can I do to add value, what can I do to modernize some of our processes?' On the financial side, that was implementing software and things that just make our lives easier, so we can spend more time thinking about what we're doing, versus crunching numbers."
One of her biggest professional challenges arose in 2016, when the bank adopted a dividend reinvestment program – "a pretty normal thing for a public company to have," Ms. DeMaris said.
Administered by the bank's stock-transfer agent, the program had a rocky start, however.
"We really try to provide the best service we can," she recalled. "Customers, shareholders – sometimes they're both. We just didn't feel like there were questions that were being answered very well, the quality of the work wasn't great, they were making errors we couldn't fix."
So Ms. DeMaris and a small staff stepped in to administer the program in-house.
"It was more work, but it ended up being infinitely less stressful," she said. "We were able to provide that level of service our shareholders expect and we want to give. If there was a question on a form that somebody filled out, I can just call them and ask them, 'Hey, what did you mean by this?'"
During Ms. DeMaris' tenure as CFO, the bank has grown from $2.1 billion in assets and $1.7 billion in loans to $3 billion in assets and $2.5 billion in loans, ac- cording to Mr. Seegmiller. She's overseen major projects and initiatives, including introducing elements of risk-management analysis to the bank's decision making starting in 2009.
"Since we're in a highly-regulated business and a risky business, it's holistic program," she said. "I would call it 'Know, not no.' Fully-informed decision making, that's what it's all about. When you're going to make a loan or open a new branch or make a business decision, it's all based on our risk profile and what risk we're willing to take."
Instituting such processes "organically" helped ensure their success, Ms. DeMaris noted.
"We didn't want to all of a sudden say 'you must do this,'" she said. "We wanted to grow it ourselves and make it useful. It involves everybody. It lives within all of our business units."
– Steve Gravelle