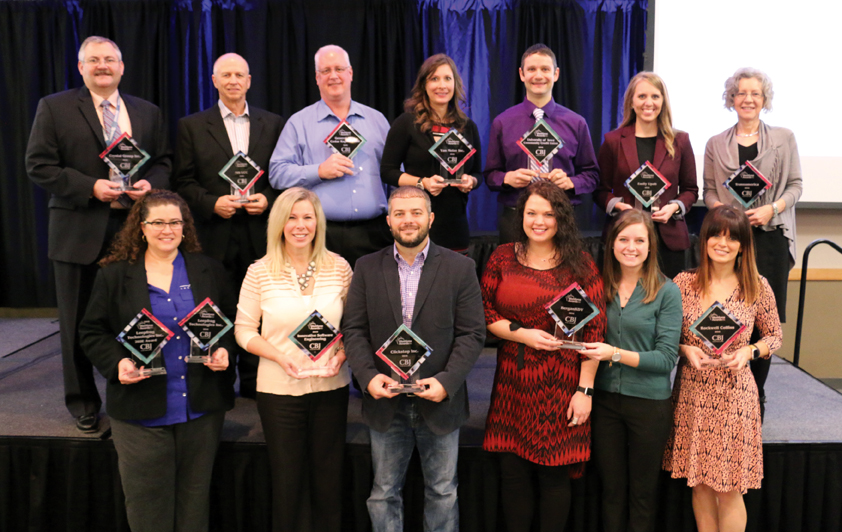 Eleven Corridor companies were honored for their successful recruitment and retention strategies during a Nov. 17 breakfast. The full list can be found in the Workforce Leaders special publication, distributed in the Nov. 28 edition of the CBJ.  PHOTO ADAM MOORE
By Dave DeWitte
dave@corridorbusiness.com
CEDAR RAPIDS—The region's tough workforce challenges have given rise to some creative approaches, a few of which were shared by Corridor employers during the CBJ's Workforce Awards breakfast.
Eleven companies were recognized at the Nov. 17 event, sponsored by Kirkwood Community College and held at the Hotel at Kirkwood Center. The panel discussion was added to this year's award's program so that winning employers could share their successful strategies in greater detail and answer questions from the audience.
A low unemployment rate, tepid population growth and skill shortages have made attracting, retaining and promoting talent a challenge for many Corridor companies. The September unemployment rate in the Iowa City Metropolitan Statistical Area (MSA), at 2.9 percent, was tied for 19th-lowest in the United States. The unemployment rate in the Cedar Rapids MSA was 82nd-lowest, at 3.8 percent. Both were below the national rate of 5 percent.
The biggest workforce challenges are occurring in "middle skills" occupations – those requiring specialized education beyond high school, although not necessarily a four-year degree – because they are the fastest-growing areas of job creation.
"No one organization or employer can do this work on its own," Kirkwood President Mick Starcevich said in introducing the event. "That's why leveraging knowledge and resources is essential to our success."
Out-of-the-box recruiting
Aerospace electronics supplier Rockwell Collins won this year's award for Best Hiring Strategies for Iowa Graduates with approaches such as building strong campus recruiting teams. Rockwell Collins has a perennial need for engineers, which has made its relationships with the two-in state universities that offer engineering programs important.
University Relations Manager Kaly Etten said those teams incorporate Rockwell Collins engineers who graduated from those universities. Those employees can answer questions that the company's university relations staff cannot, such as how the school's coursework will be transferrable to employment at Rockwell. Some teams include executive sponsors who engage directly with the universities' engineering colleges to support hiring and build ties with schools.
The company has also placed a high emphasis on recruiting minority engineering candidates, and works with such professional associations as the National Society of Black Engineers to recruit them. With a desire to improve its minority hiring, Ms. Etten said Rockwell Collins CEO Kelly Ortberg this year approved a program to make on-the-spot job offers to promising minority candidates at national career events. In the first year, the policy helped boost the number of minority hires from four to 42, many of them for internship or co-op positions that provide a path to permanent employment.
Rapid growth has made recruiting a major challenge for Clickstop Inc., the winner of this year's Publisher's Award. For inspiration, the growing e-commerce company turned to the stories of its own employees who have grown with the company.
"We have many stories at Clickstop of people moving from one role to another role to another, and so we thought, 'How can we collect these stories that we needed to tell?'" said Monica Steffeck, co-vice president of culture and communications.
Clickstop began collecting those stories by posting a request on the company's intranet for employees to respond, and at times interviewing members of those teams with vacancies. Appreciation has become a common theme among the stories.
"Recruiting has been easier because people just wanted to share the love of what we have at Clickstop," Ms. Steffeck said.
Mentoring boosts internships
The two winners of this year's Best Internship Category both placed mentorship high on the list of factors that make their programs successful, although they differ in the amount of structure used.
Innovative Software Engineering in Coralville won the Best Internship Program in the Small Company category with a program that tailors internships to the individual student. If an intern starts out on a quality control project but turns out to be a strong coder, for example, their duties could be shifted to their area of strength.
"They aren't getting coffee for anyone; they are actually part of our team," Human Resources Director Kirsten Wennerstrom said. "We connect them with job assignments that are commensurate with their skills."
The company has an internship committee and mentors meet with interns once a week, Ms. Wennerstrom said. Mentors are appointed on day one of the internship assignment, and are neither a supervisor or direct co-worker. They serve as a friend the intern can consult on things like how to deal with issues they are having at work, or what's appropriate in the company's culture.
General Mills won Best Internship Program in the Large Business category for employing interns from Kirkwood's industrial maintenance program at its Cedar Rapids plant. It's a highly structured internship, and apprentices meet with interns on a day-to-day basis, Maintenance Manager Mark Reilly said. There's also a monthly meeting between the intern, their mentor, their manager and the company's training coordinator to assess their progress.
Mr. Reilly said mentors might be in a different department, but they still provide the student with somebody they can go to in the plant for answers during the three-month program. It's an expectation that interns will build on that relationship by asking a lot of questions in order to learn how to perform more effectively, Mr. Reilly said.
Beyond mentoring, Mr. Reilly said General Mills' internship program with Kirkwood gets a boost from General Mills' role on the career board that advises Kirkwood's industrial maintenance programs.
"We can bring back to that board what's working well with the internship and what isn't working well, and they can adjust their program according to that," he said.
Making the right match
One of the more insightful questions asked by the audience was what employers found to be the hardest attributes to assess in hiring.
The consensus response was that hiring for skills is the easy part. The hardest part is "cultural fit."
"Just because the person has the right skills to do the job, they may not be the right fit for the company," Learning & Development Manager Jenn Bleil said, offering the Van Meter perspective.
Ms. Steffeck of Clickstop agreed, saying, "if they don't work like we work, it would just be very challenging for them to succeed."
Several panelists said their companies use assessments in the hiring process that probe the candidate's personality or work style in an effort to get a handle on cultural fit.
Mr. Reilly pointed to one personality attribute that is especially important to General Mills.
"Self-starting is really important," he said.
Panel moderator Kate Minette, who retired as general manager of Pearson in Iowa City after a career in human resources, was one of the Workforce Awards judges. She said it's clear that some of the strategies that have succeeded at the larger organizations could potentially be adapted for the smaller employer organizations, and vice versa.
"As I spoke to each of them prior to this morning, what was most evident was the pride that they had in their organizations and the enthusiasm they had for the individual programs for which their organizations won," Ms. Minette said.