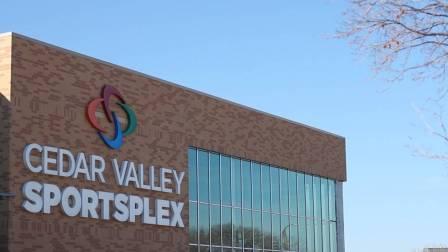 By Angela Holmes
WATERLOO – Too blustery outside to exercise? Don't worry; the climate in the Cedar Valley SportsPlex will be comfortable year-round.
"It's not snowing and blowing inside; it's nice and warm," said Rick Young, who spearheaded the fundraising efforts for the SportsPlex on behalf of the Waterloo Development Corporation.
The 140,000-square-foot recreational center, which spans two blocks at Jefferson and West Third streets donated by the city of Waterloo, will open to the public Jan. 18. A grand opening will begin at 3 p.m. Jan. 17. A short program begins in the gym at 3:15 p.m., followed by a couple hours for self-guided tours of the facility.
The $27-million project has been funded primarily by private donations, including a $750,000 grant from Vision Iowa's Community Attraction and Tourism program and $8 million over eight years from the Black Hawk County Gaming Association.
The committee has raised nearly $23.5 million, needing about $600,000 more in private donations to meet its goal in the next few years, Mr. Young said.
Although planning and construction has taken about 18 months, the idea for a recreational facility in Waterloo has been on the minds of community leaders for more than a decade.
"We tried to get it built for 12 or 13 years but public funding didn't pass," Waterloo mayor Buck Clark said last year in a CBJ article.
The project broke ground in April 2012 after the non-profit Waterloo Development Corporation took over the project and the private fundraising. The SportsPlex will be run by the City of Waterloo Leisure Services.
Mark Gallagher, Waterloo Leisure Services sports manager, said the membership drive leading up to the SportsPlex's opening has been productive.
"Our phones have been ringing consistently with perspective members," he said, adding that membership fees are the same for residents and non-residents.
As well as individual and family memberships, a corporate wellness program is available. About 30-40 businesses had signed up by mid-December, Mr. Gallagher said. Daily passes will also be available.
The facility includes a fitness center, basketball courts, running track, a leisure swimming pool and indoor fields to accommodate football, soccer, baseball and softball.
"The SportsPlex allows individuals of all ages to feel connected," Mr. Young said in a press release. "The facility has a golf simulator, a pool with a slide, an indoor playground, a running track, a turfed field, a full-size gymnasium, child care, locker rooms, specialized classes, personal trainers, and rooms for parties and meetings… truly something for everyone."
Dan Watters, president of the Waterloo Development Corporation, said the facility will help attract potential businesses and employees to the area.
"It's one more amenity the community has to encourage employees to come and stay," Mr. Watters said. "It is necessary in today's environment to be competitive. This is what we need in our community."
The SportsPlex is another added feature to Waterloo's Riverfront Renaissance Plan which, in the past few years, has resulted in the Riverloop Expo, which includes an amphitheatre and public market co-op.
The facility will also generate money for area businesses through tournaments and other events, Mr. Gallagher said. So far, the Cedar Valley Youth Soccer Association is planning to host two to four tournaments this winter and spring at the SportsPlex with more in the works.
"The Cedar Valley has never had an all-encompassing facility like this," Mayor Clark stated in a press release. "It will allow for vast improvement for our Leisure Services department, and give people of all ages and abilities the chance to become healthier, happier citizens."
For more information, visit www.cvsportsplex.org.