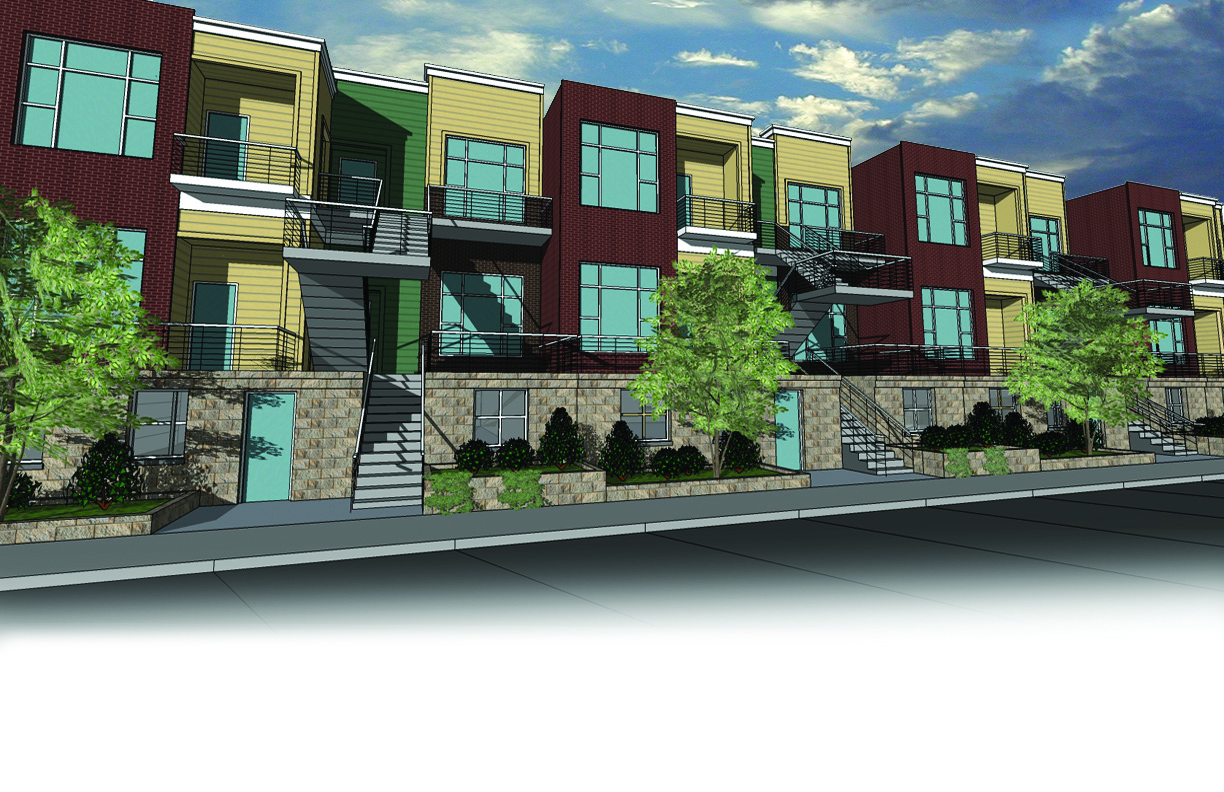 By Angela Holmes
BLACK HAWK COUNTY—The downtown resurgence in Waterloo and Cedar Falls has drawn residents to a lifestyle where shops, restaurants and sometimes even jobs, are right out their back door.
Both cities in the Cedar Valley have experienced a growing interest in downtown living in loft-style apartments in the upper floors of renovated historic buildings, as well as new properties.
"The last 30 years, it was dying. People went to the mall," developer Mark Kittrell said of downtown Cedar Falls. "Main Street has been revitalized within the past two decades with specialty shops and upscale restaurants. It was built by the community, one-by-one."
Mr. Kittrell and Jean Fischer, of Cedar Falls-based firm Eagle View Partners, are watching their development dreams become a reality with the first phase of the River Place project under construction near the Cedar River in downtown Cedar Falls.
The "300 State Street" project will include 21 two-bedroom, loft-inspired, walk-up residences in a new development on State Street, located between the Cedar River and Main Street. The Leadership in Energy and Environmental Design (LEED)-certified project, valued at $3 million, includes secure parking and access to more than 100 miles of trails along the river.
"The key thing we started with is to bring Cedar Falls back to the river," Mr. Kittrell said. "It's not like we have mountains or beaches, but we do have beautiful rivers. We are working to reclaim the river. The river crossing is the reason the town exists."
After two years of planning and hundreds of meetings, the groundbreaking for 300 State Street took place in December.
The building is expected to be ready for a grand opening in October.
"We have been blessed to work with such a great community," Mr. Kittrell said. "The city worked with environmental issues and everything was unanimously approved."
The site was chosen because of its location downtown near the river, making it sustainable in terms of walkability. The building and landscape are also sustainable, using as many local and recycled materials as possible.
Among the sustainable materials to be used in the project include wallboard made of recycled milk cartons from Re-Wall in Des Moines and pressed-paper countertops. Rain gardens will be implemented for water retention, and all landscape is low-maintenance, using no chemicals.
"The whole project is sustainable from the ground up," Mr. Kittrell said. "We find what's local and get the community involved. We don't truck things from all over the place."
He admits he is learning about LEED certification as the project moves along, but says it is less expensive and complicated than he initially expected.
"It's all new for us," he said. "We're learning it with everybody else. I'm not sure at the  end of the day it is more expensive to do LEED. It's just different. It's easier to start from scratch."
The estimated $50-million River Place project will be completed during the next five years. The project will also include several more residential and mixed-use buildings, a business-class hotel, event center, the Western Home Communities' active lifestyle residence Mill Race and several public gathering areas.
In Waterloo, recent developments to the downtown area and along the river have also made it a more attractive place to live. Among the improvements include new restaurants, an amphitheater on the Cedar River, a public market and the soon-to-open Cedar Valley Sports Plex.
"People are starting to get energetic about what's going on downtown," said Kristina Miller-Bergman, director of marketing and projects at JSA Development in Waterloo.
In 2001, Jim Walsh, president of JSA Development, began renovating abandoned and run-down historical properties in downtown Waterloo and converting them into mixed- use buildings. The residential lofts on the upper floors have become more popular during the past few years.
When Ms. Miller-Bergman started with JSA in 2008, the company owned three residential properties. Now there are more than 30 in downtown Waterloo and they all stay rented.
All of the high-efficiency apartments have high-end amenities, including granite countertops and stainless steel appliances. Keeping to their original purpose, all renovations have gone through the approval process historically.
"They are not cookie-cutter apartments," Ms. Miller-Bergman said. "A lot of people are surprised when they get in there."
Preserving downtown Waterloo's rich history is also a mission of Nelson Properties. Vern Nelson Sr., his wife, Donna, and their family have been rehabbing historic buildings since the early 1980s, when downtown Waterloo was struggling to survive.
"It was terrible," Ms. Nelson said. "Things were falling apart. The city was dying. We were told, 'if the center of the city dies, all of the decay will creep out to the rest of the city,' and that's what happened."
A group of developers came together to save Waterloo, Ms. Nelson said.
"A lot of people came along to make it what it is today. I am proud," she said.
Nelson Properties owns 15 loft apartments and expects to add more later this year, she said.
"We started putting apartments above retail space," Ms. Nelson said. "People started telling other people and it just grew."
The company has also renovated the former WinterBottom warehouse, located near the Tech Works and John Deere offices, into residential lofts.
Downtown residents range from young, single professionals to retired, empty nesters who prefer not to maintain a large house and property. No matter their age, downtown dwellers seek the convenience of having a variety of amenities at their fingertips. And  downtown businesses welcome them with open arms.
"A community is only as good as its heart," Mr. Kittrell said. "Having people living downtown puts money back into the downtown."