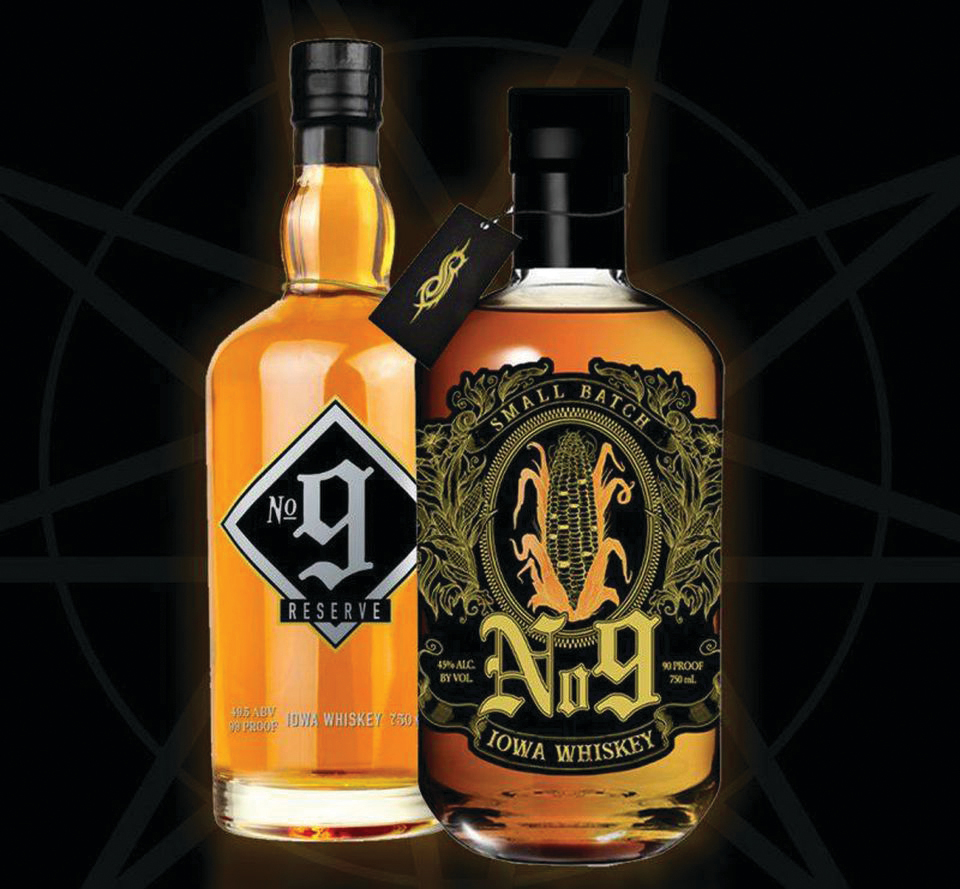 By Katharine Carlon
katharine@corridorbusiness.com
When Jeff Quint, owner and founder of Cedar Ridge Distillery, got an e-mail from the manager of Slipknot, a band he'd vaguely heard of, asking if he'd be interested in collaborating on a whiskey, his first impulse was to delete it and move on. Then, he figured he might as well forward it to the Swisher-based distillery's management team with a note: "We probably don't want to pursue this, do we?"
Today, nearly 24,000 sold bottles later, the craft spirit that almost wasn't – No. 9 Iowa Whiskey – has sold out across Iowa and in numerous other states, is winning accolades from booze critics across the nation and just landed its first overseas order from Japan, one of the many global markets where the homegrown metal band's newly released album "We Are Not Your Kind" tops the charts.
"Yeah, I'm OK with it," Mr. Quint said dryly, reflecting on the hectic past few weeks since No. 9 Iowa Whiskey went national, coinciding with Slipknot's Aug. 9 album release and Aug. 10 sold out show at the Iowa State Fair. "I've certainly become a fan."
For the launch, Cedar Ridge produced 4,000 cases of the 90-proof No. 9, named for the number of Slipknot band members, and the pricier 99-proof No. 9 Reserve Iowa Whiskey, both made with corn from the award-winning distillery's family farm in Winthrop. Mr. Quint now says he should have forecast 8,000 or 12,000 cases because most of the initial run sold that first day.
"It will be mid-September before we catch back up," he said, adding that the distillery planned to begin bottling another 4,400 cases or so from barrels beginning Aug. 23, a somewhat lengthy process considering all the corking, labeling, neck hanger placement, capsuling and boxing required to get each case ready.
"We released it on Aug. 10 and by the next day, there was not a bottle left in the state of Iowa," Mr. Quint said.
Lines were "ridiculous" at Cedar Ridge's Aug. 6 pre-release launch party and stretched to 150 yards long at two Des Moines-area bottle signings with members of the band.
"I think three things lined up nicely," Mr. Quint said. "Number one, Slipknot and their popularity – if they release a video on YouTube, there are 30 or 40 million views. Number two is what we call 'the juice.' It drinks incredibly well. And number three, the packaging seems to have hit the market just right. Like [Slipknot's] music, I was skeptical of it, but the reviews were amazing. It was the band that strongly encouraged the labeling. If you don't hit that mark, your product kind of fizzles."
Shared authenticity
So, how did a small-town Iowa distillery get into the alcohol business with a heavy metal band that affectionately calls its fans "maggots?"
Once Mr. Quint's management team assured him that talking with the band, founded in Des Moines almost 25 years ago, was a good idea, the collaboration came together relatively quickly.
"They were looking for authenticity," he said. "As a band, they're very authentic about everything they do. They love and are grateful for their fans, and I think they wanted an authentic product. They could have gone to Pernod Ricard or Bacardi … it says something about the band and the uniqueness of the whole product that they came to us."
Celebrity liquors are something of a trend with the band Slayer, for instance, teaming with Jägermeister and Justin Timberlake collaborating with Sauza on 901, named after the area code of his hometown Memphis.
Cedar Ridge, which has been making bourbon, rye and other whiskeys since 2005, attracted Slipknot's notice with its Iowa roots.
"Slipknot and Cedar Ridge Distillery – two groups of people born and raised in Iowa, and committed to quality and hard work," the band's M. Shawn "Clown" Crahan said in a release early this summer. "We collaborated on No. 9 Whiskey, which in addition to Iowa corn, gets some extra spice from its rye content. I hope you enjoy it as much as we do. Live life, and always be safe."
Mr. Quint said band members, particularly Mr. Crahan, worked together to fine tune No. 9's flavor profile over several weeks, exchanging samples and notes back and forth. No. 9 is a blend of high-rye and bourbon whiskeys. According to Cedar Ridge's website, the "sweet and spicy" result comes from the amount of corn and rye in the mashbill (56 percent corn, 36 percent rye and 8 percent malted barley) while the whiskey's bold flavor derives from finishing the expressions at higher 90/99 proofs for a "more robust, complex, sipping whiskey."
Cedar Ridge Head Distiller Murphy Quint described the product as "bold, something with distinguished character, something that you don't exactly come across every day," and the product has since won raves from critics.
Whiskey writer, tasting expert and critic Fred Minnick told Forbes "Slipknot's No. 9 single-handily puts Iowa whiskey on the map and is the best liquid distilled there." A panel of Des Moines Register testers remarked on the "caramelly" odor and taste, with Register Producer Jake Kurtz remarking, "To know that one of the band members did the blending and it turned out this well? That's impressive."
From No. 9 to No. 1?
"We will not be messing with 'the juice' or the packaging," Mr. Quint said, adding that going forward, the distillery would be focusing on production and piquing demand worldwide as the band embarks on a national and world tour.
He doesn't expect Slipknot to blatantly promote No. 9 onstage, but audiences might see a promotional video or two while waiting for the band to come onstage.
"One thing we want to do is make the product easier to find," he said, adding that Cedar Ridge is preparing to ship product to Europe in advance of the band's appearances there in addition to filling the order to Japan. "Slipknot has a big fan base – the U.S., Australia, the UK, they have a big following in Russia.  We will just continue to make more."
No. 9 retails for $39.99 and No. 9 Reserve Iowa Whiskey retails for $69.99.