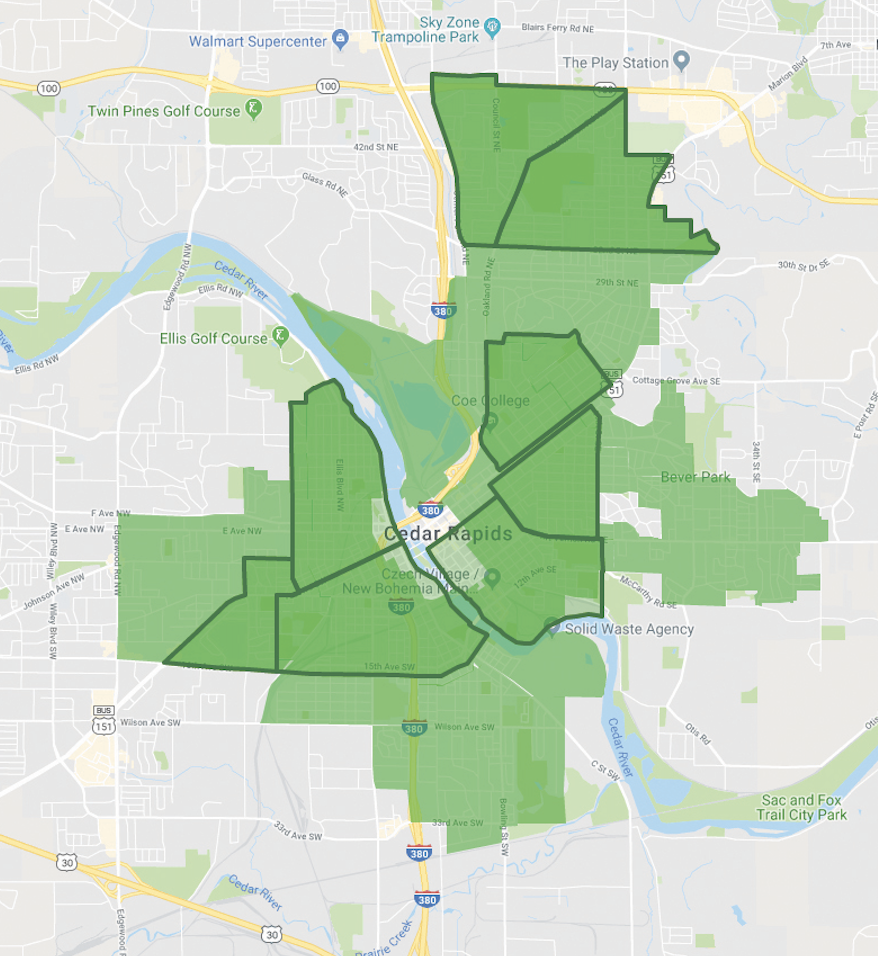 The green shading indicates the initial targeted lending areas for NFC in Cedar Rapids. Bold lines delineate eight defined neighborhoods within the lending area, which is expected to change periodically. CREDIT NEIGHBORHOOD FINANCE CORP.
By Dave DeWitte
dave@corridorbusiness.com
Age creeps up on older neighborhoods just as it does with their inhabitants.
A porch on one home begins to sag. The siding begins to crack and fade on another. One or two homes on the block are bought by investors who rent them out, doing the minimum work needed to keep them in compliance with code. Meanwhile, the rooms inside fall behind the times, lacking amenities like walk-in closets, large garages and stone kitchen counters found in many new homes.
Now the city of Cedar Rapids and its financial institutions are betting big on a program to help reverse the effects of aging by stimulating reinvestment in older neighborhoods.
After expanding to Cedar Rapids with an office at 1100 Old Marion Road NE, the Des Moines-based Neighborhood Finance Corporation (NFC) expects to make its first loan any day, and 100 within eight targeted neighborhoods in its first year. Those include the Taylor, Cleveland, Mound View, Wellington Heights, Oak Hill Jackson, Noelridge, Kenwood Park and Northwest neighborhoods.
One of the most attractive features NFC brings to the lending market are forgivable loan subsidies for renovation costs that are paired with a standard NFC home mortgage. The percentage of the loans that can be forgiven can be 25 percent, 33 percent or 50 percent of the loan amount, depending on household income, with a maximum of $10,000.
The forgivable portion can make the difference between pulling the trigger on a home purchase in an older neighborhood or moving on to other options.
"Think of that house in an older neighborhood," said NFC Executive Director Stephanie Preusch. "Someone is considering buying that house, but maybe they want a modern bathroom or kitchen. It's a second loan forgivable over five years, but the homeowner has to live in it for five years to have the full amount forgiven."
Besides low interest rates and forgivable loans, NFC offers other potential benefits. When qualifying for a home purchase loan, NFC borrowers may qualify for up to $2,500 in closing cost subsidies, along with the renovation loans. NFC loans also do not require private mortgage insurance, which saves borrowers on their monthly payment.
Contractors renovating or repairing older homes under the program tend to love it, Ms. Preusch said, because NFC disburses payments weekly for the work done up to that point, helping contractors manage their cash flow.
NFC is a nonprofit mortgage corporation with a staff of 23 that originates and services mortgages, utilizing Fannie Mae's HomeStyle Renovation mortgage to buy loans it originates. In the 28 years since its founding, it has made 6,511 loans in the Des Moines metro totaling more than $345 million.
The possibility of bringing NFC to Cedar Rapids had been discussed previously by community leaders, but after the flood of 2008 destroyed or damaged thousands of homes and businesses, it fell behind more urgent priorities. It wasn't until 2015, when veteran Cedar Rapids Planning Commission member Scott Overland decided to run for city council, that pursuing a NFC-type program become a priority again.
Mr. Overland said he's long had an interest in strengthening neighborhoods and decided to make it a centerpiece of his campaign. But when NFC leaders outlined two goals it wanted Cedar Rapids to reach in order to make the expansion viable, he realized it wouldn't be easy.
The city would need to raise commitments for $1 million in startup costs over three years and convince financial institutions to commit $8 million to create the initial funding pool. It sounded daunting, but Mr. Overland soon received a phone call from Tom Chalstrom, CEO of First Federal Credit Union.
Mr. Chalstrom had worked with the organization as a banker in the Des Moines area, and had been looking for a similar organization to volunteer with after moving to First Federal. He calls the program a "gamechanger" for older neighborhoods.
Getting the financial institutions to commit money to the program was an interesting challenge, Mr. Chalstrom recalled, because they were essentially being asked to help fund a new competitor.
"It was basically asking them to do it for the greater good of Cedar Rapids," said Mr. Chalstrom, who mostly approached the city's credit unions for support, while Mr. Overland mainly handled the banks.
Some big commitments from community banks made a huge difference in getting the ball rolling. Cedar Rapids Bank & Trust, Mr. Overland's employer, committed $2 million, while Bankers Trust committed $1.5 million and BankIowa $1 million. Several others committed $500,000.
City Manager Jeff Pomeranz, well acquainted with NFC from his former role as city manager in West Des Moines, was also a strong supporter. Cedar Rapids is taking the biggest single share of the program's expense, providing $1 million per year to fund the forgivable loan portion of the program.
Startup capital for things like staff salary and a loan loss reserve required more than a loan commitment – it took about $1 million that donors would not get back. Skogman Realty President and CEO Kyle Skogman came up with a plan to ask 40 businesses for $25,000 commitments over three years, and with Mr. Overland arranged a series of luncheon meetings at City Hall to make the pitch to potential donors. By targeting some of the city's most civic-minded business owners, organizers received overwhelmingly positive support.
Neighborhood boundaries
NFC takes some explaining because it is different than most government-sponsored mortgage programs. It's not just for low-income borrowers, entry-level homes, low-income neighborhoods or historic homes.
The main things borrowers need, Mr. Overland said, is a good credit score and a plan to invest in a home in one of the targeted neighborhoods where they already live or plan to live long-term. The idea is to bring investment to neighborhoods that might be a little past their prime but offer affordability.
"Developers aren't building the $125,000 and $150,000 homes anymore," he said, adding that the lack of entry-level homes can be a barrier to families and individuals wanting to move to Cedar Rapids from smaller towns, where home prices are lower.
Jennifer Pratt, the city's community development director, sees the program filling some of the void that will be left by ROOTS, the federally-funded program the city has administered to bring new housing back to residential areas devastat­ed by the flood of 2008. The funds for that program are now almost gone.
"It will be extension of what we saw af­ter the flood of 2008, which was to serve a huge market – young families wanting to move into neighborhoods that are walk­able and have the amenities they need," Ms. Pratt said.
NFC programs will have a broader ap­peal than ROOTS, she said, because they won't have income restrictions.
The spinoff benefits of the NFC's pro­grams are many. Getting funds flowing to repair older homes will help address code issues, Ms. Pratt said.
The program could also swing the fi­nancial advantage in targeted neighbor­hoods from investors to buyers who plan to live in them. One component of the program doubles the amount of the for­givable loan portion available to buyers who plan to convert a multifamily rental property back to a single-family home and live in it, Ms. Preusch said.
Lenders participating in NFC will likely see a benefit when federal regulators re­view them for compliance with the Community Reinvestment Act, a federal law intended to ensure that lenders invest in low-income communities.
Not all of the neighborhoods targeted by NFC are low-income, Mr. Overland not­ed, and the moderate-income neighbor­hoods included will rotate periodically. The program won't be for everybody, however. Interest rates are not subsidized and borrowers will have some rigid requirements to comply with, including a six-month time limit to get projects completed.
While the success story hasn't yet been written in Cedar Rapids, Mr. Over­land said the city has more advantages than Des Moines had when it began the program. That's because it is leveraging the experience and administrative capa­bilities of an existing organization with 28 years of lending experience and a staff of 23, which meant expanding to Cedar Rapids required only a handful of new employees.
A point of pride for Mr. Overland is that leaders in quite a few other Iowa commu­nities had preceded Cedar Rapids in their efforts to enlist NFC to serve their residents, but Cedar Rapids was the first chosen.
NFC has no plans to take over a large share of the home lending market in Ce­dar Rapids, according to Mr. Overland, because it doesn't want to edge out existing lenders. The average loan is expected to be a modest $50,000.

The types of NFC loans available:
Purchase loans: A mortgage loan for buyers seeking to purchase a home in one of the NFC's targeted lending areas, offering up to $2,5000 in subsidized closing costs for qualifying borrowers, and up to $10,000 in subsidized renovation loans. The latter is fully forgiven if the owner stays in the home five years.
Refinance loans: A homeowner can refinance an existing home mortgage and receive up to $10,000 in a subsidized renovation loan.
Home improvement loans: A loan for home repairs that incorporates a forgivable component of 25 percent, 33 percent or 50 percent, up to $10,000, based on household income.
Front porch loans: A loan restricted to exterior repairs and homes in targeted areas, which considers applicants with lower credit scores than allowed under the NFC's main program, NFC Advantage.