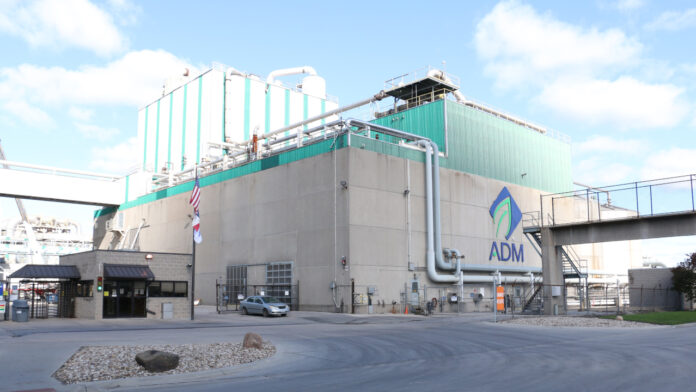 In recognition of the 120th anniversary of global agribusiness and nutrition company ADM, Mayor Tiffany O'Donnell has formally declared Friday, Sept. 30 as "ADM Day" in Cedar Rapids.
This year also marks the 50th anniversary of ADM's presence in Cedar Rapids.
"Cedar Rapids is one of the leading bio-processing and food ingredient centers in North America, and one of the largest corn-processing cities in the world," Cedar Rapids city manager Jeff Pomeranz said. "Our economic success is tied to companies like ADM, which has shown a strong commitment to our community and its dedicated workforce."
"We are proud to mark two milestone anniversaries with ADM this year, and we look forward to the next 100 years," Cedar Rapids Mayor Tiffany O'Donnell added regarding the Sept. 30 declaration.
ADM has been operating in Cedar Rapids since 1972. The company's corn wet and dry mills produce sweeteners and starches, animal feeds and ethanol.
ADM also operates a co-generation facility on its property that produces enough steam and electricity to meet the plant's power needs. The company's other local operations include trucking and railcar repair.
All told, ADM has approximately 500 employees at its Cedar Rapids operations.
"ADM has been a member of the community in Cedar Rapids for 50 years, and this location continues to be a vital part of our ingredient processing and production network," said Brian Mullins, ADM's Cedar Rapids plant manager. "We appreciate the continued support of the city and this important recognition, and look forward to many more years of partnership and growth."
Headquartered in Chicago, ADM was founded in 1902. The company has more than 270 plants and 420 crop procurement facilities worldwide, employs over 38,000 workers and has annual revenue of more than $85 billion.
In partnership with Wolf Carbon Solutions, ADM is proposing a 350-mile pipeline to transport liquefied carbon dioxide from a pair of Eastern Iowa ADM plants to an underground sequestration facility in Illinois to reduce the company's carbon footprint. The plan is being reviewed by the Iowa Utilities Board, and has faced significant pushback in a series of public meetings across the state.