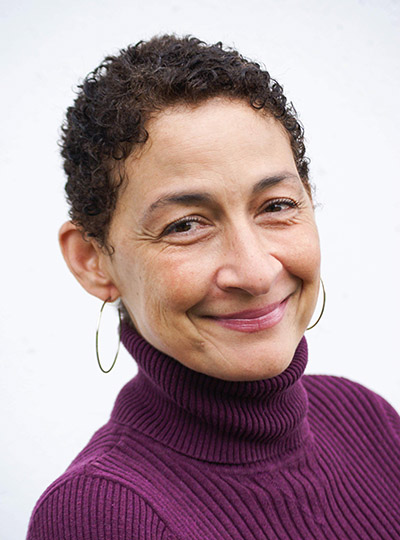 By Adam Moore
adam@corridorbusiness.com
New Horizons CEO Mary Wheeler returned from the Twin Cities last summer after close to two decades in the region's human services sector – most recently as a program officer with the Twin Cities Local Initiative Support Corporation (LISC), where she worked with local leaders to create a com­prehensive community development plan spanning every­thing from housing and health to public safety and employ­ment. Although she didn't have big plans for her return, Ms. Wheeler happened upon an opening at Horizons, A Family Service Alliance following former CEO Karl Cassell's depar­ture, and the pieces clicked. She was named the organiza­tion's CEO in December.
Raised in Iowa City and a proud graduate of West High, Ms. Wheeler told the CBJ she's excited to use her years of ex­perience in a major metro area to help support the community that brought her up.
"When I really think of Cedar Rapids and Iowa City, we have become more complex culturally," Ms. Wheeler said. "It's so important to understand the culture and not place value, and from there, really listen hard and figure out the intersections."
We sat down with Ms. Wheeler earlier this year to discuss her path back to the Corridor, Horizons' burgeoning alliance with Elder Services of Iowa and the ongoing struggle for those on the economy's margins. The following has been lightly ed­ited and condensed:
Tell us about your decision to come back and how you got connected with Horizons.
MW: My parents and brother still live here, and I just want­ed to get closer to my parents. I was always planning to come back to Iowa City, this was just a little soon­er. My youngest son graduated from high school in St. Anthony, Minnesota in June and we moved back in July of last year. Frankly, if you know the Twin Cities, then you know the nonprofit areas are blossoming and there isn't quite as much opportunity here, so I was thinking I maybe wouldn't do a lot. Then I saw this ad­vertisement [for the position] and said, "let me check this out." I read about the programs – transportation, mental health and wellness – and that was right in my wheelhouse. Let me tell you, I would not have taken this job if I didn't think this was a marvelous organization.
Can you talk about the transition between Karl Cassell [Horizon's previous CEO] and yourself? Was the board looking to change direction or did they need a new skillset?
No, I think what I see now is that organizationally we needed time to rethink who we are. The goal of me be­ing here, after seeing what has changed in the commu­nity, is not necessarily to do anything more or differ­ently, but to do a deep dive. In terms of what I did see, I think that Karl was extremely insightful in identifying Elder Services of Iowa in Iowa City as an alliance part­ner. It was a brilliant idea and we'll reap the benefits of that for a long time.
What do you mean by taking a "deep dive" at the organization?
Exploring things on a deeper level. If you look at our organization, you might say "how is this all connected? What is the binding agent?" I'd say that all of what we do as an organization is aimed at the cross-section of what an individual or family needs to be economically strong. There's the no-brainers: If you can't get to your job, you can't keep your job. If you have a job that pays $10 an hour, it's probably hard to get a car. If someone's not working, they can't contribute to the economy.
You can look at our mental health and wellness pro­gram, which is complicated and not only about men­tal health counseling, but more broad in scope. What's happening with our national economy brings a lot of people to their knees, momentarily. We're an organi­zation that they can come to from time to time to get that mental health support. We don't necessarily need to walk with you forever, it's only a moment in time. Conversely, we have a lot of clients that do suffer from mental health issues that will never go away, but if they aren't getting that mental health support, it keeps those individuals closed to the economy – jobs, housing … Our organization is sort of branded on the economic stability of our city.
What are folks struggling with? Is it a two-sided economy?
When I went to the University of Iowa, I had a part-time job at Orange Julius. I probably worked 15 hours a week, and with my part-time job, I could pay my rent, food, books and actually had a little left over. That was on a minimum wage. Today, what has happened is that the minimum wage hasn't risen enough to meet the de­mands of what it costs people to live.
Couple that with the fact that the people who are most affected are people that are low-income, people of color, people that are typically kept from access and mo­bility – the elderly, people with disabilities. When you look at African Americans after [the Great Recession], everyone lost their jobs and the rehire rate of African Americans is really minuscule compared to the greater community. Those groups are more affected by that and recover more slowly than the rest, and sometimes never recover. As a country, we've not done them justice.
Our organization helps people who are in that fold. We don't do their work for them. The staff here have such a good way of interfacing with our clients because our clients here have such capacity and power. It isn't about me knowing the answer – it's about me walking with you while you're having a hard time. Even with our financial health and wellness initiatives, we don't want them coming back to us forever – we want to help them revisit their relationship, do money in a better way and understand it.
You mentioned a new alliance with Elder Services in Iowa City. Why are you excited about this and what does it mean for the community?
We've really harnessed the administration of the organization and brought [ESI] underneath our umbrella. One of the programs that ESI runs is Meals on Wheels, and we have one of the largest Meals on Wheels programs in the state. What ESI does is administratively tough to run. You have food, so there's a lot of safety precautions, there are drivers, it's rainy, it's winter … just handling the grant applications for all of it is pretty tough, too. For a lot of smaller organizations, it's hard, because you can't have one full-time person [to handle administration]. As a result, we can take that on and then ESI really gets to run that program.
It's now starting to blend with what we do. ESI, for example, runs a care­giver program where one of their staff goes into the University of Iowa Hos­pitals and Clinics – it really is a counseling program as well as advocacy – and we have a really strong mental health team with a mental health director. She is going to work with those caregivers to give a different level of support and then identify which patients could maybe use a little more support. Then we can provide mental health counseling right there on the spot.
Does that help take the Horizons brand into Iowa City?
Sometimes our notion of branding and ownership is overpowering what's re­ally best for our community. We'll wait and see what's best.
Horizons is also partnering with GoDaddy on its new entrepreneurial program in Wellington Heights. How is that going?
Things are going really well. It's the right kind of collaboration, focused on those that have not typically had those kind of advantages and opportuni­ties. I think it's going to be strong long-term. We're very excited to be a part of that effort.
What do the next few years look like for your organization?
In terms of [state] cuts related to the Department of Human Services and education, I think we need to take a minute and figure out how all of this is going to impact those we are serving before we get into the business of who are we going to hire, growth and so on. It's just not a good time when you're in the middle of all that to plant your flag in the ground. It doesn't affect us as much as it affects some of our partner organizations, but we're just going to wait a couple minutes. In a year, we'll have a better idea of how it's going to play out.
We own a lot of property around here. There are things happening in Iowa City, with 30 percent of people of color being low income. There are things here in Cedar Rapids relating to education and jobs and employ­ment. We need to understand a lot before we get into what we need.
Has your funding been impacted as the United Way has adjusted its priorities? How is that impacting programming?
We received cuts like all the other organizations did some time ago, but as they [United Way] rethink their priorities, we're still very much in line with those. The bigger question is, what are we doing with those programs. We really have to push ourselves – we're going to need to start working differ­ently, as in, more programs and more partnerships. We'll have less money as a city, county and state, so we'll really need to get more granular to im­pact those that are way over here [referring to the lowest income earners]. Typically every community focuses here, because the stuff is very difficult, and I think for the Corridor, that's going to be the tricky piece, because these people have English as a second language, they're culturally different … Those are the people we really have to get to and understand. We're go­ing to have to press more with these people, to be in tune so that they can inform our work.