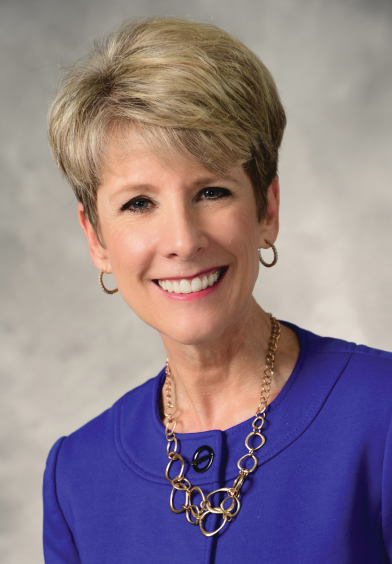 By Adam Moore & Katharine Carlon
news@corridorbusiness.com
Lori Sundberg
President
Kirkwood Community College
Hometown: Galesburg, Illinois
Education: Cosmetology certificate, Carl Sandburg College; B.A., Economics and History, Knox College; MBA, Western Illinois University; Doctor of Business Administration (DBA), St. Ambrose University
Family: Husband, Rick; stepchildren, Nicole and Eric
Interests: Yoga and horseback riding (dressage)
Lori Sundberg has already rolled up her sleeves and dug in since becoming Kirkwood Community College's fifth president on July 31, after an eight-year tenure at the helm of her alma mater, Carl Sandburg College in Galesburg, Illinois.
Vowing to build on the school's already solid foundation instead of building a new one, Ms. Sundberg nevertheless laid out an ambitious list of priorities to the CBJ, including launching a strategic plan process, putting fundraising front and center, and working, as she did at Carl Sandburg, to institute a "promise" program to fund more students' educations.
"I feel particularly drawn to community colleges because they serve a population that is hugely important and maybe hasn't always thought that college was for them," said Kirkwood's first woman president, who was officially inaugurated on Nov. 6. "I think we can show them that it is, and that the sky's the limit for them as to what they want to do."
Ms. Sundberg, herself a former business owner who returned to community college as an adult, discussed her priorities, her own community college success story, technology, enrollment numbers and her vision for Kirkwood's future in an interview with the CBJ in her new office. Questions and answers have been lightly edited and condensed.
It's been a few months since you arrived, how are you settling in?
Pretty good. I keep telling people it's like drinking water and then taking a drink from a fire hose. There's a lot of information, but I'm settling in nicely. I felt very welcomed here, certainly and the college community is just terrific. It's been a great move.
How have you gotten up to speed on the institution since arriving?
I did a lot of onboarding before I got here. The board announced that I would be president last December and I started onboarding in January. I attended three board meetings, I attended a leadership retreat with the board, I went to the Iowa Community College presidents' meeting and a few fundraisers, so I had been over here quite a bit in the six-month period [before starting work]. And [previous president] Mick Starcevich and I were talking pretty much weekly. He's been a great source of support, as has been Norm Nielsen, the president before Mick. Since I've been here, I've met with him several different times, and we've gone out and met donors that he has worked with over the years, and people from the community who he thought I should meet.
I don't know any other institution where you have two retired presidents who still care so deeply about the institution that they're willing to give up their time and drive me around and make sure I meet people. You just don't see that everywhere. I said to Norm, "I think Kirkwood is one of the top 20 community colleges in the country," and Norm said, "I would lower that number."
Now that you've had a few months in the role, what's your impression of the institution and your vision for the year ahead?
I would say that Kirkwood is known – not just here, but nationally and even internationally – as being innovators. And you get that sense around here … that they have been kind of a maverick institution. That's what's come through to me – a kind of can-do attitude, the culture of excellence – and so, of course, we want to continue in all of that.
I think that areas that I have strength in are trying to understand and make smart decisions, and to have processes in place that support and structure the ability to be innovative. Because you can be innovative, but if you don't have the processes and structures in place to support that, sometimes they aren't going to succeed. When an institution gets this large, those are really key things to have in place. So we need to embark upon a strategic plan, and that will be coming this year. We have our Blueprint for Learning here, which was done in 2015 or 2016 and has been very successful, and I want to build upon that.
Your previous college, Carl Sandburg, was a leader when it comes to technology, including a national ranking as the No. 1 tech-savvy college in its category. What's your estimation of Kirkwood's tech savviness?
Well, Kirkwood was actually second last year … so what that [ranking] usually reflects is technology in the classroom and technology used for learning. Sandburg was a cutting-edge school, primarily because – much like Kirkwood – our district was so large. We covered part of 10 counties, and we cover seven counties here. When you have distance like that – and in Illinois, we were very sparsely populated, which is different than here – you rely on technology, because that becomes the way to deliver education.
We had telepresence robots at Sandburg, all kinds of neat stuff in the classroom, and they have very similar things here. They are called "malie rooms" here [short for "Mobile Active Learning Immersive Environment"] – those are collaborative learning rooms with a lot of technology where students work in pods. Today's students are very collaborative. They're using their phones, they're using social media, so how do you engage the students of today in an educational environment that you know they want to be in?
How has the region's extremely low unemployment as of late affected Kirkwood's enrollment? Are fewer people coming for certifications?
It does affect CTE [career technical education] enrollment, the reason being that typically when nontraditional people are coming back to college, it's at times of high unemployment, because they aren't working or want a higher-paying job. When there's full employment, it's much more difficult for them to do that. It doesn't affect the 18-year-olds so much, because they're going to go to college anyway, but it does affect nontraditional enrollment. I can tell you that we are down 1.5 percent in hours and headcount. But I'm happy with where we are, because nationally, enrollment is down 3-4 percent, I think.
Funding and higher education is always a hot topic in the Corridor. The state's public universities have been getting the brunt of the bad news lately, but community colleges received about a $2 million raise in the last state budget. How are you feeling about the state's support for higher education?
So, obviously, we would always like more funding, because the needs of our students continue to get greater and greater, and making sure that we provide tutoring, counseling, advising and those types of things – all of those cost a lot of money and we would always like more to do a better job. But I feel that overall Iowa is well-funded. It's always a challenge, because there are so many needs out there, and how do you allocate those scarce dollars? So, I would of course like more funding for colleges, but at the same time I recognize that legislatures are challenged trying to figure out ways to meet all the needs of the state. I think as community colleges, if we can become more self-sufficient, the better off we are going to be.
You've mentioned in previous interviews that you're open to some sort of "promise program" for students. Is that something you plan to pursue here at Kirkwood?
I do plan to pursue it. I'd love to have promise programs in every community if I could. They're expensive.
What would that require?
I was able to get two promise programs when I was in a smaller school district, but one was funded from the city with hotel/ motel tax dollars and another was funded through a private donor. They provide 64 hours of credit paid by the promise program to all graduates of local high schools. Books and fees are on the students and his or her family, so everybody has a little bit of skin in the game. They are designed to give people a reason to stay living in a community when they might want to move. … We know that our career technical graduates tend to stay in Iowa and the region, so if you know that, then you would want to graduate more of them.
Promise programs can be game-changers for regions. I think there's all kinds of evidence across the country of their success, and so if there's a way we can work with the city and the high schools and figure out a way to do that with donors, I would love to do that.
Fundraising is a strength in your background from what we understand. How do you see the fundraising challenges and opportunities for Kirkwood moving forward?
I think that fundraising is really where community colleges have to be for the future. There isn't enough revenue, at least at this time, at the state level, so, any way that we can support the operation through fundraising just makes sense. I moved my last institution from a place where we were mainly a scholarship foundation to really working on fundraising for projects and things besides scholarships, and I'd like to do that here.
I think we have all kinds of opportunity because people realize the benefit of Kirkwood. I begin to tell people and they already know what Kirkwood does, so it's a pretty easy sell for people to support students coming back to college or projects like an emergency fund for students. Nine times out of 10, when a student drops out, it's not related to academics – it's related to their job, their family … something has happened, so if there's an emergency fund we could develop, we can help them if the car breaks down or they have to sit out a semester because of illness. If we could provide some support for that, we could keep those people enrolled, so that's an area of focus for me.
You went back to school as a nontraditional student and had been running a hair salon. Here you are today, president of a very large community college. How does your personal experience translate into your vision of what a community college should do and offer?
The deal is that community colleges change lives. They transform lives and they take someone who maybe was a hairdresser and give them a dream of something bigger, something better that no other institution of higher education does. We meet people where they are [in life], and that is hugely important in trying to help first-generation college students and potential students.
I feel particularly drawn to community colleges because they serve a population that is hugely important and maybe hasn't always thought that college was for them. I think we can show them that it is, and that the sky's the limit for them as to what they want to do.
People ask me, "Was this your plan? Did you have a plan?" Well, no, I hadn't planned to change careers when I got my bachelor's degree because my business was really successful. Then this professor fell ill, and they called me, because they heard that I had an economics degree and they were desperate. I took his classes for a couple of weeks, and realized, "I need to be in the community college system." So when I was 35, I made a career change. I walked away, went home to my husband and said, "I have good news and bad news. The good news is they've made me a job offer for a researcher position. The bad news it pays less than half of what I'm earning." And he said, "You don't want to be 70, look back and say 'I wish I had given that a shot,' right?"
I did it, and it was scary in all kinds of ways to leave behind a career that I knew to go into something I really didn't know. But it's been terrific, and I think those kinds of things gave me the courage to walk away from the community where I grew up to come over here, because that's pretty scary, too. It's challenging, but my calling really is in a community college. I love higher ed and I love research and all of that, but I think in terms of changing the lives and making a difference, the community college is really where it's at.