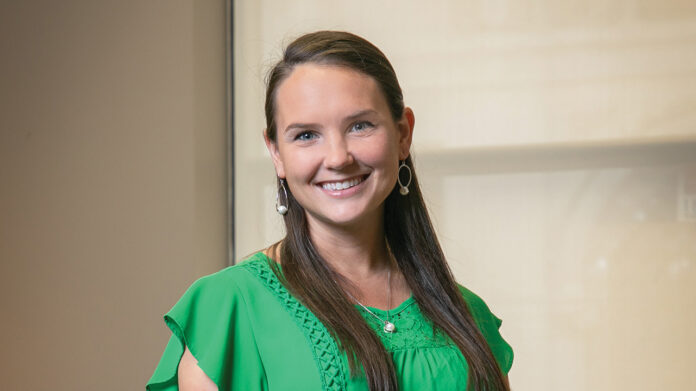 This story is a part of the CBJ's Newsmakers edition. This year-end wrap-up from the staff of the Corridor Business Journal is a compilation of the year's most noteworthy articles and projects, as told through stories that appeared in the bi-weekly issues of the CBJ.
This story was originally published in March 2022.
---
As the COVID-19 pandemic continues to subside in both case numbers and hospitalizations, many Corridor employers are either bringing many of their workers back on-site in some form or have already implemented return-to-work initiatives.
However, many companies had outlined plans to bring workers back to in-person work in December until the surge of the COVID-19 omicron variant added another layer of uncertainty, according to a Marketwatch article published in December.
Nationally, Google and Ford were among those who delayed their return-to-office plans. Meta, formerly known as Facebook, and ridesharing company Lyft separately announced they were letting workers delay their return when offices fully reopened in January. Meta said they would allow workers to delay their return as late as June, while Lyft says it won't require workers to come back to its offices for all of 2022, though they fully reopened in February.
Janelle Gale, vice president of human resources for Meta, said the company's December decision recognized "some aren't quite ready to come back."
The moves indicated how difficult it's been for companies to set firm plans for their employees' mandatory return as worries about a spike in new cases or new variants continue to shift deadlines.
Still, as confidence continues to grow that the pandemic is evolving into a longer-term endemic, more companies feel confident that they can implement plans to bring more workers back to various-site scenarios.
'Help people feel comfortable'
Samantha Rogers, human resources business director for Cedar Rapids-based human resources and recruiting firm Skywalk Group, said companies should consider how a return-to-work strategy will impact their overall business goals.
"Is the goal to have people on-site to control the culture?" Ms. Rogers said. "Is it to have people on-site because we miss the way it used to be, and we just want to get back to that? Is it because we're addressing a need with customer service that was suffering, numbers that were down, goals that weren't being met? Whatever the need is, I think we address those in different ways. But we certainly want to communicate why we're bringing people back, so employees aren't left to guess and make assumptions that could hurt the culture."
It can be helpful, Ms. Rogers said, for employers to gather input from their employees regarding any return-to-work proposals before fully implementing them.
A recent national survey by the Society for Human Resources Management (SHRM) showed that six out of 10 respondents who can work from home continue to do so. Moreover, most workers prefer that option in some form if it's feasible.
"If you are deciding to bring people back, whatever the reasons — which employers are hopefully communicating — doing so in stages is a good idea," she said. "Don't just rip the (bandage) off. Help people feel comfortable with the decision slowly and over time."
The most successful organizations have started their return-to-work plans with a hybrid approach, Ms. Rogers said. "Half the workforce Mondays and Tuesdays, the other half on Wednesdays and Thursdays, with Fridays optional," she said, citing one example. "There's so many things you can do to maintain a culture if you decide, 'I can save by not paying these administrative office fees. We don't have to have the secretary greeting people at the door. 
People were successful working from home. Let's continue doing this and downsize our office.'"
Consistent approach
Deb Dirks, human resources director for Crystal Group, a computer hardware manufacturer based in Hiawatha, said that, like many other companies, her organization's approach to COVID-19 changed over time.
When the pandemic began in early 2020, Crystal Group's manufacturing workers were spaced apart to observe social distancing. The company implemented a second shift to facilitate more distancing. And while masking wasn't required at workstations, employees had to wear masks anytime they stepped away from their work area.
Mask-wearing protocols then eased briefly as vaccines became more widely available before tightening again when the omicron variant surfaced.
She said the company's office workers returned on-site about a year ago. As decisions continued to be made, Ms. Dirks said, company officials, relied extensively on official guidance from the Centers for Disease Control.
"We've used CDC guidelines as our guidepost because there would be so many mixed messages from so many different sources," she said. "As long as we stick to (CDC recommendations) we could be consistent for all employees and keep the communication clear. It can get chaotic if you're doing it one way today and one way tomorrow. I believe our employers appreciated that we went to a source and followed it."
Flexibility is highly valued
At ACT in Iowa City, employees have worked closely with their managers to determine their work location. According to Mark Larson, ACT's senior director of talent strategy, while some employees have returned full-time to their offices, most have chosen to be either fully remote or hybrid moving forward.
"Our recent engagement survey shows this flexibility is highly valued by our team members, and we plan to support that flexibility going forward," Mr. Larson said. "We communicated with our team members that their comfort levels on safety were important and that we would do our best to meet their preferences. In addition, we found that productivity and engagement have remained strong and flexibility is important to our team members, so we have continued to find ways to support the variety of work arrangements."
ACT has established a formal Flexible Work Arrangement Policy and a Connected Team Member Policy to support employees' preferences, Mr. Larson said. 
NEWSMAKERS UPDATE
Employers settle into new normal
While keeping an eye on the winter's COVID variants' potential for workplace disruption, Corridor employers have largely settled into a new normal of varied workplace routines.
"I would say we're back to normal," said Deb Dirks, human resources director of computer hardware manufacturer Crystal Group.
The company followed guidelines from the Centers for Disease Control when designing its return-to-workplace strategies and continues to monitor the federal agency's recommendations.
"Just following those guidelines and sticking to that, instead of making up our own, was the easiest way to be consistent and current," Ms. Dirks said.
That got Crystal Group's assembly workers back in the plant about a year ago, with masking and social distancing restrictions. Those precautions, which included instituting a second shift to minimize contact, were eased following CDC recommendations. All staff now work from the company's Hiawatha facility.
Elsewhere, a more competitive environment for workers has firms offering more work options to all levels of staff.
"Basically, employers are being faced with almost treating hourly employees as if they're salaried," said Samantha Rogers, human resources business director for Cedar Rapids-based human resources and recruiting firm Skywalk Group. "They're looking at nonexempt (hourly) employees and they're saying, 'What's really important to me?' Is it the hours they work, or is it the outcome of their hours?"
"The overall sense I get is that most people are in a hybrid situation," said Jennifer Nahrgang, professor of management and entrepreneurship at the University of Iowa's Tippie College of Business.
Workplace policies continue to evolve as companies assess their progress over the past year.
"The whole game has changed," Ms. Rogers said. "These  companies have been embracing some kind of hybrid. The more strict people are these days, the harder it's going to be to attract and retain talent."
— Steve Gravelle