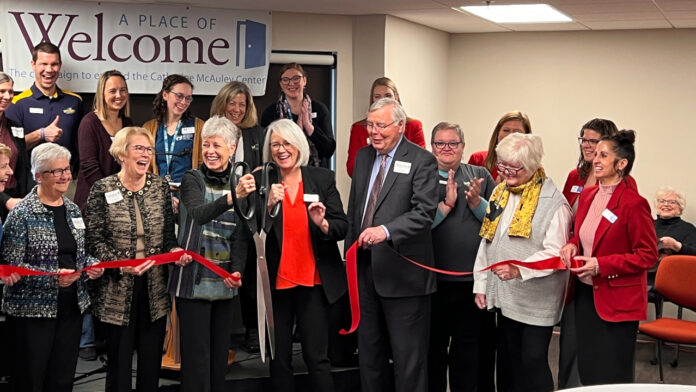 The Catherine McAuley Center (CMC) celebrated meeting its $5 million campaign goal in a ceremony Nov. 17, and used the moment to officially mark its new building with a ribbon cutting and tours.
"Our new home has enabled us to expand our services and provide a place where individuals can find the help they need," said CMC executive director Paula Land. "We wouldn't have this new space without the generosity of our donors. We're incredibly grateful for the community support, and we're looking forward to serving even more individuals from all backgrounds."
The nonprofit provides education, women's and refugee and immigrant services for those lacking basic human needs. From a woman on the verge of homelessness to a refugee experiencing a completely new environment, all individuals are greeted with welcoming, compassionate care that treats each individual with dignity.
As CMC grew, so did the need for adequate space for the services it provides. The new building at 1220 Fifth Ave. SE in Cedar Rapids increased space from 8,724 square feet to 32,802 square feet, dramatically increasing the organization's ability to serve more individuals. The facility is also now accessible for people with disabilities.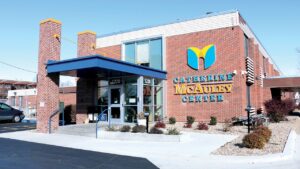 The Catherine McAuley Center's $5 million fundraising campaign, "A Place of Welcome," officially provided the home CMC needed to expand its services and help those in need.
"This celebration is overdue," Ms. Land said. "After the derecho and the pandemic, we're overjoyed to take this moment to show our gratitude to everyone who has made this new home possible."
For those that CMC serves, the celebration provides a moment to reflect on how far they've come.
"I think since I walked into the old building, I loved the environment. I felt like I was part of it, which was important for me as an immigrant and a student," said Marimer Stadtmuller, a student and RefugeeRISE AmeriCorps member at the Catherine McAuley Center. "Now in the new building, more people come to be part of this community and have more opportunities and are getting help from our resources."
As CMC celebrated the milestone moment, the nonprofit agency is also looking ahead.
"We're still expanding," Ms. Land said. "Wars, violence in homes, human rights violations – these all displace people, and we're here to provide that place of welcome. We'll continue to rise to the occasion to help people lead fulfilling lives. And in our growing community, that means we're always evolving to better serve those in need."
Founded by the Sisters of Mercy and named after its founder, Catherine McAuley, the CMC was established in Cedar Rapids in 1989. CMC is a nonprofit organization that offers hope and opportunity through educational and supportive services that promote stability, skill-building and connection. Services provided include transitional housing, adult basic education and refugee and immigrant services.