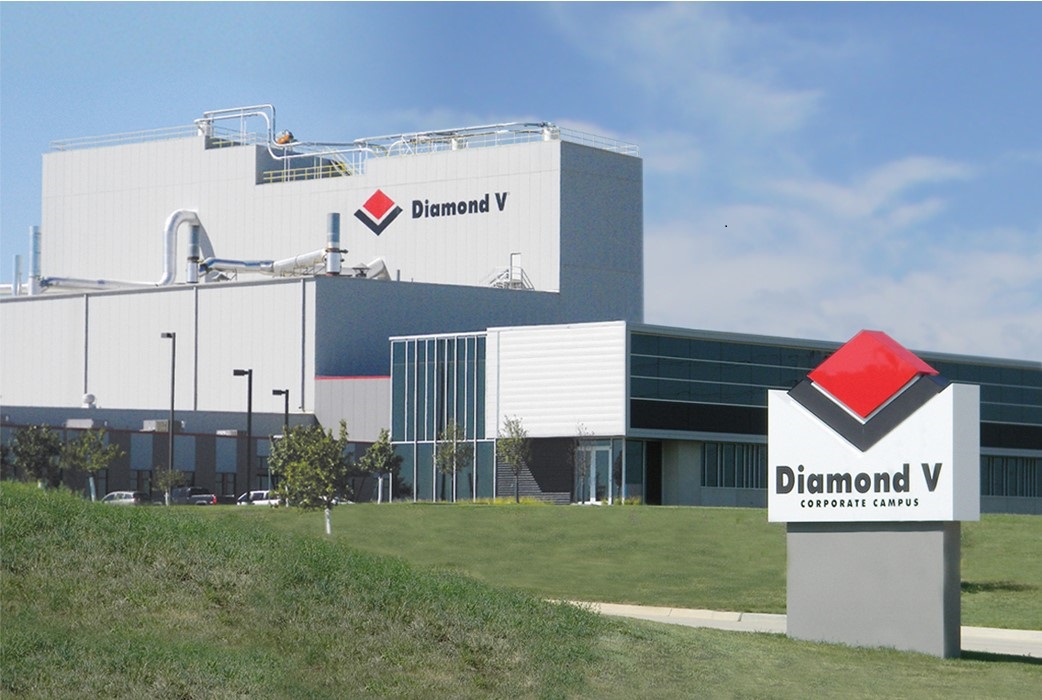 Diamond V's animal nutrition production facility at 2525 60th Ave. SW, Cedar Rapids. The company is building a third facility due to strong demand. PHOTO DIAMOND V
By Dave DeWitte
dave@corridorbusiness.com
Multinational food giant Cargill has reached a deal to buy Cedar Rapids-based Diamond V in a move designed to make the company a leader in the $20 billion global animal feed additives market.
The deal announced Oct. 24 includes both Diamond V's animal nutrition busi­ness in Cedar Rapids and the company's human nutrition business, Embria Health Sciences, based in Ankeny. Financial terms were not disclosed.
"Our combined businesses will accel­erate growth, build industry-leading ca­pabilities and natural solutions for animal health and food safety, and help fulfill Cargill's purpose to nourish the world in a safe, responsible and sustainable way," Cargill Chairman and CEO David Ma­cLennan stated in a press release.
Diamond V employs about 100 in Ce­dar Rapids and some 300 worldwide. Its company headquarters and the existing leadership team will remain in Cedar Rap­ids, and Cargill plans to use the brand as a platform for future investments in natural solutions for safer animal food nutrition.
"I am excited about what Diamond V and Cargill can accomplish together," Jeff Cannon, Diamond V president and CEO, stated in a press release. "This acquisition is an investment in the well-being of ani­mals – and ultimately, in people."
Cargill and Diamond V have "had a very good relationship over the years," said Mike Wright, director of global com­munications for Diamond V. "They have utilized our technology and some of our expertise, especially in the dairy space, for years." A number of Cargill's feed mills and feed mix plans are using Diamond V products, he noted.
No workforce reductions are expected as a result of the acquisition, according to Cargill spokesman Tim Loesch.
"This deal is about growth and how we can make something better," he said, describing the deal as a "very good fit from a cultural perspective," with both companies focused on science-driven innovation.
The broader global reach and resourc­es offered by Cargill will help to acceler­ate Diamond V's growth, Mr. Wright said, explaining that Cargill has a market pres­ence in at least 30 more countries than Diamond V. In fiscal 2016, Cargill had revenues of $107.2 billion and 150,000 employees.
Privately-held Diamond V announced a $28 million expansion in 2016 to build the company's third plant in Cedar Rap­ids. That is expected to be complete in mid-2018. The company manufactures fermentation-based feed additives, which have been in high demand, generating sales increases of more than 20 percent for several years running.
The deal is part of a Cargill strategy to ad­dress growing consumer demand for whole­some and natural animal nutrition prod­ucts. Mr. Loesch said consumers are growing more interested in the entire production cy­cle of animals, including the types of feed and supplements used. Rising concern over the use of antibiotics in livestock production is one example of that consumer sentiment.
Cargill announced an earlier investment in Delacon, another animal nutrition business, in July. It produces phytogenics-based animal nutrition supplements, which contain specialized plant ingredients such as herbs, spices and extracts to improve animal health.
Cargill is already among the largest employers in Cedar Rapids, operating two soybean processing plants and one corn milling facility. Cargill Corn Milling in Cedar Rapids, the company's first corn wet mill, celebrated its 50th anniversary this month.
Diamond V is the third major Cedar Rapids manufacturer to be acquired this year, following announced deals by United Technologies to acquire Rockwell Collins and by Motion Industries to acquire Apache Inc. Diamond V was established by C.W. Bloomhall in 1943 to manufacture unique microbial fermentation products, and is still chaired by descendant John Bloomhall.