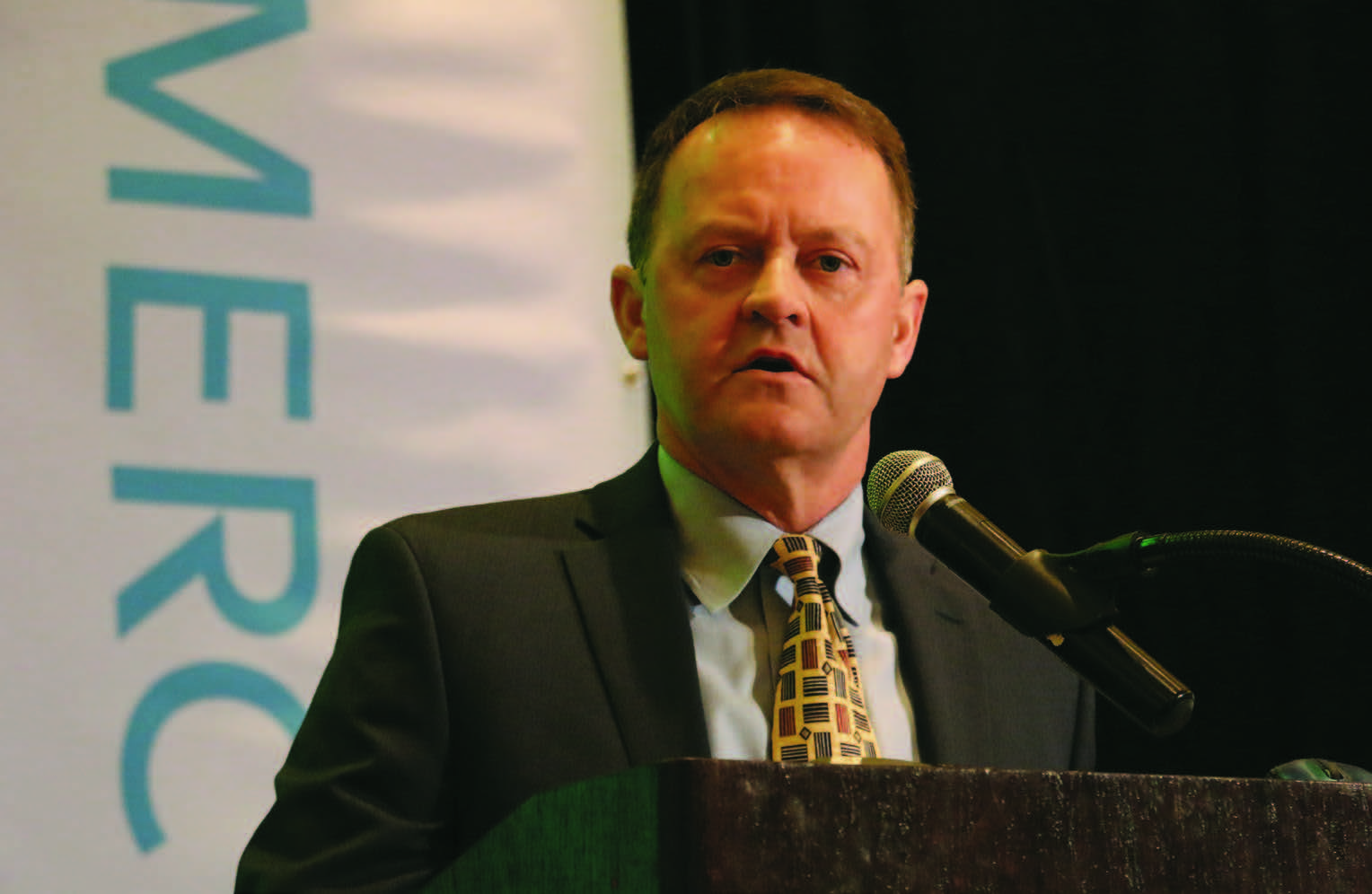 Sam Houston of Health Solutions speaks at the CBJ's 2017 Health Care Summit on Feb. 17 at the Coralville Marriott. PHOTO ADAM MOORE
By Dave DeWitte
dave@corridorbusiness.com
CarePro Health Services is exiting the workplace wellness business, while at the same time building a closer relationship with Health Solutions, which acquired the assets of CarePro's Worksite Wellness business in June.
Beginning this month, Cedar Rapids-based Health Solutions has taken on CarePro's three Worksite Wellness staff members, and will offer its services to the 17 companies CarePro previously served.
Although some of the fizz has gone out of the broader workplace wellness market, the transfer was largely a matter of how the companies could best serve clients, leaders said. CarePro has a large staff of pharmacists at its five pharmacies, but a small Worksite Wellness division. Health Solutions, which has a staff of 60, wanted CarePro Pharmacy, its community pharmacy division, to provide chart reviews for a growing list of clients.
"CarePro wanted to leverage their clinical resources, and as we're growing like crazy, we wanted to have the capability of additional clinical services," said Sam Houston, Health Solutions' executive vice president.
Health Solutions has made the CBJ's Fastest Growing Companies list five times in the last decade, including three top 10 rankings. It has also been voted Best Wellness Consultant four times by CBJ readers as part of the Best of the Corridor awards program.
One of the strengths Health Solutions can bring to CarePro's clients is in the area of predictive analytics, Mr. Houston said. Health Solutions has become an industry leader in analyzing clinical and biometric data from employee groups to determine specific areas of health risk.
Traditional wellness programs "cast a broad net," Mr. Houston said, addressing issues such as fitness and nutrition. But he sees financial support for those programs fading, because business leaders are not seeing the return they'd expected, or simply don't know what kind of return they're getting. Some are cutting back by eliminating use of third-party providers and bringing wellness programs in-house to save money.
An annual survey conducted by the Society of Human Resources Management (SHRM) in 2016 showed that fewer employers were offering some of the main features of employee wellness programs. The percentage offering health coaching fell from 50 percent in 2015 to 37 percent, while the percentage of employers making seasonal flu vaccinations available dropped from 61 percent in 2015 to 54 percent. The percentage of employers offering savings on health insurance premiums to employees for being tobacco-free was also down.
Mr. Houston said Health Solutions' business continues to grow because it has the analytical tools to clearly predict and measure return on investment. The company now provides services in 26 states.
"We go to market as a loss-prevention strategy," Mr. Houston said.
Some of the most common clinical issues that Health Solutions currently sees in the workplace are related to stress, Mr. Houston said. They include elevated blood pressure and elevated blood glucose levels, often coupled with stress and depression.
CarePro CEO Michelle Jensen said the company's Worksite Wellness division, under the leadership of Randi Burt, had refined its services to offer individualized plans for each employee group, and hasn't seen a decline in business. However, it also accounted for a small fraction of the company's revenue, compared to its community pharmacy, home infusion and home medical equipment units, all of which face their own challenges warranting attention and investment.
"It was the best it could be unless we were going to take attention from our other businesses and focus investment in it to grow," Ms. Jensen said.
In a press release, Health Solutions founder and President Jennifer Musick described the deal as a "win-win" for the companies, allowing CarePro's team to continue their work with expanded resources, while allowing Health Solutions to grow its customer base and offer enhanced services.
Financial terms of the sale were not disclosed.