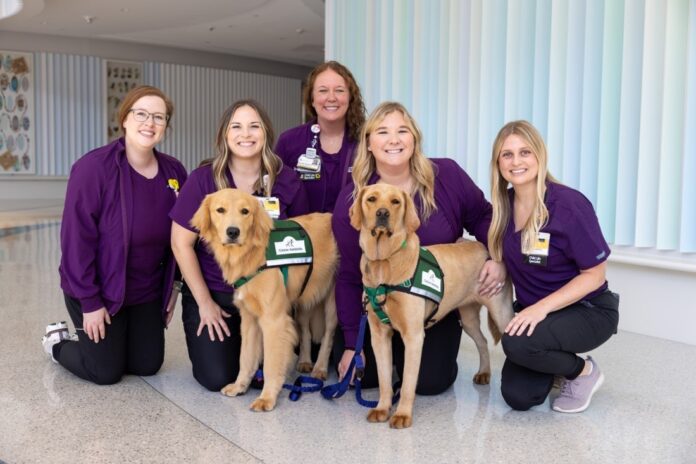 Two new furry employees will soon greet patients at the University of Iowa Stead Family Children's Hospital. Nacho and Corrin, the first team members of Wags and Wave Facility Dog Program, are a recent addition to the hospital's health care team.
"Our new facility dogs are very important members of the health care team," says Racheal Niensteadt, manager of the Child Life Program at UI Stead Family Children's Hospital. "Together with their handlers, Corrin and Nacho will help children achieve specific clinical goals through animal-assisted interventions. We are very excited to offer this transformative care to pediatric patients and their families at our hospital."
Encouraging healing
Both dogs, along with their handlers – child life specialists Aly Humphrey and Emily Bradley – will actively participate in patient care to promote healing in a number of ways, including:
Encouraging recovery: walking with the patient during physical therapy or after surgery
Decreasing fear and anxiety before a procedure or surgery: demonstrating what it's like to have anesthesia, or imaging scans.
Support during procedures: providing distraction and positive coping skills
Helping patients learn to take medicine: they may show a child how to take medicine from a syringe, or spoon, or medicine cup.
Outcome-driven therapeutic play
Emotional support and comfort
Sibling and family support
"As a Child Life Team, our goal is to reduce fear and anxiety to positively impact the care of our pediatric patients. Nacho and Corrin will help us better meet patients' emotional and developmental needs," says Ms. Bradley, Nacho's handler.
Nacho and Corrin are part of an instruction program through a nonprofit called Canine Assistants. The group uses a bond-based methodology process that began when the dogs were just a few weeks of age. Handlers develop a strong relationship with their dogs through exercises that foster a beneficial and loving relationship between the dog and handler, grounded in trust, respect, and confidence. 
Prior to arriving at the children's hospital, the dogs spent more than a year learning how to be facility dogs. 
Family Pet and Certified Dog Visit programs through Furry Friends, a program funded by donors through the UI Center for Advancement, will continue to support patients with UI Health Care.