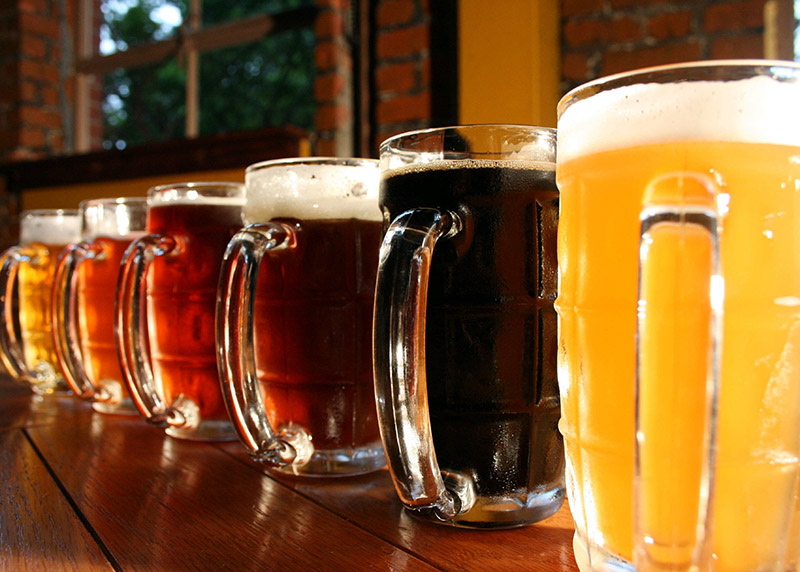 Microbreweries surface as latest strategy for struggling Main Streets
By Dave DeWitte
dave@corridorbusiness.com

CENTRAL CITY—In this slow-growing Linn County town of 1,280, there's a general feeling that something needs to happen to fill the half-empty rows of storefronts in the downtown area.
In past years, the answer might have been an antique mall or a co-working space, but these days, it just may be a brewery.
Three locals who get together regularly to brew beer in a garage just completed a business plan to open a brewery in vacant storefronts next to the weekly newspaper office that formerly housed Discount Appliances and Dunlap International on North Fourth Street. It's an effort to combine the two loves of brewers Jason Levenhagen, Scott Whitson and Jeff Hempstead.
"We all live in Central City," Mr. Whitson said. "Jason and I are on the city council and Jeff has been in town now for eight years or so. … We could maybe do it better in a slightly bigger city, but we like our city."
Central City is so small and removed from surrounding towns that the trio isn't sure a brewery will make it as a standalone business. They are making brickoven pizzas a significant part of their business plan to attract more regulars, and will offer live entertainment on the weekends to pull visitors from Cedar Rapids, Dubuque and other large cities.
As a destination for beer buffs, Central City could actually find itself punching above its weight, considering there's more to do than drink beer. Nearby Pinicon Ridge Park is one of the region's top outdoor destinations, and the Linn County Fairgrounds in Central City attracts about 50,000 attendees each summer. There's a shooting club outside of town, and a big military surplus store.
Mr. Levenhagen and Mr. Hempstead are brewing veterans, having brewed beer together for years. They started out simply with extract brews, made with liquid ingredients.
"About four years ago, they suckered me into doing it, and we went right in and bought a 15-gallon setup and started brewing all-grain beers together," Mr. Whitson said. "We usually do it in Jason's garage and participate in local brewing events, Winthrop Days, the Linn County Fair and the Delaware County Fair."
Besides brewing beer together, the three men also brew separately in their own homes and attend gatherings of a craft beer club that meets in Manchester.
Central City leaders are receptive to the business idea, recently concluding a months-long process to write and enact a new city ordinance permitting breweries in the downtown district. Downtown merchants like Eric Grodt at the Up A Creek kayak store can't wait to see them open, expecting the brewery to bring in customers and cross-marketing opportunities.
Iowa's small-town brewery movement
Wilson, director of the Iowa Brewers Guild, says Central City is far from alone in its desire for a brewery. He fields a call every few weeks from a small Iowa community wanting to know how to recruit a brewery to occupy empty downtown storefronts or other spaces.
"I'm a home brewer and have been for a long time," said Mr. Wilson, who lives in a small town about an hour and a half from Des Moines. "I've even had my home community hit me up and say, 'Hey, look at this building, wouldn't it be perfect?'"
Although he doesn't have the itch to open a commercial brewery, Mr. Wilson can't blame them for trying. He said craft beer devotees don't care where a brewery is located if the beer is truly great or interesting. They'll go far out of their way to try a new one, or to take part in beer release events at award-winning breweries.
Mike Wagler is state coordinator for the Main Street programs in Iowa, which seek to revitalize and sustain vibrant downtown areas in Iowa communities. He says the craft brewery movement has played a growing role in Iowa's downtowns.
"It's working in the big cities, trickling down to the mid-sized cities, and increasingly coming to small cities," Mr. Wagler said. He noted the breweries become "informal community centers," brewing not only beer, but coffee, root beer and kombucha, and organizing events such as runs, bike rides and craft classes.
Decorah, population 7,700, could be the state's most powerful example of a small town that's become a national magnet for beer lovers. The award-winning Toppling Goliath and Pulpit Rock breweries attract a steady stream of traffic on most weekends, and get the town hopping during beer release events.
"You'll see license plates from all over the country, which is really fun for us," said Gabriel Eide, a spokesman for the Decorah Chamber of Commerce. "There were a couple of guys from South Korea who flew in and came to Decorah, just to attend a beer release."
PIVO Brewery opened up less than a dozen miles from Decorah in 2017 in Calmar, a city about a tenth of the size of Decorah, and smaller than Central City. PIVO operates a 15-barrel (BBL) brewing system that can churn out 450-gallon batches, and has a taproom with 40 taps and seating for 100.
"For locals, the PIVO Brewery taproom has become a social gathering location," founder Craig Neuzil said. "Many people who would prefer not to go into a traditional tavern have told us that they enjoy spending time at the brewery taprooms."
The business hasn't dampened activity at the local taverns, however, Mr. Neuzil said, and many have responded by offering their own selections of craft beer on tap.
Beer tourists are predominantly male and well-educated, according to a survey of 505 beer tourists to North Carolina conducted by the University of North Carolina at Greenville in 2011. It found 60.7 percent were male, three-fourths had college degrees and more than half have annual incomes of more than $75,000. Their primary motivations for visiting the area were to experience new beers and to relieve stress.
The craft brewing industry has expanded rapidly in Iowa, logging double-digit sales increases every year. Iowa ranks 23rd nationally in the number of breweries, with 94, according to the Brewers Association. That's four breweries per 100,000 adults over the age of 21, placing Iowa 16th nationally in breweries per capita.
Despite the heady pace of growth, there's plenty of room for more if the operators are up to the game, Mr. Wilson said. That's because consumption of craft beers per capita in Iowa lags all but 15 other states, at 1.6 gallons per adult. Maine, a tourist destination with a population less than half of Iowa's, has per-capita craft beer consumption of 10.5 gallons, and 119 breweries.
Keeping it local
The Central City brewery partners worked with SCORE of East Central Iowa to build a strong plan for the business. Theirs calls for an emphasis on local sourcing to make the brewery more sustainable and connect with the surrounding community. Mr. Whitson and his partners plan to use a local attorney and accountant, and even buy honey produced by the local Boy Scout camp.
"I even had one of my farmer buddies say, 'You tell me how you want these hops grown, and I'll do it,'" he said.
The names of the brewery's offerings will draw inspiration from some of the founders' favorite songs, and from area landmarks.
One thing Mr. Whitson has learned is that opening a brewery can't be rushed. After their recent wait to get a local ordinance approved allowing their business, Mr. Whitson and his partners recently learned that it will take about six months to get through the state licensing process.
Stuck in the dilemma of potentially losing their site or paying rent on a vacant building for the better part of a year, Mr. Whitson said the partners may just decide to open the brickoven pizza half of the business first, and open the brewery portion later.
Even with the obvious benefits of beer tourism, Mr. Wilson says he sometimes has to throw cold water on the brewery hopes of smaller towns. The vacant buildings they're offering are often incompatible with the needs of a brewery, he says. A good brewery building requires loading docks, heavy-duty water and electrical connections and floor drains. Even with those things, convincing an experienced brewer to relocate to a small town and open a brewery is a hard sell, he says, in part because the market is smaller.
Mr. Wilson also advises smaller towns to have some kind of idea of the type of brewing operation they're trying to recruit, and the size of production setup, so they're at least sharing the same vision as the brewers they hope to attract. Breweries can range from small nanobreweries that can open in a basement on a reasonably small budget, to production breweries with bottling lines that cost millions and require plenty of storage space.
The best path for most small towns pursuing a brewery is probably to find a local craft brewer like Mr. Whitson who might already be considering opening a brewery, Mr. Wilson said. Then, he said,  you "push them off the cliff" by helping them do it.   CBJ