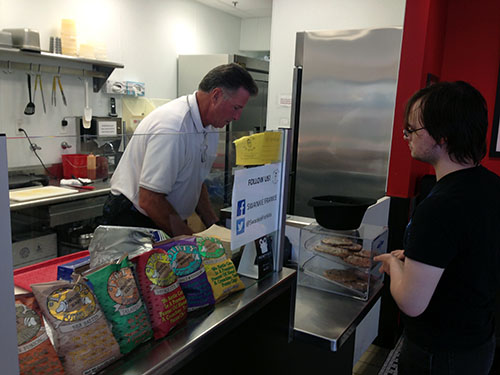 By Chase Castle
chase@corridorbusiness.com
As the Johnson County Board of Supervisors begins to notify businesses about a pending minimum wage increase, at least one municipality has already agreed to bypass the hike, which some business owners say will require raising prices and reducing staffing.
The proposal approved Sept. 10 by the supervisors will raise the minimum wage for all workers in the county to $8.20, which is a 95 cent increase above the state and federal minimum. The wage is scheduled to increase again to $9.15 in May, followed by a third increase to $10.10 in January 2017.
On Sept. 16, the Solon City Council unanimously approved an ordinance overriding the county's wage increase, however, and the Swisher City Council is considering a similar ordinance for its Oct. 12 meeting.
County Supervisor Rod Sullivan said he will attend the Swisher council in order to support the county's ordinance.
"I think that contrary to what they heard from some of the folks who were concerned, I firmly believe that this is going to be a good thing for the local economy," Mr. Sullivan said.
As of Sept. 17, Johnson County staff were in the process of assembling a comprehensive list of the county's employers to notify them of the pending changes through mailers and workplace posters, as required by the U.S. Department of Labor.
Some businesses in the county seat of Iowa City, meanwhile, are already bracing for the increase, which may result in price changes, staffing reductions and possibly layoffs, according to a small sampling of business owners polled by the CBJ.
Lynn Silberstein co-manages Mam's Deli & Catering in Iowa City, which has six part-time workers and two full-time employees. She said the restaurant will reduce its staff size if the wage increases are implemented, and that she doesn't believe the minimum wage should need to sufficiently raise a family, which proponents of an increase have argued.
"If you want a higher-paying job, get an education," she said. "That's kind of how I feel. The employees that we have here, they are students. They are not raising families here, but it's definitely going to affect us if we have to pay all that."
Clyde Guillaume owns Swankie Frankie on the Pedestrian Mall, which employs eight part-time employees, two of whom work close to 30 hours a week. Mr. Guillaume (shown above) said his employees receive $8 an hour, with a small hourly bonus tied to work performance, punctuality and more.
He said he won't be able to afford the minimum wages scheduled to take effect next year, but may qualify for an exception in accordance with state law that exempts most businesses with less than $300,000 in gross annual sales.
Like Ms. Silberstein, Mr. Guillaume also noted that most of his employees are students.
"Nobody's here to make a career or make a living out of working here, nor would I expect them to," he said. "So based on business right now, I won't survive. I'll have to raise my prices substantially, and then it's question of whether you start pricing yourself out of the market."
Tom Connolly is the co-owner of Forbidden Planet Pizzeria & Arcade and the Bluebird Diner in Iowa City, as well as the Bluebird Café in North Liberty.
Forbidden Planet employs about 24 people, he said, half of whom work in the kitchen at a wage approaching or exceeding $10 an hour. Servers and bartenders, who collect tips or are compensated at least up to minimum wage in accordance with state law, respectively earn $4.35 and $7.25 an hour.
"It affects us, but not dramatically, because we do have an average wage now that's well in excess of the minimum wage, and realistically that's what you have to pay, I think, to attract good people around here," Mr. Connolly said. "You're not going to get good kitchen talent for under $10 [an hour]."
He said he applauds the county's effort in trying to spur economic growth, but doesn't believe the increase will have the desired result of raising the living standards for the county's lowest economic quintile. Instead, he said he believes it will indirectly increase the cost of living.
"You're just shifting the scale rather than changing it," he said. "As an ideal, it's great. But as a practical reality, it presents a lot of challenges."
Presently, employee compensation costs account for 25-30 percent of Forbidden Planet's expenses. Mr. Connolly said that without an accompanying increase in prices, however, that percentage will increase as minimum wage climbs.
"If you get up to 40 percent, you probably are operating in a negative cash flow," he said. "And that's really dangerous at that point. Your pricing has to reflect, I think, any [wage] increase."