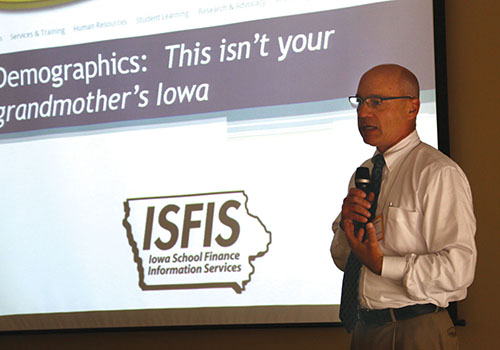 By Chase Castle
chase@corridorbusiness.com
IOWA CITY—State and university education leaders are calling on schools and businesses to forge more partnerships in the hopes of boosting STEM education and strengthening Iowa's workforce.
At a June 24 summit sponsored by the University of Iowa and the state STEM Advisory Council, council Executive Director Jeff Weld said new technology has created an historic gap between the curriculums taught by schools and the skills demanded by employers.
Citing the work of Tony Wagner, a former education innovation fellow at Harvard University, Mr. Weld said more primary and secondary schools, as well as universities, should stress critical thinking and problem solving instead of just instilling information, which has been the focus of public education since Iowa was founded.
"Knowledge is now like air – it's free," Mr. Weld said. "Why would we spend the precious time of our children and the precious time of our children's teachers imparting something that they can discover at the tip of [their] finger on a small screen?"
Mr. Weld said partnerships with businesses effectively serve as an extension of career technical education (CTE) classes, which include the home economics and "shop" classes that have existed in public schools for decades.
"They're hands on, they're collaborative, they're problem-based, they're real-world, and they always have been by necessity," he said. "So we're really just kind of stealing some secrets from the CTE world and wanting to incorporate them into our algebra classes and our chemistry and our ninth grade physical science and so on."
Created in 2011 by Governor Terry Branstad, the STEM Advisory Council has called for more internship opportunities for students, formalized mentorships, professional development for teachers and business involvement in projects such as science fairs and classroom demonstrations.
In December, the council awarded grants totaling $773,509 intended to implement those ideas within five different partnerships throughout the state, including a STEM Innovator course created by the UI, Kirkwood Community College, multiple Eastern Iowa school districts and more than 40 community partners.
"There are some amazing experiments that are going on in our state and across the nation, some in this very room, that are redefining education in a very positive way," Mr. Weld said at the summit, held at hotelVetro in Iowa City.
Another supported partnership includes Iowa BIG, a collaboration of the Cedar Rapids Community School District and The Gazette Co.
Gazette President and CEO Chuck Peters said he believes contemporary students in upper grade levels have academic abilities that far surpass those of previous generations, but scenarios without definitive solutions continue to pose problems for most students.
"What I learned in school is there was a right answer, the person who got it fastest was best and you really wanted to work for those external awards," he remarked. "There was this correctness out there, and your job was to get to that correctness."
That's troubling in contemporary business environments where professionals are required to continuously make adjustments, Mr. Peters said.
"When you look at business, you have to reimagine almost everything all the time," he said.  "I had someone say just yesterday that they were really struggling at work, because … they came to work thinking there was a right answer and they had to find it, instead of saying, 'Let's look at where we are, and what's the next best step.'"
Margaret Buckton is a partner with Iowa School Finance Information Services, which provides financial consulting for Iowa public schools. She said businesses stand to benefit by recognizing a correlation between education spending and economic outcomes, as evidenced in part by a research paper issued by the National Bureau of Economic Research in January.
The paper, by C. Kirabo Jackson and Rucker C. Johnson of Northwestern University and Claudia Persico of the University of California-Berkeley, says a benefit-cost analysis of school spending against economic outcomes found that increasing per-pupil spending by 10 percent for all school-age years increased wages by 7.25 percent each year. That implies a benefit-cost ratio of 2.01 and an internal rate of return of 8.9 percent.
"It's a better return on investment than if you put that money in the stock market," Ms. Buckton said. "So if we figure out how we want to improve the outcomes for our state from an economic standpoint to create a better business environment, investments in education seem to be a pretty [well] documented way to go."