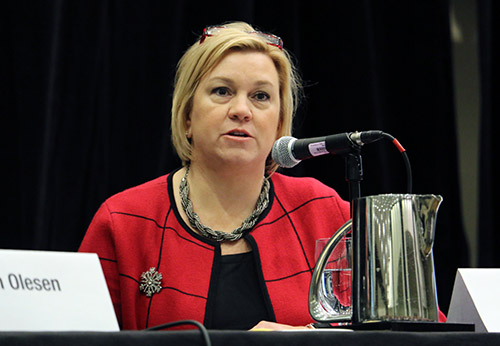 Anne Parmley, managing director, National Assessment Services at Pearson in Iowa City, discusses the move to digital assessments during the CBJ's annual Economic Forecast Luncheon, held Jan. 13 at the DoubleTree by Hilton Cedar Rapids Convention Complex.
Corridor business leaders offer thoughts on year ahead at Economic Forecast Luncheon
By Dave DeWitte
dave@corridorbusiness.com
CEDAR RAPIDS—Despite 2016 getting off to a tough start in the financial markets, speakers at the CBJ's 2016 Economic Forecast Luncheon predicted a year of at least modest growth for businesses and investors.
Federal Reserve Bank of Chicago President Charles Evans told the more than 600 attendees that he expects the economy to grow by about 2.25 percent in 2016, in the same range as in 2015. While that's lower than the 3.5 percent growth rate from previous economic recoveries, it's in line with the average annualized growth rate of 2.2 percent since the end of the Great Recession, Mr. Evans said.
Mr. Evans said his previous personal forecasts have turned out to be a little too optimistic, suggesting his number for 2016 is more conservative.
"The central point underlying my forecast is that the fundamentals for most components of domestic spending are good," Mr. Evans said, citing "substantial improvements" in labor markets, from a 10 percent national unemployment rate to about 5 percent. He sees room for further gains in reducing unemployment, primarily among part-time workers seeking full-time employment.
"Healthy labor markets portend continued job gains, growth in households' income and buoyant consumer confidence," he added.
The Federal Reserve Board of Governors began its path of raising interest rates by 25 basis points to one-quarter to one-half percent at its December meeting, ending a seven-year practice of keeping rates near zero to stimulate the economy.
Mr. Evans discussed the Fed's dual mandate to keep inflation and unemployment at manageable levels. He said that while gross domestic product, a key measure of economic output, has grown an average of 3.5 percent in past expansion cycles, that may not be the case this time because of demographic and technological factors.
The labor force participation rate has dropped about 2.5 percentage points in the current recovery even as labor market conditions improved. That trend could continue as the share of the population over the traditional retirement age of 65 is expected to increase from 15 to 19 percent.
Mr. Evans said technological progress has also been an important factor in boosting GDP during previous expansion cycles. A measure of technology-based productivity known as total factor productivity (TFP) surged due to advances in information technology from the mid-1990s to the mid-2000s.
"Since then, however, TFP growth has reverted to its pre-1994 pace," Mr. Evans said. "Moreover, there is concern among many analysts that it may now be persistently lower than in the past."
Mr. Evans used a well-known Fed visual tool, the "dot plot," to show how Federal Open Market Committee participants, including himself, expect interest rates to change. With eight committee meetings a year, he said the path is consistent with raising the target federal funds rate by 25 basis points every other meeting.
"By historical standards, this is certainly a gradual path," Mr. Evans said, calling it even slower than during the 2004-2006 monetary tightening cycle, when rates were raised 25 basis points per meeting.
Mr. Evans would have preferred that the Federal Reserve Board of Governors had waited on increasing borrowing rates at its December meeting, he acknowledged in a subsequent media availability. He said he nevertheless voted for it, and was not concerned that such a modest increase would be harmful.
Fed policy should follow an even "shallower" path of raising than the median FOMC participant, Mr. Evans said, adding that he is less optimistic that inflation will climb than most of his colleagues.
Looking ahead: Transportation
Following Mr. Evans' remarks, a panel of Corridor business and education leaders moderated by Hall-Perrine Foundation President Jack Evans, discussed how regulation, tight labor markets, low energy prices and other trends are affecting their businesses and the region's economy.
For Heartland Express, the publicly traded North Liberty-based truckload carrier, "This year seems like it's going to be just OK," President Mike Gerdin said. "Roll up your sleeve, dig in and work hard, and you're going to be fine."
Heartland Express is completing the integration of its $300 million acquisition of Gordon Express, a West Coast truckload carrier, which expanded its truck fleet by 45 percent. The company is actively looking for more acquisition opportunities, Mr. Gerdin said.
Shipping demand been relatively stable, but the trucking industry's capacity is about to be crimped by coming federal regulations that will require satellite-based logging of driver hours, Mr. Gerdin said. Although Heartland Express has implemented electronic logging voluntarily to increase safety, he said that 80 percent of the industry's rigs do not have it, and capacity will be reduced as those who currently drive excess hours are brought into compliance.
Low fuel prices don't just help the trucking industry, Mr. Gerdin noted.
"It's like a dividend for everybody, every single week," he said. "The biggest thing people seem to be buying now is a car. Automotive is really good."
Manufacturing
Diamond V CEO Jeff Cannon said that the strong dollar has slowed export sales growth for the producer of natural animal nutrition products, but he still has a positive outlook for 2016.
For Diamond V, 2014 was a year of record growth and 2015 was the second-best year on record. Mr. Cannon said 2016 is expected to be "fairly robust," a growth year more like 2015 than 2014.
"We're still growing at a rapid rate, because the market needs what technologies we have here," Mr. Cannon said.
Regulatory trends are also reshaping the market for Diamond V. He said new regulations are coming into play under the Food Safety Modernization Act of 2011, and that other countries are also enacting regulations as consumers place a greater emphasis on knowing what's in the foods they eat.
Brian Olesen, president of North Liberty-based Centro Inc., said that while low commodity prices have put the brakes on demand for Centro's products in the agricultural equipment market, lower gas prices have been a positive for the price of resins Centro uses to make plastic componentry. Those lower costs in turn make plastic products more appealing.
"There is currently $70 billion of capacity to make plastics in the U.S.," Mr. Olesen said. "There are now $40 billion of projects in the pipeline, and they are starting to come online this year."
The lower price of energy "bodes well for the cost structure of anyone in our market," Mr. Olesen said.
Education & training
Trends in educational assessment and workforce were discussed by Kim Becicka, vice president, Continuing Education and Training Services for Kirkwood Community College, and Anne Parmley, managing director, National Assessment Services at Pearson in Iowa City.
"In 13 years at Pearson, our conversations have been focused on college-readiness," Ms. Parmley said. "This year, most often driven by government and legislation, the conversation is shifting to employability."
The shift from paper-based to online digital assessments is another big transition for the industry, Ms. Parmley said. After the loss of a major contract in Texas, she said Pearson closed a center in Austin and brought much of its scoring equipment to Iowa City. Pearson owns its Iowa City facility, she added, and is looking for other parts of Pearson to bring here.
Ms. Becicka discussed the Corridor's workforce, saying it is the largest challenge to growth in the economy. The region's unemployment rate is about 2.9 percent, compared to the national rate of 5 percent, she said. Job growth is expected to continue in 2016, although not at the same high rate as in 2015.
A forthcoming laborshed study will show that 31 percent of the Corridor's businesses expect to expand in the next two years, Ms. Becicka added.
Asked about solutions, Ms. Becicka said "it's really attraction and retention." She urged attendees to help, saying it really goes back to the Creative Corridor brand.
"Have an elevator speech prepared about what this region is," she advised attendees. "Help new ones find friends to network with, and places they would like to go in the region."
China looms large
The slowdown in China's economy that has triggered a plunge in United States and other world stock markets since Jan. 1 was a topic of high interest at the event.
"We certainly hit some speed bumps in China in 2015, and we see that continuing into 2015," Mr. Cannon said of Diamond V's exports to that country.
Chicago Fed President Charles Evans said that despite the dramatic effect of China's slowdown on financial markets, it has been predicted by economists for several years. He said China's economy is decelerating from a period of rapid double-digit growth in the 12-14 percent range to a "high single-digit" range that could be anywhere from about 6.5-8 percent.
Should that growth rate settle at 6.5 percent, Mr. Evans said it could have considerable consequences for suppliers of commodities such as minerals and energy to Chinese industry.
Bankers Trust was the presenting sponsor for the event at the DoubleTree by Hilton Cedar Rapids Convention Complex, with additional sponsorship support from Van Meter Inc., ITC Midwest, Kirkwood Community College, Meardon, Sueppel & Downer PLC, Skogman Realty and the Eastern Iowa Airport.