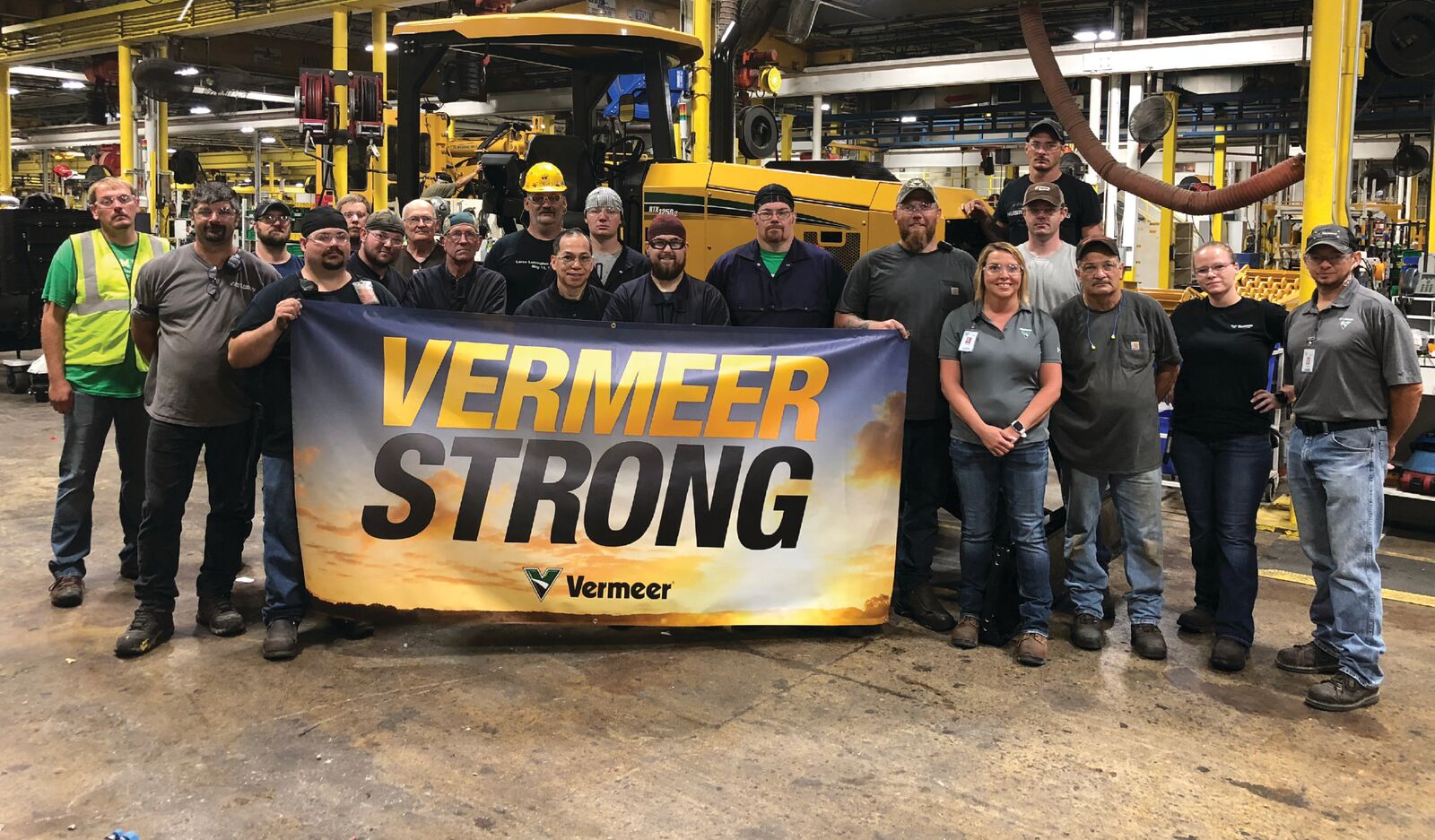 "Vermeer Strong" has been the rallying cry for the Pella-based manufacturer, which was hit with an EF-3 tornado in July 2018, and has come back bigger and better than before. PHOTO VERMEER. 
By Katharine Carlon
katharine@corridorbusiness.com
In the aftermath of the devastating EF-3 tornado that ripped through the Vermeer Corporation's campus near Pella in July 2018, a desperate hunt was on to find missing employees.
The tornado took out two of the manufacturer's seven plants completely, heavily damaged another, and left downed walls, heaps of metal and fear in its wake. No fear was more pressing than the possibility that the heavy equipment manufacturer had lost some of the 3,200 people on campus that day.
"We got to a point where there was one person we could not account for, and we were calling in cadaver dogs. People were stressed out to the max and … we had to reach out to the police department to start knocking on doors," recalled Steve Flann, Vermeer's senior director of global environmental, health, safety and security, speaking at the CBJ's Manufacturing Conference on Oct. 4.
"It eventually turned out the person was in jail," he continued. "So you might say they were super safe."
It's a funny story now, but no one was laughing then. And even though early warnings, preparedness training, a swift reaction by the company's security force, and a heap of luck ensured no serious injuries that day, Mr. Flann had plenty of insights to share based on the company's reaction, both good and imperfect.
Near the top of that list is establishing redundant systems to make sure people are accounted for and have multiple safe places to go.
"I just can't say enough about all the things that came together … all these decisions that were made in an instant," he said of the disaster, which struck on the company's 70th anniversary, with 450 global visitors present on campus. "The most common thing you're going to hear is redundancy, redundancy, redundancy."
Vermeer had already prepared extensively for dangerous weather events, both through drills and multiple weather warnings that turned out to be non-events. It had also trained five incident commanders to steer workers safely to shelter and interface with emergency personnel, a number "we thought was pretty good," Mr. Flann said.
Only one of those commanders was onsite the day of the tornado, however. In the first of several lucky breaks, a team member who had served in the U.S. special forces jumped into the lead, shepherding the visitors from as far away as China and Brazil to a secure EF-5 shelter, and the overflowing remainder to shelters in plants 6 and 7. Other resourceful employees, seeing the shelters were full, took refuge in fortified bathroom areas.
Mr. Flann said that experience taught Vermeer the importance of having multiple communications systems, rallying points and safe zones, especially in a phone-reliant world.
"The reality is when events like this happen, you might as well pick up your cell phone and throw it away," he said, adding that mobile service was basically nonexistent in the minutes before and after the tornado. "You have to have multiple redundant systems to be able to reach your folks and multiple places to go."
"Imagine you're at Disney and you and the kids are separating – somebody's going to see 'Frozen,' and the rest of us are going to see 'Star Wars' – and something occurs," he offered as an example. "If you took less than 30 seconds and just said, 'Listen, at 4 o'clock, we're going to meet, and if I cannot get a hold of you on your cell phone, we're all going to meet at 'Frozen.' If it's not safe to be there, we're going to meet at the entrance of the park, and if it's super bad, we're going to meet in the parking lot, and we parked in Giraffe 6.'"
In the same way, Mr. Flann advised businesses to ensure employees have a primary, secondary and fallback place to go in case of emergency. Time is off the essence, he added, with an average of 12 minutes between warning and tornado strike.
On that July day, Vermeer employees had just over 30 minutes to find shelter. At one point, a subscription weather service paid for by the company issued an all-clear, but the same ex-military officer who routed workers to shelters was keeping an eye on the sky outside, and radioed that no one should emerge from safety – another near tragedy successfully averted.
"That was four minutes before the tornado hit our facility," Mr. Flann said.
Until the end, many employees were laughing, joking and looking at their cell phones like so many drills and false alarms of the past. But that air of jocularity was wiped out in an instant when the tornado approached, and employees perceived what felt like a strong vacuum. The lights went out and sprinkler lines broke, pelting them with foul-smelling water.
"Just think about that, and all the twisting, falling equipment and metal, all of those noises," he said. "And the next thing is – this is hard for me to even say – what happens when it passes? Because guess what we don't train for on those tornado drills."
Mr. Flann said the first thing that happened was workers began to smell natural gas due to a broken line – an almost inevitable event following the structural damage of a tornado. Second, as people emerged from shelters, dangerous, sharp and falling debris was everywhere, while light was scarce.
"The immediate thing you do is put your head on a swivel, because there are things that can fall from the ceiling. Light fixtures, beams, metal shards, you name it," he said. "And you need to make sure you don't step on a lot of metal pieces and other things, because that's one of the most serious injuries that occur afterwards – slicing your legs and arms trying to get out."
In a third lucky break, a gas company employee who heard what was happening at the plant made his way to the facility and turned off its master valve.
Mr. Flann said it was important to build redundancy into every part of disaster planning, down to using multiple weather reporting services in addition to human eyes and ears, as well as several modes of communication, including two-way radios and a text system to keep employees informed. He also advised bringing first responders into a facility to make sure they know the layout and where things are located.
In the end, the plant lost about 400,000 square feet of manufacturing space to the tornado, which reached speeds of 144 miles an hour. Vermeer was able to put all employees back to work within 30 days and full production resumed within a month and a half.
'Vermeer strong'
In the nearly 15 months since the disaster, Vermeer has announced plans to retire demolished plants 5 and 6, and invest more than $137 million to build a new 500,000-square-foot addition to Plant 7, as well as a new research and development facility and ecocenter.
"Vermeer Strong" has been the company's rallying call through the transition. But in the days and weeks after the tornado, Mr. Flann said, at least as much of the recovery effort went into employees themselves – keeping in touch on developments via text, assuring them their jobs would be back and taking care of their psychological needs.
"That's so important for your team members as you think about the emotional piece of this," he said. "At first it's that immediate hugging of your loved ones, saying, 'I'm glad you're OK.' But then you start getting into some of the other concerns, like, 'Well, wait, my plant was destroyed. Do I have a job? Can I pay the bills and the mortgage?'"
Mr. Flann said Vermeer employees and management "took this opportunity to never waste a crisis," adding, "this was an opportunity to really bring the history we want."
The CBJ 2019 Manufacturing Conference was presented by Kirkwood Community College, with support from Shive-Hattery and the city of Cedar Rapids, Van Meter, BerganKDV, Marion Process Solutions, Alliant Energy, the ESCO Group, the Iowa Association of Business and Industry, World Class Industries and Mortenson Construction. CBJ