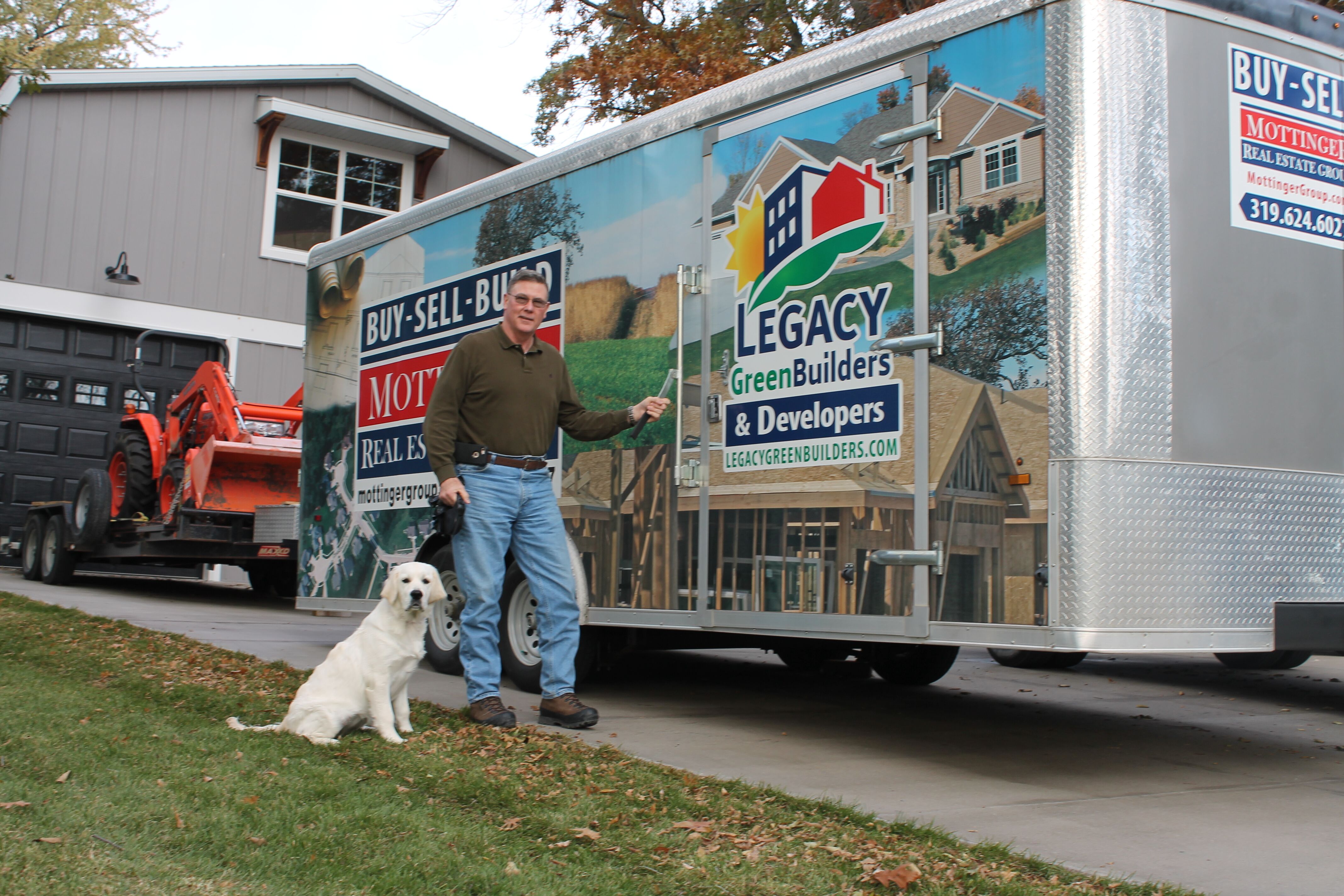 Legacy GreenBuilders & Developers President Chris Mottinger and dog Ellie Mae outside his Solon office. Mr. Mottinger, a certified Green Professional, is a 100 percent Energy Star homebuilder who builds homes to the Net Zero Ready and Indoor airPLUS certification standards. PHOTO DAVE DEWITTE
By Dave DeWitte
dave@corridorbusiness.com
Home buyers seeking energy savings and sustainability may find fewer new Energy Star-rated homes available these days, but homebuilders who remain in the green building market are offering some new ratings that may be even more useful.
The Energy Star program motivated many builders to add more layers of energy efficiency to their homes, and it wasn't just about making the end product more appealing to buyers. Homebuilders could qualify for a $2,000 tax credit primarily by building a new energy efficient home with 50 percent energy savings from heating and cooling versus a standard energy code compliant home. That tax credit was phased out, however, and hasn't been available since the end of 2017.
From a builder's perspective, "There's not as much incentive to build energy efficient homes," explained veteran homebuilder Chris Mottinger, of Legacy GreenBuilders and Developers in Solon. He estimated that 80-90 percent of Corridor homebuilders originally signed on to the Energy Star program, but said only a small minority still participate.
Only two Corridor homebuilders are listed as 100 percent Energy Star builders on the DoE's Energy Star website: Legacy GreenBuilders and Developers and Platten Construction of Robins.
While the financial incentives to build more efficient homes have gone down, the incentives for many homebuyers have gone up. A recent change in state law regarding utility energy efficiency plan requirements could lead to fewer rebates for homeowners to perform energy retrofit projects, and many area households have seen their electric bills rise due to a nearly completed Alliant Energy rate case to pay for things like smart power meters and a more reliable power grid.
Mr. Mottinger said he's continuing to build Energy Star rated homes, conforming to the latest Energy Star version 3.1 standard, because he believes in the green market. Energy Star homes have features like energy-efficient lighting, appliances and windows, high-efficiency heating and cooling systems, and water management systems to reduce moisture damage.
"Being green means different things to different people," Mr. Mottinger said. For some, it means improving energy efficiency, reducing energy use and protecting the environment. For others, it means building and maintaining homes in a "less chemical way" that makes them a healthier place to live.
Building greener hasn't made Mr. Mottinger rich, he said, but his customers feel good in their new homes, and he feels good about what he does.
"We're building homes for the future," Mr. Mottinger said.
New standards emerge
However, Legacy is now offering homes under two other certifications that appeal to green-minded buyers.
In 2014, Legacy built the first Zero Energy Ready Home in Iowa. The Zero Energy Ready (ZER) program evaluates home construction not just on energy efficiency, but on measures that affect the home's indoor air quality, comfort and durability.
Unlike the Energy Star rating program, the ZER program requires auditing of the energy consumption of the home during its first year of occupancy by an independent third-party auditor. The audit results can then be used by the homeowner to calibrate the size of the solar power system they will need if they decide to become "net-zero," producing as much energy as they use.
Building a ZER home typically costs about $10,000-$15,000 more, Mr. Mottinger noted, although homebuyers have consistently provided him with positive feedback on their energy cost savings.
In addition to ZER homes, Legacy has also built about 15 homes that meet the Indoor airPLUS standard from the U.S. Environmental Protection Agency. It provides construction standards that combat the entry of moisture and mold, cancer-causing radon gas, pests, as well as the accumulation of volatile organic compounds (VOCs).
Homebuyer interest in the airPLUS certification is growing, Mr. Mottinger said, because of the increased awareness of health problems such as asthma related to indoor air quality.
Solon-based Legacy builds most of its ZER Homes in the central and south ends of the Corridor. The ZER program came to the north end of the Corridor last year when Allan Custom Homes of Cedar Rapids built a ZER duplex in northeast Cedar Rapids. Both of the two-bedroom duplex units sold this summer in the $250,000 range, and one of the buyers is considering adding solar later.
Rather than relying on a tax credit, the Zero Energy Ready program relies on homeowners understanding the financial and health benefits of an energy-efficient home. Meeting ZER standards is expected to save the average homebuyer $1,241 per year in utility costs alone.
"It costs about $12,000 more to achieve it, but if you can save an average of $100 in utility costs [monthly], you're actually doing better at the end of each month," Allan Custom Homes President Paul Brundell said.
In addition to saving on their energy bills, Mr. Brundell said buyers can save money on their property taxes and insurance. That's mainly because he builds the homes without a basement, reducing the property tax assessment by about 17 percent from a similar home with a full basement. Without a basement, the homeowner may also see lower insurance premiums.
Inside the green home
At the core of a ZER home is a tight home envelope, according to Mr. Mottinger. The basic structure is highly insulated and sealed against air infiltration and other forms of heat loss and gain.
"When I build a home, I make it insulated and affordable, and I seal that sucker up," Mr. Mottinger said.
The site orientation and design of the house can also reduce energy consumption, by adjusting window size and the depth of the roof overhang to minimize the impact of solar heat absorption during summer when the sun is in the northern sky, and maximizing solar heat absorption during the winter.
Allan Custom Homes designed its ZER duplex in Cedar Rapids with in-floor radiant heat, which can be regulated by zone to minimize energy consumption. There's even a heated garage, although it can be kept at 45 degrees in the winter for those wanting to use even less energy.
Mr. Brundell used mini-split heat pumps in the rooms of the home to provide zoned cooling in the warm weather months, and to provide all the needed heat during the shoulder months of late spring and early fall before the radiant floor heat is needed.
The house is packed with other features, from granite countertops and a central vacuum cleaner system to a smart home system that allows the owners to remotely adjust the temperature and control the door locks from their smartphone.
Although he's planning to build more Zero Energy Ready homes next year, Mr. Brundell said he'll use value engineering principles to reach a lower price point, offering some of the items that were standard in the first duplex as options instead.
He's also planning to test out some new options, such as providing zoned air conditioning in the garage so that it can be more useful during the summer months as a "man cave" or workshop.
Selling the benefits
One of the harsh realities of the new home market is that most buyers perceive the home's value as a function of how much space and how many features they can get for their money, not how much they'll save in the future.
Given some extra dollars to spend, "50-60 percent of them would go for the bling," Mr. Mottinger said, referring to things such as granite countertops and spa tubs.
Still, there's been definite growth in the market for certified green homes in the south end of the Corridor, he said.
"I've had people seek me out at the Home Show and the Parade of Homes because this is what they're looking for," Mr. Mottinger said. "It's a change from 10 years ago."
One of the more nuanced benefits of a Zero Energy Ready home is its usefulness in securing what's called a green mortgage.
Because highly efficient homes cost more to build but look about the same as other homes, it can be difficult to convince home appraisers to dig into the energy efficiency features and calculate how much they add to the value of the house. Green mortgages factor in those savings, enabling lenders to cover the higher costs of building a green home. They aren't widely available or widely used in the Corridor, however.
Mr. Mottinger said he's had to press his case strongly with one appraiser who didn't appear to take the time to factor in the value of the energy improvements, but so far none of his buyers have had to seek out green mortgages to cover the extra cost.
Legacy Green Home Builders and Developers still likes the Energy Star program, Mr. Mottinger said. One reason is because it delivers builders an annual estimate of the benefits produced by their Energy Star homes. For the last construction year, he said, the new homes built by Legacy provided carbon emissions reductions equivalent to 290 trees planted over a 10-year period, or eliminating the consumption of 41 barrels of oil. CBJ