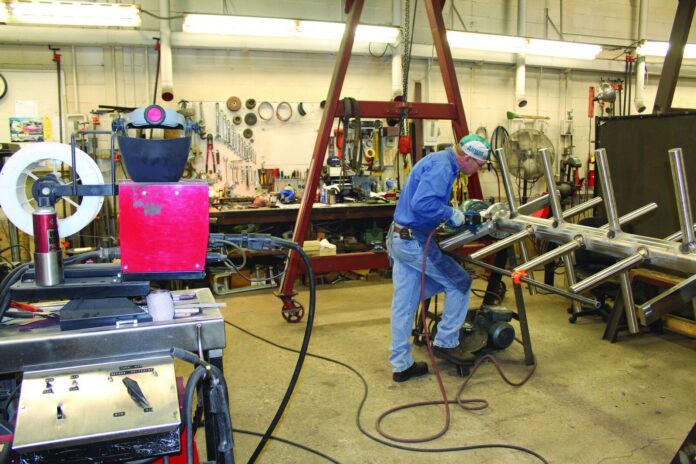 An employee fabricates equipment at Marion Process Solutions in a photo from 2016. CEO Lee Eilers says the company has taken a targeted approach to recruiting and incentives for new employees. CREDIT ADAM MOORE
By Katharine Carlon
katharine@corridorbusiness.com

A quick scan of regional job boards suggests manufacturers are in something of a race to the top when it comes to creatively finding and retaining employees.
Kraft Heinz is offering production workers starting pay of between $17.33-$25.26 an hour and perks ranging from an Employee Assistance Program to pet insurance. Red Star Yeast advertises a long list of benefits effective from day 1, including medical, dental, vision, life insurance, disability and paid time off. And Frontier Co-op touts a "holistic approach to employee benefits" that encompasses transportation to its Norway plant for all three shifts, employer-subsidized childcare, a 24-hour gym and an in-house organic café.
With unemployment rates hovering at a 50-year low nationally and below 3% across much of the Corridor, keeping staffed up is tough all over. But the problem is especially acute in manufacturing, with 2.4 million jobs expected to go unfilled between now and 2028, according to Deloitte, and Bureau of Labor Statistics figures indicating nearly 500,000 positions sit vacant right now.
"It's been the challenge of our time really," said Brian Olesen, president and CEO of Centro, in response to brutal 2-3% unemployment rates across most of the company's 10 locations, including its North Liberty headquarters. "It's been an extraordinary challenge to find people that we could work with to produce product when we had increasing demand. Like many manufacturers, we choked on a lot of it at first, to be frank."
In Iowa, where manufacturing represents almost 19% of the state's economic output, employment has grown at a dizzying average pace of 10.8% annually since 2010.
Yet industry insiders say they are feeling an outsized hiring pinch in relation to other sectors due to an aging workforce. Twenty-seven percent of manufacturing workers are set to retire over the next decade, taking their specialized skills and institutional knowledge with them, according to a Society for Human Resource Management report. Meanwhile, the industry is battling the outdated perception that it is a dirty and dead-end field, instead of a modern, technologically advanced pathway to a well-paid career.
Local companies have launched extensive outreach and education efforts to students, educators and parents, while the state's Future Ready Iowa initiative aims to help build the talent pipeline of tomorrow for industries facing crippling shortages, like advanced manufacturing.
For today, though, manufacturers are turning to pay increases, more benefits and perks, greater attention to employee satisfaction, and, in some cases, paying relocation expenses to entice workers from elsewhere to pack up and move.
Centro Director of Human Resources Rhonda Griffin said that faced with a growing crisis several years ago, a team came together to brainstorm solutions – including a pay bump for new workers.
"Certainly, wages played a part," Mr. Olesen said. "Your starting wage with zero experience … is about $16.80 an hour, and that's literally without any skills."
Ms. Griffin said the company now recruits from a pool of workers it once actively screened out – those with no manufacturing experience whatsoever, particularly those working in the traditionally low-paid food service and retail industries. It has paired that approach with a "train-up" program that pays would-be employees to attend a six-hour extended interview without quitting their current jobs to assess fit and potential, an extended 30-day training period after hire, and a culture emphasizing a "promote from within philosophy" that casts working at Centro as a long-term career rather than a job.
The changes have helped recruiting efforts and increased retention from 48% in 2018 to 54% last year. Centro is on track for a 70% retention rate in fiscal 2020, and it's not stopping there, Ms. Griffin said. The company is currently holding strategic meetings to look at what it can do in terms of added benefits and perks to maintain its position in a persistently tight job market.
"We want to be the employer of choice, and that means opening our minds and considering different things we didn't have to in the past," she said. "This is an all-time low unemployment rate and we've been given permission to think big."
The big picture is something Jade Lynch, account manager at Aerotek in Cedar Rapids, encourages the manufacturers it partners with to think long and hard about. Ms. Lynch, who specializes in filling skilled trades jobs, spends much of her time meeting with clients to identify unique selling points that will entice and keep workers, from flexible schedules and shifts to higher-than-average wage and benefit packages.
"With unemployment being what it is, it's extremely competitive out there and part of our job is to help our clients stand out," she said. "I would definitely say manufacturers have had to up their game over the past few years … and they are all asking what others are doing."
According to an Aerotek wage analysis, manufacturers in and around the Corridor region must pay a base starting wage ranging between $13-$14 and $20-$25 an hour, depending on skillset, to stay in the game. That sometimes leads to awkward conversations, Ms. Lynch said, "but we have to be straight up front because even paying $1 more an hour, it's crazy the increased caliber of candidate you can get."
Annual wages for those working in the manufacturing sector averaged $60,240 in 2018, according to Iowa Workforce Development's latest industry profile, an income 26.8% greater than the statewide average for all workers and a near 28% gain over 10 years. At the national level, wage growth at U.S. manufacturers reached 3% in December, its highest level since 2016.
As for benefit packages, costs in the industry most commonly topped out at more than $13,000 per employee per year, with vast majorities offering standard health and dental benefits and paid time off, and fewer numbers providing perks like childcare assistance, tuition reimbursements and paid relocation expenses.
That's changing, Ms. Lynch said, as job hunters shop around in search of a healthy work-life balance and an atmosphere that makes them feel like valued members of a team rather than cogs in a wheel. At the top of their wish lists are more paid time off and flexible scheduling that allow room to coach a child's soccer game or attend to an ailing parent.
"Even two and three years ago, [manufacturers] might have ruled that out, but they're learning there's more than one way to do things," she said. "Maybe they can leave early and stay late the next day … People want to feel like valued members of the team."
Local approaches vary
A team feeling is exactly what New Leader Manufacturing in Cedar Rapids has tried to create for its 145 employees, according to Director of Marketing Andi Riem.
"We look at what we offer as less than a collection of perks and more of a whole package," she said. "We're a family and we treat each other as such."
That said, in addition to a standard slate of benefits, New Leader offers the ability to work from home for certain employees, safety and merit bonuses, 401(k) and Health Savings Account matching, profit sharing, and flextime – a popular, but still rare perk in the regimented, time-conscious manufacturing world.
"Our goal is to look at everything we offer and ask, 'Are we helping not just in the workplace, but in your home life as well?'" she said. "Taking that approach, we've seen our engagement rates increase year over year and that's a win-win. The happier people are, the more productive they are."
New Leader also offers relocation assistance to newly-hired full-time employees if circumstances warrant – a growing trend among U.S. manufacturers, according to a recent Wall Street Journal article on factories increasingly advertising their willingness to pay moving expenses to workers willing to pull up stakes.
The number of postings offering to cover moving expenses on ZipRecruiter has nearly doubled since 2017, the paper reported, particularly for sought-after welders, engineers and machine programmers. Caterpillar Inc. recently posted it would pay up to $5,000 in expenses for workers to relocate near its Lafayette, Indiana plant, while New Way Trucks in Scranton, Iowa, is offering $1,000.
Lee Eilers, president and CEO of Marion Process Solutions, said his 54-person company has taken a targeted approach to recruiting and incentives instead of trying to outdo larger manufacturers on perks and benefits. As a smaller operation, MPS gets most new hires through employee referrals, for which it pays bonuses, and through summer internships with University of Iowa engineering students where both parties have an opportunity to "vet" one another.
If the intern is a fit, MPS can assure them in August of a waiting job after graduation the following May. The company offers a $2,000 signing bonus to those candidates as well as a second bonus after completion of 30 days of work. Performance bonuses for hitting individual and companywide goals are also on the table.
"What that does for us is give us the ability to know and plan for our [workforce needs] on a long-term basis," Mr. Eilers said, adding that these prospective employees remain in contact with the team throughout the year in order to hit the ground running. "We're not Collins, for instance, which has such a large net they can cast. I say that's a huge benefit and only a little bit of a detriment. When we're looking for two, they're looking for 22. Being small and nimble means [the workforce shortage] isn't having that huge impact on us."   CBJ