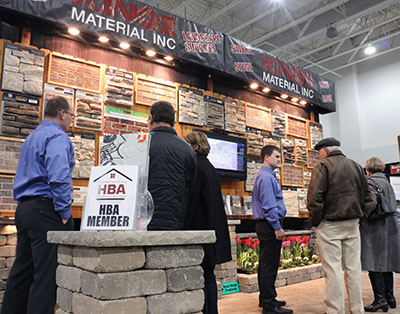 By Adam Moore
adam@corridorbusiness.com
Optimism filled the halls of the Greater Iowa City Home Builders Association's annual Home Show, held Feb. 13-15 at the Coralville Marriott, and for good reason.
Interviews with exhibitors revealed that new and existing homeowners are confident and ready to spend, spurred by rising home prices, and low interest rates and gas prices.
Home prices rose 1.5 percent in 2014, marking the third consecutive year with an increase, according to the Iowa Association of Realtors, while 30-year fixed mortgage rates in Iowa now average 3.71 percent, according to Zillow.com.
And despite January being a slow month for home sales, there were 115 homes sold in the Iowa City area last month – an increase of more than 40 percent over the previous January, according to data from the Iowa City Area Association of Realtors. The average days on market dropped nearly 14 percent and the median home price rose $5,400, to $192,900, during the same time frame.
"It's a strong market," said Phil O'Brien with Lepic-Kroeger Realtors. "It's not really a buyer's or a seller's market – it's a balanced market. They keep building and we keep selling, and there's a lot more people moving to the area."
That's kept area builders and remodelers busy, even through the traditionally slow months. Chris Weckmann, owner of Iowa City-based Carpentry by Chris and a member of the HBA's Remodelers Council, said that during the recession, there was a 6-8 week period in the winter when things would slow down, allowing him to catch up on other – usually deferred – business tasks.
"This year, we've been steady all through the winter. I have a list I can't keep up with," Mr. Weckmann said, adding that some remodelers in the area chose not to have a booth at the show because they didn't want any more calls.
Suppliers also report that customers are once again taking an interest in some of the higher-end finishes and materials that tailed off during the housing crash of 2008.
"We're finally starting to see an increase in the price per square foot spent on homes," said Brad Potter of Iowa Stone Supply, comparing the current market to what he called the 'empty space era' after 2008, where "everybody was about getting square footage, but it didn't really matter what kind of detail was going into that square footage."
Mr. Potter said his designers are now getting requests to use stone in bathrooms and kitchens, and even as "feature" or accent walls in home interiors – all of which he says will make for a "great year."
Troy Grimm, a salesperson with North Liberty-based Advance Millwork, echoed Mr. Potter's hopes for the year ahead, saying, "People are looking to spend, and what better place than real estate?"
Home Design Trends
We scoured the show floor in search of some of the most popular trends and innovations in home design. Here are a few of the most notable:
Mixed and matched
Dark, sophisticated neutrals like gray and black continue to be popular in home design, exhibitors agreed, with those colors showing up everywhere from cabinetry to stone to rustic flooring. But designers are also pairing those darker neutrals with lighter colors and textures to create interesting visual juxtapositions, whether it's white wood-dark trim on the inside, or something more striking on the home's exterior. "We're seeing the extreme contrast in color on the outside of houses – a white stone with a dark gray siding, or a black stone with a white siding," said Brad Potter of Iowa Stone Supply. "That sort of look is really popular right now."
Enduring style
Many homeowners are now returning to classic design motifs, such as those found in the Mission and Arts and Crafts styles, exhibitors said. The thicker, cleaner lines of those looks help keep interiors simple and clean, and also provide something of a hedge on the investment, according to Lydia Connelly with Advance Millwork. "Straight lines are simple, and 10 years down the road, it will still be something in style because it's so simple and you can change it to look different quickly and easily," she noted. High-performance materials like quartzite countertops, engineered stone and LVT flooring are also popular, as they allow homeowners to capture the beauty of natural materials like granite and hardwood without the maintenance.
Heading outdoors
The trend toward full-featured outdoor living spaces continues to build, with homeowners now installing everything from built-in grills and fire pits to brick pizza ovens in their backyards. Custom-built stone features and stamped concrete panels allow designers to add an even more personalized touch to these popular projects. "Outdoor living is very strong for a lot of people," said Joan Tiemeyer, executive officer with the Greater Iowa City Home Builders Association. "There are so many options that can really make your showplace."
Tech-enabled
With "smart" devices now found all around us, it's no surprise that homeowners are pushing for their homes to become smarter, too. Many home systems can now be managed through your smartphone, including the popular Nest thermostat, which learns your schedule and sets your home temperature automatically, and new garage door openers from LiftMaster, which allow users to monitor their door's status with any mobile device. "If you get to work and you realize you forgot to close your door, you can see if it is open or closed, and then close it with one button," said Brad Cummins with Dan's Overhead Doors & More. "[The technology] has been out for a few years, but it's really starting to take off."