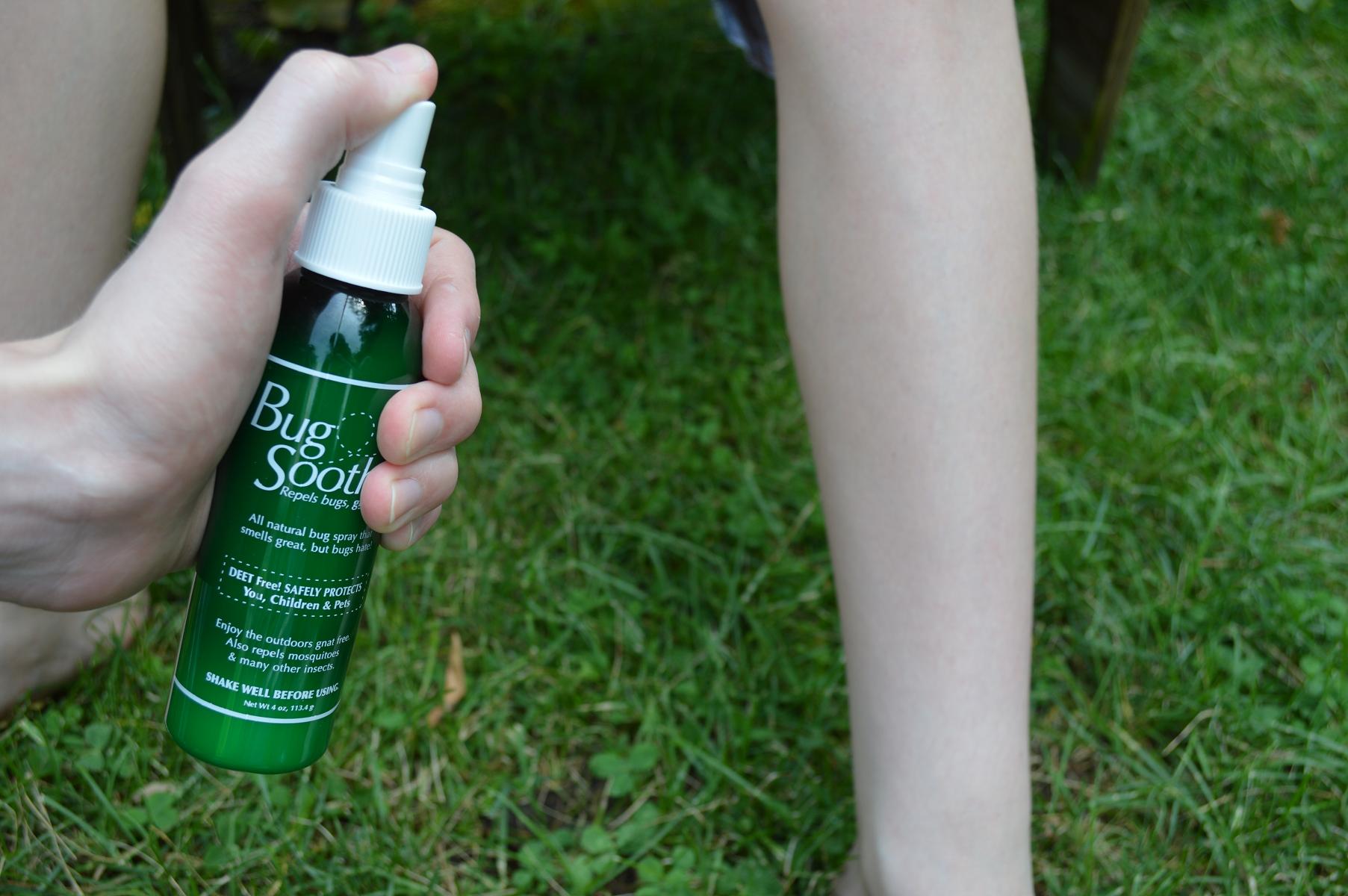 By Cindy Hadish
COLUMBUS JUNCTION — Call it a super-"gnatural" success.
Freda Sojka's natural bug repellent that she developed for her then 5-month-old grandson has exploded – almost overnight – into a double-shift industry in Columbus Junction.
"I wanted to make it safe for kids," Ms. Sojka, 61, said of Bug Soother, the insect repellent that stores in the Corridor and beyond are having trouble keeping on the shelves.
Packaged in a green spray bottle, the product is made from Ms. Sojka's secret formula that combines lemongrass oil, vanilla, lemon and other pleasant-scented ingredients.
And it works. So say more than 1,200 Facebook fans of Bug Soother, along with customers who are demanding the repellent at Ace Hardware, Fareway, Hy-Vee stores and other outlets.
"It's been a whirlwind," Ms. Sojka said of the 16- to 17-hour days she and other family members have been pouring into the business in the past few weeks.
John Bock, a manager at the Mount Vernon Ace Hardware, offered telling evidence of the bug spray's popularity. Mr. Bock amassed a waiting list of 176 people for Bug Soother after one customer shared the repellent at a baseball game.
"Five or six people told five or six more and you can't keep it in stock," he said, noting with relief that a shipment of 200 bottles arrived in late June.
Only sump pumps during flood years in 1993 and 2008 have come close to the product's high demand, Mr. Bock said.
"This is pretty unique. It's not very often when you get something like this," he said.
Ms. Sojka started her company, Simply Soothing, 10 years ago after she took an early retirement from Monsanto and wanted something to do with her daughter, Nikki Salek. The bath and body products business also offers unique air fresheners and wickless, soy-blended candles among other products.
Bug Soother's origins began as Ms. Sojka invested time and money to formulate a DEET-free insect repellent.
An appropriate test arose when her sister's Columbus Junction home was flooded in 2008. Crews working on the Cedar River were getting attacked by gnats, until they tried Bug Soother.
Ms. Sojka said they woke their crew chief to report its effectiveness and he bought out her entire supply the next morning. A similar occurrence happened after an umpire in nearby Washington used the repellent during a game.
"By the next day, people were lined up to buy it," Ms. Sojka said.
The product remained relatively local until a salesman was able to place it in Ace Hardware's distribution centers.
"And then the drought hit," Ms. Sojka said of last year's weather. "There were virtually no bugs with the drought."
Still, she and her husband, co-owner Jim Sojka, 63, persisted and made the rounds during winter months to push their product at various trade shows and platforms, including Facebook. What finally propelled Bug Soother into the upper realms, however, was something entirely out of their control: the weather. Wet, buggy conditions thrust the repellent back into favor, followed by the perceived shortage that led to what Ms. Sojka calls a "hysteria."
Similar to long lines for flu shots during vaccine shortages, customers started demanding Bug Soother, even at stores that don't carry the product. Once found, they grab multiple bottles.
Ms. Sojka said the uptick began around Memorial Day. By mid-June, the company had to notify online customers that their shipments would be delayed as Simply Soothing ramped up its production to fulfill retail orders.
"We've been trying to catch up," she said. "It went insane and never stopped."
Starting as a mom-and-pop shop, the family business soon hired a second shift and now employs about 25, including nearly all of the members of another family.
Only Ms. Sojka, one other employee and her son, Justin Scheef, know the complex formula for Bug Soother.
Growing pains are still felt as Ms. Sojka needs to buy the raw materials and pay wages before she receives payments on the shipments. The company tabulated $250,000 in sales by early June, but even by mid-month, Ms. Sojka wasn't sure how many bottles had sold.
"A lot of them," she joked.
An owner of a medical technology company is helping out by designing a larger mixer for the ingredients. His son suffers from severe reactions to gnats and could not go outside on buggy days until he tried Bug Soother.
The company has moved out of the Sojkas' basement into a 40-by-80 foot Morton building and Ms. Sojka and others try to juggle an overwhelming number of phone calls, emails and requests by media outlets.
And while it took Jim Sojka's "best salesman" efforts to give away product samples not long ago, Freda Sojka said she is hearing from Walgreens and other major outlets.
"Now corporate is calling us," she said.
For more information, including a list of stores that carry the bug repellant, visit Bug Soother's Facebook page at www.facebook.com/bugsoother?fref=ts.