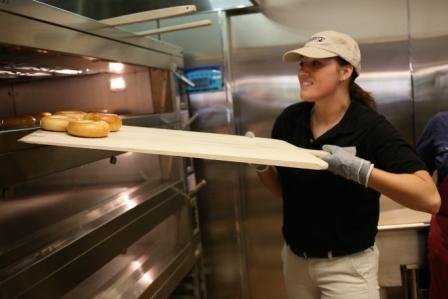 By Pat Shaver
IOWA CITY—New York-style bagels are returning to downtown Iowa City after a two-year absence.
Bruegger's Bagels reopens Oct. 14 at 225 S. Iowa Ave. The bagel shop was destroyed when it caught fire Sept. 24, 2011. The damaged structure was torn down in January 2012.
It was rebuilt at the same spot and is housed in a two-story building similar to the former structure. The bakery includes updated menu boards, more seating and an espresso bar.
Bruegger's features a breakfast and lunch menu, including New York-style bagels baked on site in small batches all day, 100 percent made-in-Vermont cold-packed cream cheese flavors, plus sandwiches, salads and soups.
The 2,590-square-foot bakery-cafe features indoor and outdoor seating for 75, a full espresso bar and free Wi-Fi for guests. Hours of operation are 6 a.m.-7 p.m. daily.
It wasn't a difficult decision for Bruegger's executives to rebuild in downtown Iowa City.
'This has always been a great market for us; in Iowa and Iowa City specifically. We knew this was a good site for us," said Jay Kasparian, Bruegger's associate field marketing manager.
Bruegger's founder, Nord Brue, was from Iowa City. The downtown Iowa City location was one of the first five Bruegger's and opened in 1989. The chain is 30 years old and now operates 304 stores in North America.
"It sounds simple, but we want to be known for our bagels," Mr. Kasparian said. "This is a next generation Brugger's with the art work, bricks and the classic New York bagel and breakfast café look."
Breakfast and lunch items have become popular at Bruegger's, he said. The downtown location will serve fresh-cracked eggs instead of pre-made egg patties.
The store offers more seating than the previous one and added more power outlets for students and customers to plug computers in, Mr. Kasparian said.
Customers can see employees preparing the food and baking bagels, something the old store didn't feature. The design of the Bruegger's is more efficient than the last because they were able to build it to fit their needs, compared to the previous building that existed before the business moved in, said George Mello, Bruegger's regional vice president of operations.
"We worked with the city and our partners to keep the historic look of the building and keep the integrity and neighborhood component. That was our goal," Mr. Kasparian said.
On opening day, Oct. 14, the first 30 customers will receive a 2013 bottomless mug that's good for free coffee, tea or soft drinks through Dec. 31.
The new store has 26 employees. Bruegger's was founded in 1983 and is headquartered in Burlington, Vt.
"We're glad to be back in the community, we're looking forward to it. People can't wait for us to come back, which is great," Mr. Mello said.
The cause of the 2011 fire is unknown, though fire officials determined it started in the kitchen at Bruegger's, Mr. Kasparian said.
The Bruegger's team said they were confident in the current building codes as they relate to fire safety, so no additional elements were added.
"Often when we're called to a fire that started in the kitchen, the residents tell us that they only left the kitchen for a few minutes," Iowa City Fire Marshal Brian Greer stated in a news release. "Sadly, that's all it takes for a dangerous fire to start."