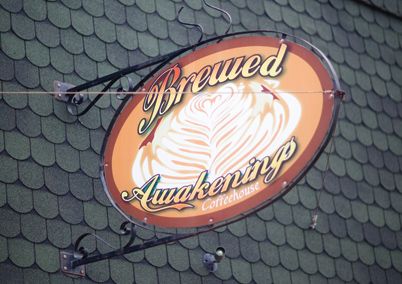 By Pat Shaver
Their motto: From farm to table.
What started as a small, family-owned coffee shop, Brewed Awakenings has grown and expanded into a thriving lunch spot and catering business.
The company has a location at 1271 First Ave. SE, across from Coe College, and another inside St. Luke's Hospital in Cedar Rapids. A third location will open inside the renovated CSPS in the New Bohemia neighborhood.
"We've been in existence eight years. We basically started with our two children, my wife and I, and one other employee," said owner Richard Marsceau. "We've grown in eight years to now have 21 employees."
Mr. Marsceau said it hasn't been easy making most of the food from scratch every day, but it has become an important part of their business.
"It's much more difficult to do it this way," Mr. Marsceau said. "But first, you are supporting local farmers and gardeners, getting food right from gardens and farms; secondly, it's better flavor and its better for you."
In 2007 they opened the St. Luke's location. This May, they will open the third Brewed Awakenings at CSPS, and a fourth at the new Cedar Rapids Library.
"It has been quite a dramatic growth for us. We had been about being open until mid afternoon, then we expanded for students in the evening and added lunches in 2006," Mr. Marsceau said.
The family has an acreage near their home where they grow produce.
"That's taken off like crazy. We're making all the foods from scratch, including breads now," he said. "Especially in the last couple years, we've been developing the farm-to-table model."
They started a catering leg of the business in December.
"We have done a lot of catering. That's been well received. We've taken the same model with fresh produce but with different flavors," he said.
They hired a full-time chef about a year ago and a full-time baker was brought on in August, Mr. Marsceau added.
Their catering menu includes a variety of appetizers including tomato and basil bruschetta, meatballs, pulled pork sliders and shrimp spring rolls.
Along with catering special events, the company also offers box lunch options and coffee/ baked good platters.
The lunch menu at Brewed Awakenings includes: a chicken salad sandwich, turkey pesto sandwich and daily soup specials like tomato bisque and chunky chicken noodle.
The company's business model has been to start coffee shops in already existing buildings, businesses or institutions, like St. Luke's Hospital and the new downtown library, Mr. Marsceau said. That allows them to focus on the business and not have to worry about the capital investments of a new building.
The store also has a partnership with Brucemore, the historic Cedar Rapids mansion. Brewed Awakenings uses vegetables grown at Brucemore. They are in their third year in the partnership.
Though the 2008 flood was tough on many Cedar Rapids businesses, Mr. Marsceau said their business has been able to stay in business.
"We bounced back fairly well from the flood. This year has been the best one ever," he said. "We've seen growth really in the people in our community supporting more local business."
Mr. Marsceau said the CSPS deal was a good fit, and he had scouted the area for a possible location before the flood. Brewed Awakenings has had a relationship with Legion Arts, the nonprofit that operates CSPS, he said. The first-floor commercial space will also house a book store and a photography studio.
The menu at the CSPS spot will feature different selections than the other Brewed Awakenings locations.
"We're going to try to do more pastas and greens and different types of sandwiches," he said.
CSPS was built in 1891 and was used as a Czech social hall until the 1960s. Legion Arts, the nonprofit that operates CSPS, took over the second and third floors of the building in 1991 and began music, theater, dance and arts programming and events.