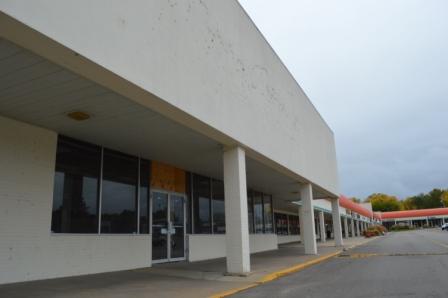 By Cindy Hadish
CEDAR RAPIDS – Changes coming to Iowa's oldest shopping center will bring a new gastropub and grocery store to the Town & Country Shopping Center.
Long-vacant storefronts will become the new site of a Fareway store, while a former sports bar is being renovated to become the new 101 Gastropub.
The 30,000-square-foot Fareway will occupy three spots in the shopping center at 3611 First Ave. SE, said Jeff Johnson, Fareway real estate manager.
Frederick Greiner, president and chief operating officer of Fareway, said the goal is to open in the fall of 2014.
The new store will be about 25 percent larger than other Fareway stores in the Cedar Rapids area to offer more selection and the addition of a bakery, Mr. Greiner said. The bakery will be unique to this area.
He noted that the store will eventually employ more than 100 people, with employment opportunities to be posted at www.fareway.com.
"There's a lot of work to be done between now and then, but we're looking forward to it," Mr. Greiner said, adding that support from local residents indicated the time was right for another store.
Joanne Mauck, property manager for Town & Country, said the largest store that will make way for the new Fareway most recently was a bridal shop, about five years ago.
That store and two others, built in 1955, will be demolished and the new grocery store will be built on the site, she said. The former bridal shop and adjoining building are already vacant, while a hair salon is in the process of moving out of the third spot.
Ms. Mauck noted that the other change will happen soon, when 101 Gastropub opens in the location of Deanoz Sports Bar & Grill, 3717 First Ave. SE.
The site is being remodeled to open in mid-November as a pub serving high-end food at reasonable prices along with craft and local beers, with a Scotch and whiskey club in the works, said owner and developer, Mike Hinton.
Mr. Hinton, the owner of Hinton Construction of Marion, has been in the home building business for years, and was looking for the opportunity to open a restaurant, he said. The gastropub concept has already reached Iowa City, Mr. Hinton noted, but this will be a first for Cedar Rapids.
"I just think Cedar Rapids needs something like this; it's exciting, something different," he said. "And it's always been a good location there."
A search is under way for an executive chef. Hours are expected to be 10 a.m.-2 a.m., with the kitchen remaining open until 2 a.m. to offer an option for late-night diners.
Seating for 110 customers will be available, with half of the space kept as a casual sports-bar atmosphere and the other half for more formal dining.
Deanoz Bar & Grill closed about two months ago and Mr. Hinton's crew has been busy working on the remodeling for the past two weeks.
An outdoor patio will open next spring, he said, adding that the Fareway will bring extra traffic to the location.
The properties being demolished for Fareway opened as part of the Town & Country Shopping Center in 1956, widely regarded as the first shopping center in Iowa, said Cedar Rapids historian Mark Stoffer Hunter. The former Town & Country Bowl was located in the basement of one of the stores that will be demolished, he said.
The underground bowling alley was removed years ago, Town & Country's Ms. Mauck.
"It's just an empty space now," she said.
The Fareway site will be leased from the shopping center, she said.
The first Fareway Store opened north of Des Moines in Boone in 1938, where the corporate headquarters remain. The company, one of the largest employers in Iowa, opened its 100th store in 2011.
Fareway has recently expanded to Illinois, Minnesota, Nebraska and South Dakota, with more store openings on the way. Fareway has been in southwest Cedar Rapids for nearly 18 years and also operates stores in Hiawatha, Marion, North Liberty and Iowa City.
The site of the forthcoming Fareway at Town & Country was originally a Sun Mart Foods store, Mr. Stoffer Hunter noted.
"So this is a great homecoming for a supermarket," he said.